Games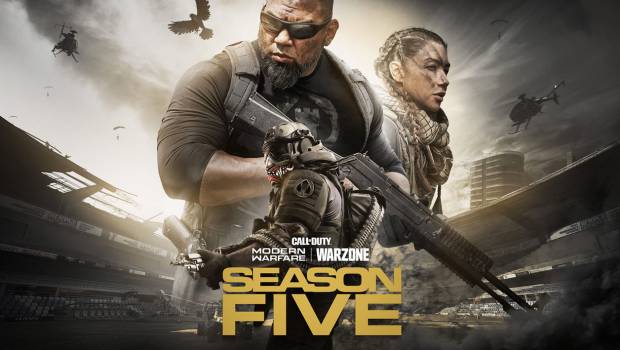 Published on August 6th, 2020 | by Adrian Gunning
Where you dropping? Major map changes in Warzone and four combat-rich Multiplayer maps headline Season Five of Modern Warfare
Welcome to Season Five of Call of Duty: Modern Warfare!
Get ready for an overloaded Season of complimentary content with the biggest Warzone maps additions ever seen, more Multiplayer maps, new Operators, and a comprehensive Battle Pass system brimming with content, including two free weapons and other goods available to unlock.
As the chaos intensifies across Verdansk and the Armistice alliance becomes strained beyond its breaking point, a new force descends into the conflict. Shadow Company makes an explosive entrance into the world of Modern Warfare, dropping in with style to make a statement and bolster the Allegiance, despite the company's fireteam seemingly operating independently under their own set of rules.
Additionally, the Warzone map will get its playspace expansion via the Stadium opening its doors, as well as the Train Station interior and a colossal, continuously moving freight train to claim as your mobile base of operations! But that's not all – experience four new Multiplayer maps at launch: a new Ground War experience, two 6v6 maps, and a Gunfight map primed for frenetic combat.
Naturally, this mass of new content is backed up by new game modes for both Multiplayer and Warzone, as well as a robust Battle Pass system including a host of content you can earn for free.
Free Access Multiplayer Extended Weekend:
Free-to-play Warzone users can experience Modern Warfare Multiplayer from Saturday 8 August at 3 AM AEST / 5 AM NZST to Thursday 13 August at 3 AM AEST / 5 AM NZST. Battle across five Multiplayer maps including Suldal Harbor and Petrov Oil Rig, both new this Season. The playlist will be a map mosh pit featuring a mix of deathmatch and objective modes giving the opportunity for varying engagements and tactical play each match.
Check out the action-packed trailer here: https://youtu.be/u8rC4x1ZqHw
For further details breaking down map and weapon changes / mode breakouts as well as further information on the Season 5 Battle Pass please visit: https://blog.activision.com/call-of-duty/2020-08/Call-of-Duty-Modern-Warfare-Season-Five-expands-Warzone. 
For more information and the latest intel on Warzone, visit www.callofduty.com/warzone and follow @CallofDuty on Twitter, Instagram and Facebook.