Comics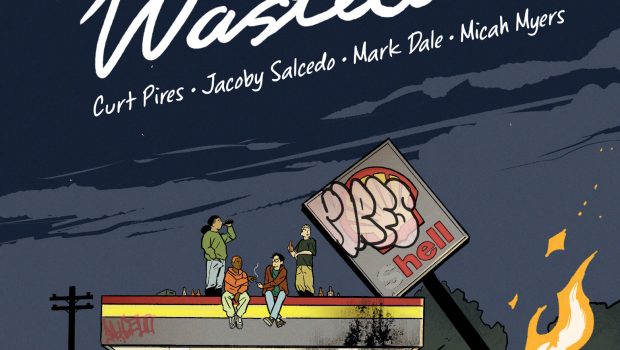 Published on September 10th, 2022 | by Adrian Gunning
WHERE WILL YOU BE WHEN THE WORLD ENDS?
From Dark Horse Comics, Acclaimed creator Curt Pires (Youth, WYRD) and rising star artist Jacoby Salcedo comes It's Only Teenage Wasteland, a new coming-of-age post-apocalyptic comic series. In addition to Pires' and Salcedo's work, Mark Dale will color and Micah Myers will letter. The first issue will also include a variant cover by Antonio Fuso.
When his parents go out of town for the weekend, Mexican-American high schooler Javi decides to throw a party—one that'll launch him and his buds into popularity! Or at least get them noticed by their crushes. But when things take a turn for the worse, Javi and his friends are thrust into a situation and future they could have never have prepared for.
"I'm so excited to be back at Dark Horse telling this story with Jacoby and our amazing team. I started my career almost ten years ago with them, when they agreed to publish POP and things have only gotten better from there. This story is a spiritual sequel to YOUTH in a lot of ways, and I think fans of my work new and old will be pulled into this massive world and mystery we're building here. This is just the first of many more exciting collaborations to come between myself and Dark Horse."
"IT'S ONLY TEENAGE WASTELAND has been my most favorite project I've worked on yet! Curt and I really put our everything into this, and it is littered with all the things we love. The book though wouldn't be what it is without our amazing colorist, Mark Dale and sick letters by Michah Myers. I think this book is really for everyone, especially readers who love great books!"
It's Only Teenage Wasteland #1 (of 4) will be available at comic shops December 7. It is now available for pre-order at your local comic shop. It's Only Teenage Wasteland #1 will retail for $3.99.
 Praise for Youth:
"Youth #1 aches in a way that few coming of age stories do. It makes you see yourself in its characters and prompts investing yourself in knowing what happens next when the unbelievable finally occurs and changes everything."- Comicbook.com
"Youth #1 is beautifully-drawn and colored and creates an authentically antisocial teen tone, with a shocking plot point that actually shocks and an ending that makes me want the next issue right now, earning 4 out of 5 stars overall." – Major Spoilers
"Whether you're young and on the lookout for adventure, or old and can't imagine living this way, "Youth" #1 is a visceral trip through young adulthood." -Multiversity