Films
Published on July 23rd, 2022 | by Harris Dang
Where the Crawdads Sing – Film Review
Reviewed by Harris Dang on the 22nd of July 2022
Sony Pictures Releasing presents a film by Olivia Newman
Produced by Reese Witherspoon and Lauren Neustadter
Starring Daisy Edgar-Jones, Taylor John Smith, Harris Dickinson, Michael Hyatt, Sterling Macer, Jr., David Strathairn, and Garret Dillahunt
Cinematography Polly Morgan
Edited by Alan Edward Bell
Running Time: 126 minutes
Rating: M
Release Date: the 21st of July 2022
Set in 1965, Where the Crawdads Sing tells the story of Catherine 'Kya' Clark, an independent, self‑resourceful, and socially awkward young woman known in Barkley Cove by the townspeople as the Marsh Girl. One day, a corpse is found dead at the bottom of a fire tower and due to rampant heresy and circumstantial evidence, she is implicated of the murder. With the support of retired attorney Tom Milton (David Strathairn), Kya must recount her past to prove her innocence.
Where the Crawdads Sing is an adaptation of the best-selling novel of the same name by Delia Owens. The novel was well-received by readers with its pulpy treatment of coming-of-age tropes with a compelling murder mystery. It has also received criticisms with its cultural appropriation and its similarities to the author's life story, which itself also involves murder. Definitely not a good look. Since truth is stranger than fiction, how does the film adaptation itself fare? Unfortunately, the film is a dull, sanitised mess with few redeeming qualities.
On the positive front, Daisy Edgar-Jones delivers a solid performance as Kya. She manages to maintain a strong level of conviction to the role as Kya goes through various trials and tribulations, including child abuse, social exile, and sexual violence to name a few, to become the headstrong character she is. What also makes her performance even more impressive is how it succeeds despite the film's glossy exterior. None of the characters look like they have ever ventured into a swamp in their lives.
Secondly, the film also has a solid performance from veteran actor David Strathairn as Tom. When you want a great actor to play an unassuming character, your best bet is to cast Strathairn. Playing the solid rock of integrity to a trite role, Strathairn brings enough verve and heart to make the role convincing and lend the film emotional weight.
Finally, Crawdads offers nostalgic charm with its predictable storytelling. The tried-and-true tropes in its romantic and courtroom subplots are reminiscent of the surges of Nicholas Sparks and John Grisham film adaptations prevalent in the 1990s and 2000s. They provide some warmth and familiarity to audiences.
However, the direction and storytelling fail to make them standout. As mentioned earlier, the glossy exterior ruins any sense of verisimilitude in the story, making it awfully difficult to believe or care about any of the predicaments. That is a shame, considering Edgar-Jones and Strathairn's efforts. It also does not help the romantic subplot is carried by the performances from Harris Dickinson (no relation to the reviewer) and Taylor John Smith.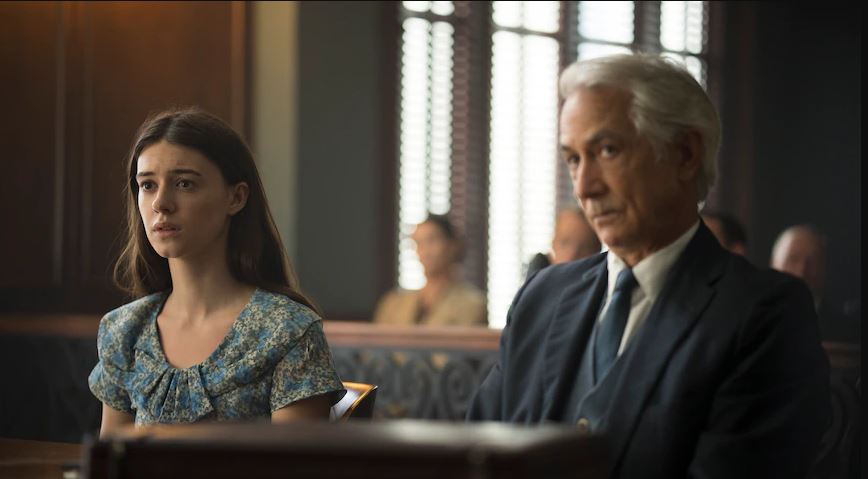 Dickinson has proven to be a wonderful performer in films like Beach Rats (2017) and Triangle of Sadness (2022). In the case of Crawdads, he musters enough menace in the role to come across as threatening but he does not convince as a romantic lead. It makes it difficult to believe Kya would approach him let alone elope with him. As for John Smith (no Pocahontas relation), his performance is bereft of any interest and charisma that would make his character intriguing, other than his good looks.
The tropes in the storytelling also pay off with moments of unintentional laughter. Bearing spoilers in the story, the staging of the betrayal and return of one of the characters late in the third act is laughable since its handled in such a lifeless manner that it would have been emotionally poignant otherwise. Having prior knowledge of the author's past and linking it with the plot points of her story also makes the film quite tasteless and ironically funny.
Overall, Where the Crawdads Sing lacks the drama, innovation, and pathos needed to make its story work. However, its solid lead performances from Edgar-Jones and Strathairn and its genre-reverential nostalgic charms may be sufficient for audiences.
Summary: Despite solid performances, Where the Crawdads Sing lacks the drama, innovation, and pathos needed to make its story work.