Games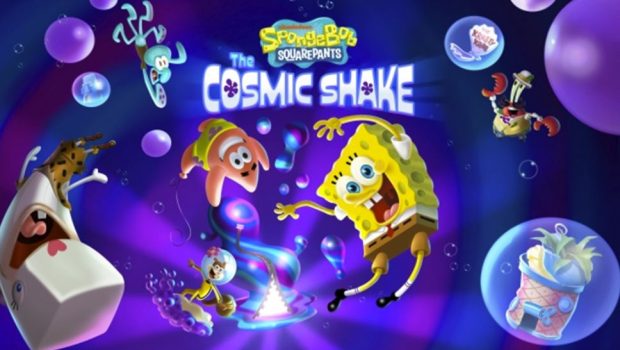 Published on November 17th, 2022 | by Adrian Gunning
What is Fun? Let me spell it out for you! New Trailer for SpongeBob SquarePants: The Cosmic Shake released!
Meet all your favourite Bikini Bottomites from the series, voiced by their original actors! Voiced languages: English, French, German, Spanish, Brazilian Portuguese, Japanese, Polish, Hindi, Indonesian.
Watch the new Trailer on YouTube https://youtu.be/E_2kJE6nIvw
Pre-Order The BFF Edition
The "BFF Edition" for SpongeBob SquarePants: The Cosmic Shake is ready for pre-order now at EB Games, at an SRP of $399.95 . Included in the collector's edition is:
Cosmic Victory Statue – 25cm / 9.8″
Inflatable Patrick – 50cm / 19.7″
BFF Amulet with Necklace
4 Costume miniature bouncing balls
4 placemats
Standard copy of the game on the chosen platform
Costume Pack DLC
SpongeBob SquarePants: The Cosmic Shake is in development for Nintendo Switch™, PC, PlayStation®4, and Xbox One and will be out in 2023 – when it's ready!
Since its launch on July 17, 1999, SpongeBob SquarePants has reigned as the most-watched animated series for 22 consecutive years, while generating a universe of beloved characters, pop culture catchphrases and memes, theatrical releases, consumer products, a Tony award-winning Broadway musical and a global fan base. SpongeBob SquarePants is one of the most widely distributed properties in Paramount International history, seen in more than 170 countries, translated in 29+ languages, and averaging more than 100 million total viewers every quarter. SpongeBob SquarePants was created by Stephen Hillenburg and produced by Nickelodeon in Burbank, Calif. The character-driven cartoon chronicles the nautical and sometimes nonsensical adventures of SpongeBob, an incurable optimistic and earnest sea sponge, and his undersea friends.
Get the game here:
PlayStation 5: https://store.playstation.com/en-au/concept/10003868/
Xbox Series X/S: https://www.xbox.com/en-au/games/store/destroy-all-humans-2-reprobed/9nxgkxk6rd72
PC – Steam: https://store.steampowered.com/app/1266700/Destroy…
PC – Epic Games Store: https://store.epicgames.com/p/destroy-all-humans-2…
PC – GOG.com: https://www.gog.com/game/destroy_all_humans_2_repr…
About SpongeBob SquarePants – The Cosmic Shake
Wish-granting Mermaid's Tears in the hands of SpongeBob and Patrick… What could possibly go wrong? Sure, the very fabric holding the very universe very together could come very undone, opening up portals into Wishworlds full of knights, cowboys, pirates, and prehistoric snails. But that's nothing everyone's favourite sponge can't handle – with the right cosmic costume! Everybody do the Cosmic Shake!
Features:
Unlock classic and new platforming skills like the Fishhook Swing and Karate Kick
Don more than 30 F.U.N.tastic costumes like SnailBob and SpongeGar
Travel to 7 distinct Wishworlds like Wild West Jellyfish Fields and Halloween Rock Bottom
Experience all the buddy movie banter with SpongeBob's permanent companion Balloon-Patrick
Meet all your favourite Bikini Bottomites from the series, voiced by their original actors
Enjoy the in-game soundtrack featuring 101 songs from the series, including Sweet Victory