Hardware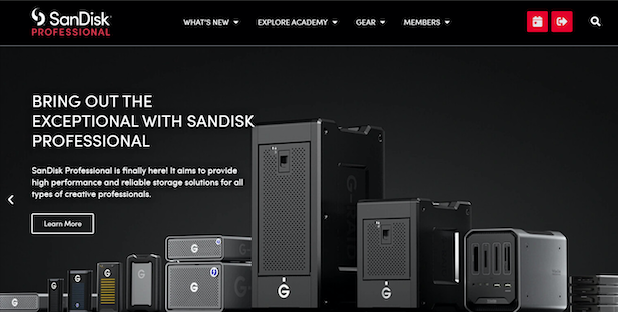 Published on November 3rd, 2021 | by Admin
Western Digital launches SanDisk Professional Academy for Australian creators and creative professionals
Following the SanDisk® Professional brand launch of premium storage solutions for content creators and professionals, Western Digital today unveiled the SanDisk Professional Academy in Australia. In support of professionals who work in the Australian creative industries, the SanDisk Professional Academy is an online community hub that offers members thought leadership content, local insights, tips and training by SanDisk Professional Mentors who share their industry experience and practical advice for studio work or on-location shoots. Members also have the opportunity to showcase their work, build their professional profile and connect with others on the platform.
The Australian creative industry alone employs over 530,0001 individuals who help shape our society and culture through film, television, radio, music, publishing and visual arts, and extends to advertising, marketing, design, digital content and support industries. From freelancers and budding start-ups to growing studios through working in large scale production shoots, SanDisk Professional recognises the innovation and hard work that each individual brings to the creative economy.
"In support of the local creative industries, the SanDisk Professional Academy was established to provide a platform where members become part of a vibrant community that inspires each other, and facilitates the exchange of knowledge across different fields and disciplines," said Stefan Mandl, vice president of sales, Western Digital. "Free to join, the platform also features the latest news and developments on professional-grade storage solutions from SanDisk Professional that supports creatives in their workflow processes. Here, we will be offering priority deals and support for our members, whether that be for studio work or on location shoot requirements."
The SanDisk Professional Academy offers mentorship by some of Australia's leading creative professionals across the film, photography, music and entertainment industries. From sharing in depth advice articles and video content to inspirational works in the Mentor Gallery, the Academy mentors will collaborate with members in an effort to genuinely give back to the community. Members who are eager to do the same will have the opportunity to be invited as a SanDisk Professional Mentor to contribute their tips, tricks and guidance to other members.
"I'm thrilled to be joining the SanDisk Professional Academy as a mentor. This opportunity allows me to impart my knowledge of pet and wildlife photography. It's a great way for me to share my experiences with other creative professionals, both in my field and in other industries. As a professional animal wildlife photographer, there's no time to waste when dealing with moving subjects. I rely on SanDisk Professional solutions so I can focus on capturing the moment without worry," says Alex Cearns OAM, Director of Houndstooth Studios and SanDisk Professional Academy Mentor.
"When you first start your career, your knowledge is based on theory. Over the past two decades, I've learnt what's left out of the textbooks," says Simon Moro, Music Producer & Mixer and SanDisk Professional Academy Mentor. "Whether you are just starting out, or a veteran in the creative industry, SanDisk Professional Academy recognizes this journey, and I look forward to sharing my insights that will be useful no matter what stage you're at."
Additional Member Benefits, Becoming a Member
On top of gaining access to great content and unique training experiences, SanDisk Professional Academy members are able to build their professional profile on the platform to showcase their best work and connect with other members, mentors, brands and studios for potential networking and collaboration opportunities. Members also gain access to exclusive benefits such as priority invites to events, discounts on SanDisk Professional products and the opportunity to join competitions, win prizes and participate in the upcoming SanDisk Professional Academy Awards.
Membership is open for those willing to grow their creative ambitions and inspire others. To sign up or to find out more information on the full list of member benefits, please visit: www.sandiskproacademy.com.
Local Availability of SanDisk Professional product portfolio in Australia
Together with the launch of SanDisk Professional Academy, the SanDisk Professional portfolio of premium storage solutions is also now available for purchase in Australia.
The SanDisk Professional line features 16 modular workflow solutions with professional-grade performance and enterprise-class reliability that will include:
PRO-CINEMA CFexpress VPG400 – An all-new professional-grade, rugged CFexpress® card for videographers and cinematographers needing superior, uninterrupted performance with video recording at a minimum of 400MB/s** to keep up with the demands facing today's videography, broadcast and cinema industries.
PRO-READER series – Four new PRO-READER devices that feature a USB-CTM interface that supports SuperSpeed USB 10Gbps. Designed to work with latest and most common camera media including CFastTM, CFexpress, RED Mini-Mag®, CF, microSDTM and SDTM cards.
PRO-DOCK 4 – A new revolutionary 4-bay reader docking station that can bridge capture and ingest with a truly scalable offloading solution that saves critical time and money on multi-camera productions. The PRO-DOCK 4 enables up to four simultaneous card offloads.
A new 4TB* G-DRIVE™ ArmorLock™ Encrypted NVMe™ SSD along with our trusted line up of G-DRIVE™ ultra-rugged portable drives, desktop devices featuring our enterprise-grade Ultrastar® drives, and G-RAID™ and G-RAID SHUTTLE transportable, enterprise-grade RAID solutions (now featuring both Thunderbolt 3 and USB 3.2 Gen 2 support) that offer an exceptional range of reliable, high-performance, high-capacity drives for everything from transfer to 100TB+* back up and archive for all types of mission-critical content.
To learn more about how SanDisk Professional's premium-grade, high-performance product portfolio will help professionals get their work done faster and more efficiently – from high-speed card offloads, super-fast transfers and backup to massive capacity for consolidated backup and access – please visit www.sandiskproacademy.com.