Hardware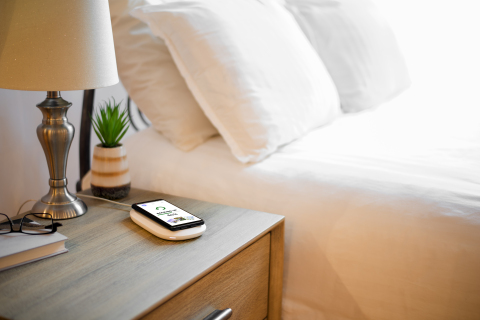 Published on July 12th, 2021 | by Adrian Gunning
WESTERN DIGITAL EXPANDS MOBILE SOLUTIONS LINE WITH INNOVATIVE WIRELESS CHARGER
For consumers seeking fast and reliable charger options for their Qi™-compatible devices, Western Digital (NASDAQ: WDC) today expanded its presence within the wireless charging category with the SanDisk Ixpand Wireless Charger Sync. The Ixpand Wireless Charger Sync reimagines the capabilities of the traditional charger, offering peace of mind and the experience of waking up to a fully charged and backed-up phone.1 Whether you are treating yourself to a smartphone or gifting to a loved one this holiday season, the Ixpand Wireless Charger Sync makes the perfect accessory for a new mobile device.
Helping to resolve the issue of manual back up, the Ixpand Wireless Charger Sync simplifies the process, so you do not have to think about it. Providing local storage in capacities up to 128GB*, the Ixpand Wireless Charger Sync allows for fast wireless charging, while automatically backing up photos and videos, freeing up valuable space on your device.1
"In today's mobile-driven world, our customers rely on fully-powered and backed up mobile devices to stay connected, informed and entertained," said Sairam Challa, product marketing manager, SanDisk, Western Digital. "The SanDisk brand is known for offering trusted solutions, and we are thrilled to expand our portfolio to include the world's first wireless charger with automatic local backup, making consumers' lives more convenient and simple."
The Ixpand Wireless Charger Sync is compatible with AirPods Pro, iPhone 8 and up, Samsung Galaxy S7 and up, Samsung Galaxy Note 5 and up, and other Qi-compatible phones even through most cases.** The Ixpand Wireless Charger Sync comes with temperature control, foreign object detection and adaptive charging to help keep your phone battery safe.
Key Features
Ixpand Wireless Charger Sync
Automatically back up photos, videos and contacts right onto the charger by placing your phone on the base.1
Delivers up to 10W of power with fast charging.
Easily free up space on your phone knowing your photos and videos are backed up in full resolution.1
Includes high-efficiency power plug with 1.8m (6 -foot) cable for fast, convenient charging, right out of the box.
Supports multiple backup profiles so you can share the charger with others in your family.2
Pricing and Availability
The new Ixpand Wireless Charger Sync is backed by a two-year limited warranty, and is available now in 64GB*and 128GB* capacities with MSRPs of $169 and $199 AUD respectively at select retailers including Officeworks.
To keep up with the latest from SanDisk, visit sandisk.com or follow us on Facebook, Instagram and Twitter.
Product specifications subject to change without notice. Pictures shown may vary from actual products. Not all products may be available in all regions of the world.
*1GB = 1,000,000,000 bytes. Actual user storage less.
** Ixpand Wireless Charger Sync charges through most rubber/plastic/TPU cases less than 3 mm thick. Magnetic or metal attachments will prevent charging.
1 Backup requires wireless connection, Ixpand Wireless Charger app, and iOS 11 or above or Android™ 5.0 or above required. Ixpand Wireless Charger app available for download from the App Store or Google Play™. Registration required; terms and conditions apply.
2 Ixpand Wireless Charger app supports up to three user profiles.