Hardware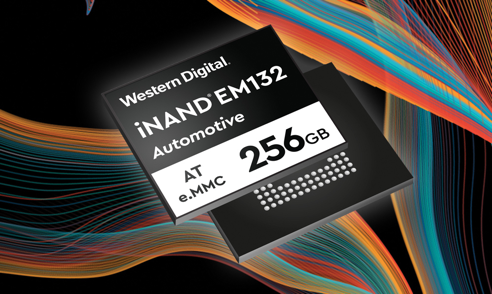 Published on May 10th, 2019 | by Admin
WESTERN DIGITAL ADDRESSES INCREASING DATA DEMANDS DRIVEN BY CONNECTED CARS LEADING TO AN AUTONOMOUS DRIVING FUTURE
Western Digital Corp. (NASDAQ: WDC) is addressing the automotive industry's increasing need for storage by equipping vehicle manufacturers and system solution providers with the technology and capacity to support both current and future applications including e-cockpits, Artificial Intelligence (AI) databases, ADAS, advanced infotainment systems, and autonomous computers.
As the first 256GB e.MMC using 64-Layer 3D NAND TLC flash technology in the automotive market, the new Western Digital® iNAND® AT EM132 EFD extends the life of e.MMC beyond 2D NAND to meet evolving application needs and growing capacity requirements.
According to Neil Shah, partner and research director, Counterpoint Research, "Storage is one of the fastest growing semiconductor applications in a connected autonomous car. The advanced in-vehicle infotainment (IVI), AI and sensor-driven autonomous driving systems generate large amounts of data that needs to be processed and stored locally at the edge. The average capacity of storage required per vehicle is expected to balloon beyond 2TB by 2022."
High capacity storage, typically used in cars for storing map data, application software and user information is now finding its way into next-gen auto applications including data recorders, digital clusters, gateway, V2X communications, ADAS, AI and autonomous computers. This growing trend requires flash to be designed for extreme automotive environments, including temperature range up to 105oC, as well as meeting the quality and reliability requirements critical for these applications.
"High capacity storage with rigorous quality and reliability requirements is rapidly becoming the standard in the automotive sector," said Oded Sagee, senior director, Devices, Western Digital. "This first-of-its-kind 3D TLC NAND e.MMC EFD is designed with the feature set and specifications to meet the demands of next-gen applications."
The IATF16949 certified, AEC-Q100 compliant and adhering to the ISO26262 NAND flash Safety Mechanisms guidelines, iNAND AT EM132 EFD also encompasses a rich automotive feature set designed for intensive automotive workloads. Features include:
Advanced health monitoring
Thermal management
Auto and manual read refresh
Robust power management
Data retention exceeding JEDEC standards
Using the most advanced data protection and error correction technologies, the Western Digital iNAND AT EM132 is designed specifically for product reliability.