Comics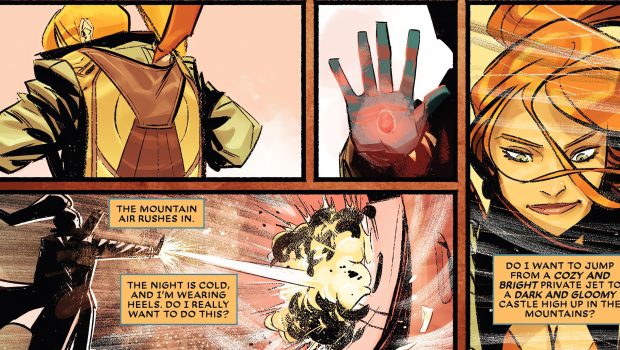 Published on September 20th, 2023 | by Howard Smith
Werewolf by Night #1 REVIEW
Summary: A well-crafted story shrouded in darkness and adventure
Midnight Summoning
Straight out of an old horror movie Jack Russell, better known as the Werewolf by Night, and Elsa Bloodstone find themselves storming a castle filled with deadly undead creatures. Monstrosities in Werewolf by Night #1 are guarding the castle, which causes these two supernatural allies to unexpectedly meet under a circumstance of dire attention. On a mission to save a village girl from the clutches of terror by Doktor Nekromatik the pair band together as a team. Who knew a monster hunter and the king of all wolves would share a common goal? A dark entity unlike the pair have ever faced before appears, but what they discover leads to one crazy stormy night and ends in disappointment.
Written by Derek Landy (All-Out Avengers), Werewolf by Night #1 is a well-crafted story shrouded in darkness and adventure. Riddled with an inner monologue from both characters for the first half of the comic book, Landy captures the essence of what monster hunting is all about throughout the course of the tale. The brooding nature of the castle and the setting make this story work to its full potential. The interesting part that readers may like lies in the fashion in which the characters are introduced. They are total opposites of each other, yet when presented they are given distinct approaches to handling a rescue mission. Aside from the main characters of the story, the twists and turns present made the comic book feel like a movie for readers to enjoy. It's as if Landy referenced classic horror films and incorporated what he may have read and seen into this comic book with a clear vision in mind.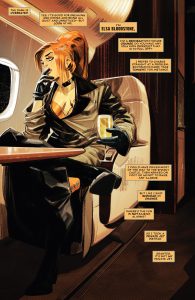 On that note, Fran Galan (Wakanda) as the artist of this comic book does a tremendous task of illustrating the story and bringing it to life. Werewolf by Night #1 is uniquely colored as well. At night every background, monster, Jack, and other objects are all colored in monochrome except Elas who is in full color. The contrast of her color to the environment around her suits her ability to stand out and look good at the same time. Additionally, the use of these pallets of colors signifies that this entire experience the heroes are going through is consumed by evil. The only light that can be seen is through Elsa who is gleaming with life and lacks there of darkness. She stands out both figuratively and physically in these circumstances. Galan's work on this comic book is a satisfying display of artistic fun and amusement.
Regarding amusement, Joe Sabino's (Astonishing Tales, Blade, Contest of Champions) lettering work was a terrific addition to the story. Sabino maintained consistency and provided readers with keen captions, which served the overall excitement the comic book implements. The placement of the lettering didn't take much away from the visual information nor did the lettering obstruct key points within the story itself.
The cover art by Corin Howell (Eat the Rich) and Rachelle Rosenberg (Captain Marvel, Conan the Barbarian) evokes intrigue as to what Werewolf by Night #1 has in store for Elsa Bloodstone and Jack. The cover artwork resembles a rendition of Castlevania, yet the work by both Howell and Rosenberg is genuinely pure significantly.
Marvel fans who appreciate the horror side of Marvel should pick Werewolf by Night #1. It's a comic book that's safe to start with and doesn't require too much backreading to know a lot of previous information about the character's past. It throws readers right into the midst of a situation and doesn't let go for quite a while. There is a feeling that readers won't see the last of Jack Russell as he is due to make an official return in Crypt of Shadows soon. Be sure to grab this comic book from your local comic book store or online where copies can be purchased.
Comic Details
Writer: Derek Landy
Artist: Fran Galan
Letterer: VC's Joe Sabino
Cover Artists: Corin Howell, Rachelle Rosenberg
Editor: Alanna Smith
Publisher: Marvel Entertainment