Comics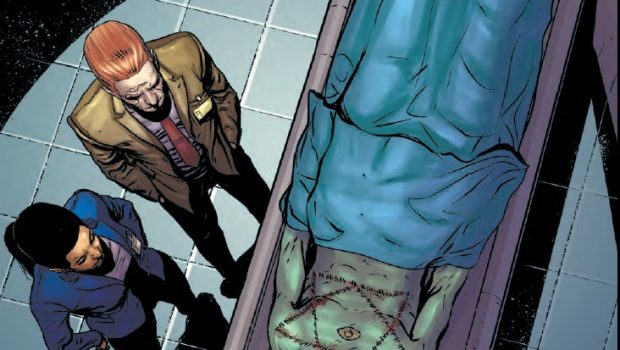 Published on September 8th, 2016 | by Lyla Saudi
Weird Detective #3 Comic Book Review
Summary: The hunt for the Juice Box Killer continues but the relationship between Detective Sebastian Greene and Sana Fayez is deteriorating and getting in the way of the investigation.
Fighting for your life against an Innsmouth monster is not on everyone's list of things to do on a weekend. Neither is stopping your partner from exposing your identity, tracking down an infamous serial killer and getting advice on how to act as a passable 'human' from your pet cat, but in Weird Detective #3 written by Fred Van Lente, illustrated by Guiu Vilanova and with colours by Mauricio Wallace, it may be the only way that Detective Sebastian Greene can find the answers he needs to save the existence of his people.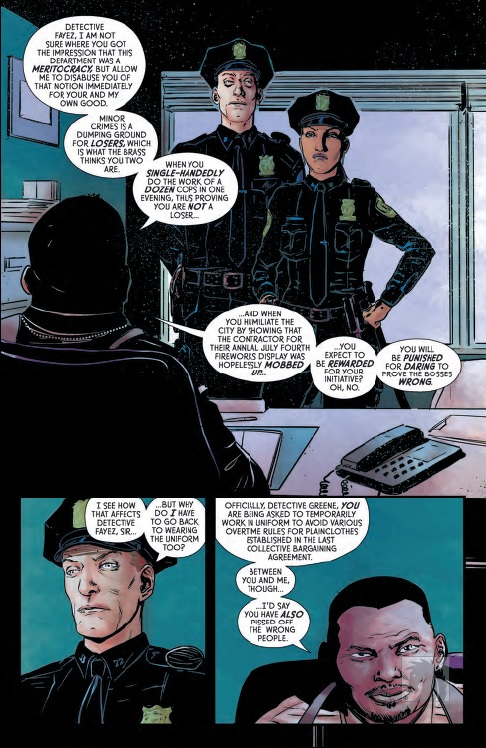 Sebastian Greene and Sana Fayez, partnering detectives from the Minor Crimes Division (a dumping ground for unwanted cases) have been demoted for solving a missing person case (that's right, demoted).  Turns out taking down a wing of the crazed Anzario crime family and rescuing a kidnapped victim humiliated the wrong people in the Major Crimes Division (where all the good cases and credit goes to). Greene and Fayez are forced give up their detective badges, return to the mundane blue police uniform, and canvas the streets in search of the infamous Juice Box Killer that has literally been sucking the life from its victims.
After hours of neighbourhood trolling, door knocking and interviewing comes up empty, Greene and Fayez are forced to address the real issue that is plaguing their partnership, the incriminating information that they have on each other that could be exposed at any moment. But with an eerie feeling brewing deep down in Greene's gut about the last person they just interviewed (something just wasn't right about that sweet old lady), they need to push their issues aside quickly before they risk losing their lead which could land them the Juice Box Killer.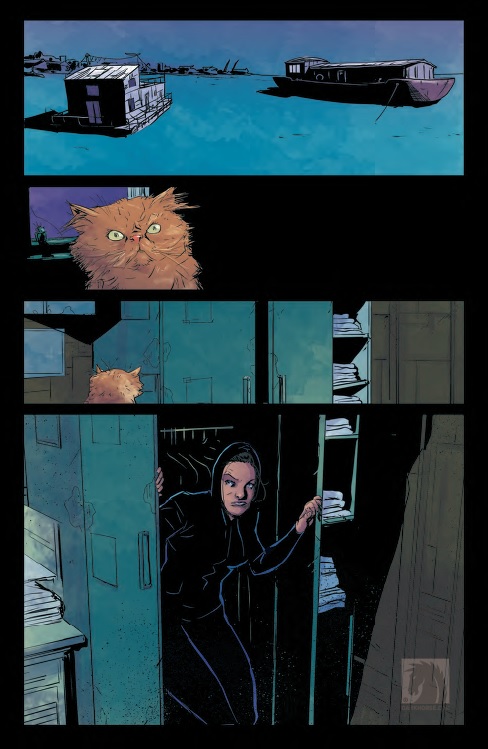 Writing:
The writing may have been a bit of a let-down in the last issue but Fred Van Lente makes up for it (a lot) in Weird Detective #3. It has humour, suspense, action and a great story line that is delivered at a good pace. We learn more about Greene and Fayez, their relationship and lack of trust towards each other but also what they are made up of in terms of wit, determination and strength.
There was one page where the story deviated a little making it confusing to understand (similar to the last issue) and there was also less gruesome (blood and gore) horror but I appreciate that the focus was placed more on character and story development (and there is more of the smart mouthed cat, can't forget about the cat!).
Artwork:
Guiu Vilanova and Mauricio Wallace deliver great illustrations and colour to compliment all the elements of the story. The action scenes are not cluttered, the character expressions are clean and detailed, the panels flow smoothly, and the different hues to depict the different scenes work really well throughout the whole issue.
Final Thoughts?
Espionage (more like house snooping and google searches), murder, monsters, a sarcastic pet cat (still my favourite) and an explosion of fireworks, this issue has it all and is the stand out for me in this series so far. So hurry up and find all of that loose pocket change because this is one issue you don't want to miss out on!
Comic Book Details
Publisher: Dark Horse Comics
Writer: Fred Van Lente
Artist: Guiu Vilanova
Colourist: Mauricio Wallace
Cover Artist: Guiu Vilanova
Genre: Horror, Crime
Publication Date: 24th August, 2016
Format: FC, Miniseries