Comics
Published on July 21st, 2016 | by Lyla Saudi
Weird Detective #2 Comic Book Review
Summary: Tracking down a monstrous killer isn't easy especially when you are at risk of being exposed as a monster yourself.
The second issue has hit the stands! Detective Sebastian Greene is hot on the case to capture the Lovecraftian monster that is leaving behind empty skins of human victims all over New York City. In a race against time Greene must piece together the connection between the killer monster and a notorious supernatural crime family, while trying to stay one step ahead from having his own monstrous identity revealed in Weird Detective #2. Published by Dark Horse Comics, written by Fred Van Lente, illustrated by Guiu Vilanova and with colours by Mauricio Wallace.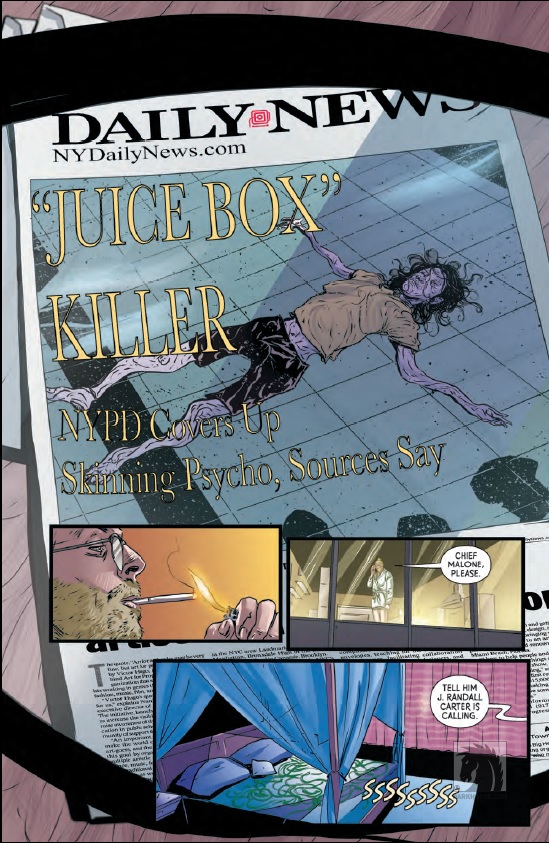 Three victims have been found dead, a father of one of the victims has been kidnapped and the newspapers have dubbed the serial killer as 'The Juicebox Killer'.  The NYPD is under a negative spotlight and the only way to get ahead of the case is to create a task force with extra man power and resources. Which isn't good for Detective Sebastian Greene, who needs to have a low profile.
With corruption within the police department, Detective Sanya Fayez is under even more pressure to expose Greene by uncovering his secrets and putting an end to his uncanny crime solving abilities, abilities that people (outside the NYPD) are not happy with.
As his 'fitting in with human society' starts to backfire and with no helpful advice from his talking (and very sarcastic) pet cat, even the use of his special seventeen human (but not human) senses can't calm the mounting anxiety Greene is experiencing at the risk of being exposed.  But time is running and he has no choice but to track down the crazed and supernatural Anzario crime family alone, before another victim dies.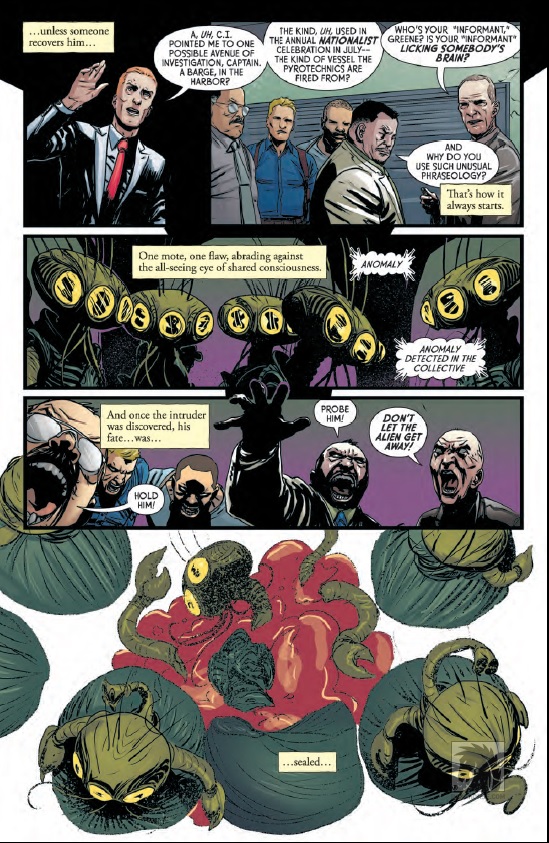 Writing
Fred Van Lente delivers another great storyline which I can't wait to uncover more of however his writing was a bit of a let-down in this issue. Throughout the story that level of excitement, intrigue and suspense that was previously experienced, just wasn't there. The cliff-hanger from the end of issue #1 was unrealistic and too easily resolved, a random two page scene felt thrown in (without any further mention or clarification) and there are still so many questions surrounding the characters (and their development). I did however enjoy the pacing of the story, the judgemental and distrusting banter between Fayez and Greene, and (my favourite) the growing relationship between Greene and his telepathic pet cat. Overall there is a good mixture of humour, horror, intrigue and leaving us at the end of issue #2 with another juicy cliff-hanger.
Artwork
Guiu Vilanova and Mauricio Wallace are great artists. The way they utilise their skills to depict character movement, action scenes, gruesome horror and mood works well as you flip through the pages.  Some panels were less detailed and confusing than others but still managed to maintain the flow of the story.  Some of the speech bubbles used really small font making it hard to read. Other than that the work is beautiful and showcases darker hues and bright contrasting colours that focus your attention to different elements on the page. To top it off, there is a great piece of pinup artwork from Rafer Roberts to end the issue as an extra bonus for the readers.
Final Thoughts?
Issue #2 may not have had the same level of excitement as issue #1 but there is a great storyline here with so much more yet to be explored and developed. With only three issues left to this five-part miniseries, I am interested to see where it goes and would recommend picking up a copy for yourself to read.
Comic Details
Publisher: Dark Horse
Writer: Fred Van Lente
Artist: Guiu Vilanova
Colourist: Mauricio Wallace
Cover Artist: Guiu Vilanova
Genre: Crime, Horror
Format: Full Colour, 25 pages, Miniseries
Publication Date: 20th July, 2016