Comics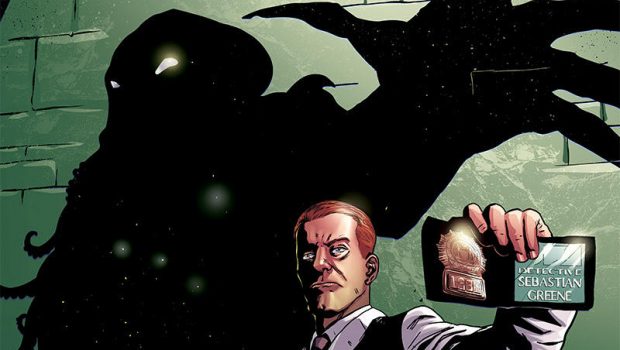 Published on June 5th, 2016 | by Lyla Saudi
Weird Detective #1 Comic Book Review
Summary: A twisting cosmic horror story about your average crime solving detective, only he isn't average and he isn't even human.
One of the newest comic series to land on your lap from Dark Horse Comics is Weird Detective. Written by Fred Van Lente (X-Men Noir and Marvel Zombies), illustrated by Guiu Vilanova (Conan the Avenger) and with colours by Mauricio Wallace. Weird Detective is a five-issue miniseries that focuses on detective Sebastian Greene, as he tracks down the perpetrators plaguing the streets of New York committing patterns of weird supernatural crimes and even darker Lovecraftian horrors. Only these perpetrators aren't from this world and neither is Sebastian Greene because… it takes a monster to find a monster.
A body or more like a sack of human skin with clothes (it is missing all of its internal organs and bones) is found at the bottom of a public pool. Minor crimes, a division where every other division dumps its unwanted cases are called in to investigate. Enter Sebastian Greene, an odd man with even odder mannerisms (his colleagues pass it off as him being 'Canadian') and his newly acquired partner Detective Sana Fayez (who believes Greene is harbouring a dark secret). Together they work to track down any leads that can shed some light on this bizarre case, a case that Greene already knows the answer to.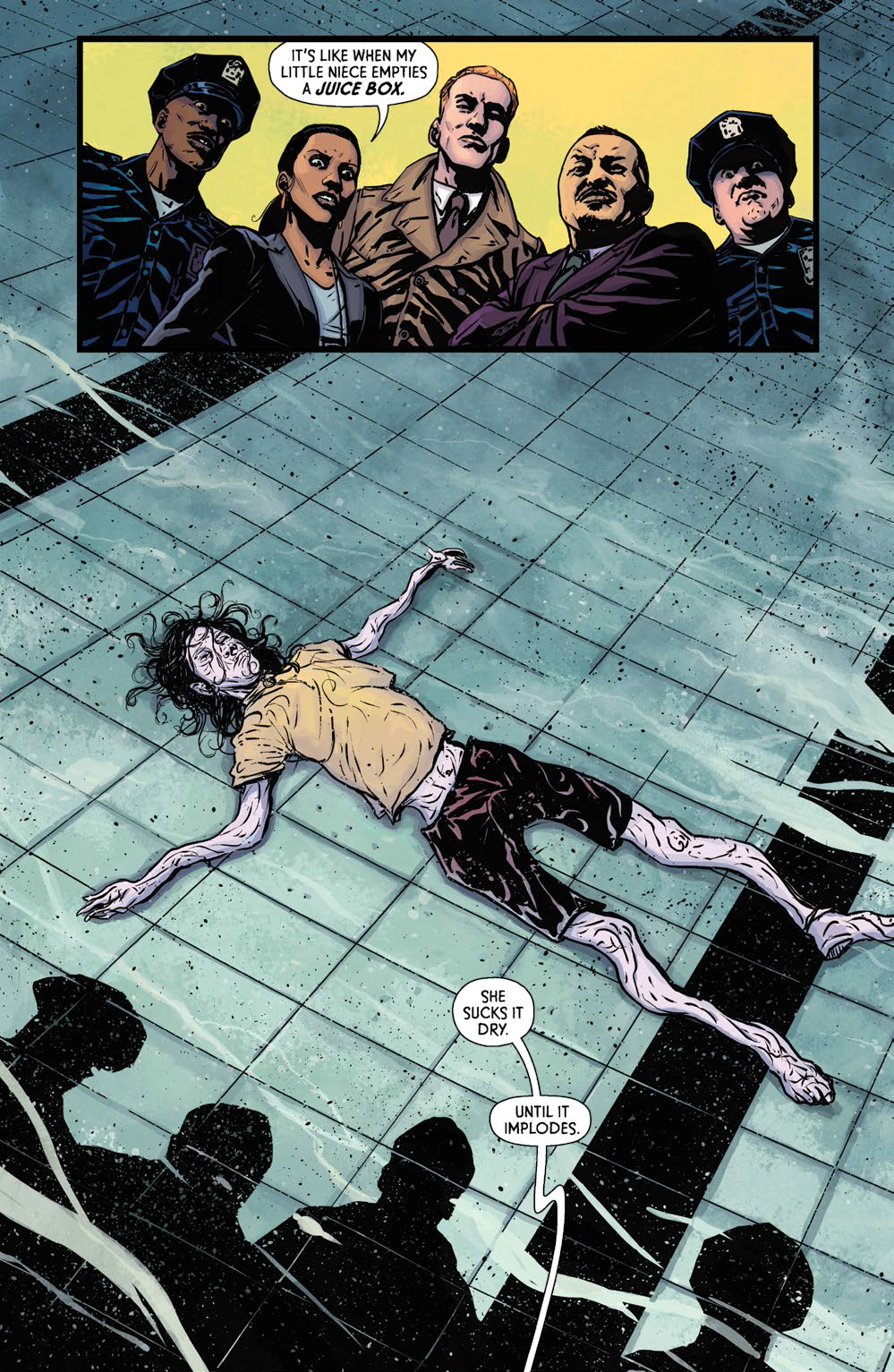 Greene has seventeen human senses… but he isn't human. He was sent to our world on a mission to rid us of the evils that inhabit it and use this knowledge to save his own people. With the risk of being exposed, Greene relies on advice from his pet cat (that he telepathically communicates with) and watching old reruns of detective shows to keep up his cunning human disguise.
With a second mysterious murder happening within a day of the first, Greene and Fayez are called back in to investigate. But what looks like a straight forward murder between two crime families is in fact something more sinister, something that dredges up the evil lurking in the shadows, the evil that Greene has been sent to track down. The only question is will Fayez get in his way.
Writing
At first I found the pace of the story a bit slow but once I reached the end I appreciated that Fred Van Lente took the time (without giving too much away) to explain and focus on the development of Greene's character rather than throwing all of the information at you in one go. The partnership and dialogue between the awkward Greene and untrusting Fayez is written well and there is a good balance of horror and humour throughout the story.
Artwork
Guiu Vilanova is an amazing illustrator who did a great job on capturing the essence of the story and the characters. The panel structure is simple yet creative and flows really well. The horror scenes are expressive and detailed without being over the top and I liked the way he was able to capture the movement and facial expressions of the characters in a clean and simple way.  Mauricio Wallace is an exceptional colourist. His use of purple and pink hues to portray Greene's senses, soft yellow and whites to highlight the dark horror scenes and strong contrasting colours for the night scenes all balance out well on each page.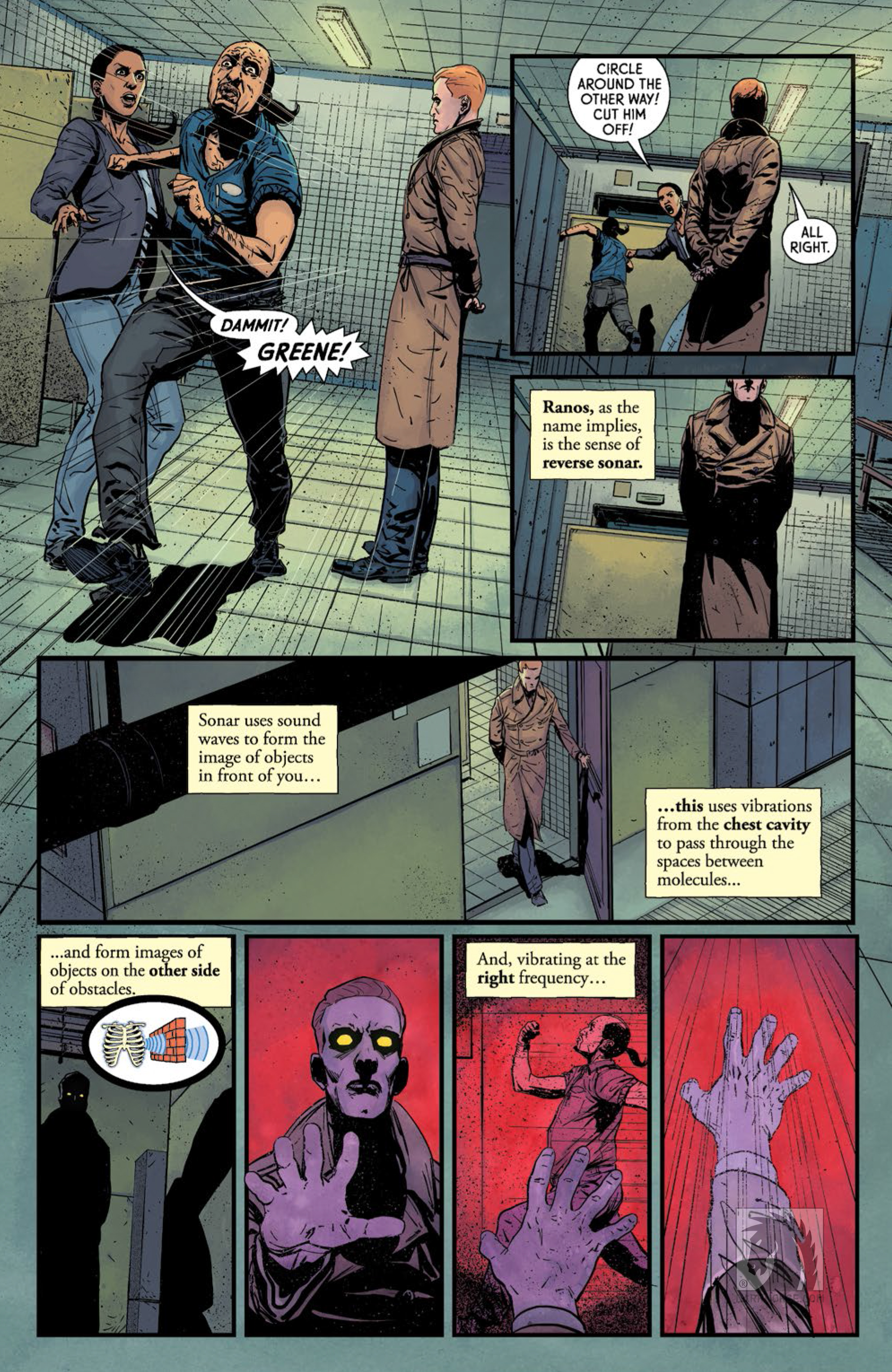 Final Thoughts?
This issue is a great start to the series. Even though I found the pace a bit slow to begin with it was definitely an enjoyable read. I can't wait to get my hands on the next issue so I can find out more about Greene's senses and who or what is behind these bizarre crimes.
Comic Details
Publisher: Dark Horse
Writer: Fred Van Lente
Artist: Guiu Vilanova
Colourist: Mauricio Wallace
Cover Artist: Guiu Vilanova
Genre: Crime, Horror, Mystery
Format: Full Colour, 48 pages; Miniseries
Release Date: June 15th 2016