Games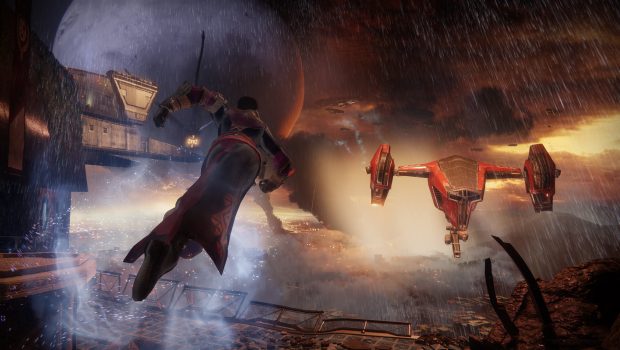 Published on October 27th, 2017 | by Admin
This week at Bungie… we've launched Destiny 2 on PC
The PC version of Destiny 2 is finally here. Amid all the excitement, you might have missed your introduction to the team that made this moment possible.
Watch the Official Destiny 2 PC ViDoc here.
PAX Australia
Don't forget to come and visit us at PAX Australia this year! We've got two awesome activations happening, and they involve ramen and puppies…. what could be better?
Destiny 2 X Akachochin Ramen Pop Up
A Destiny 2 inspired Ramen pop-up will appear at Australia's largest gaming expo, PAX AUS, in partnership with modern Izakaya and Sake Bar, Akachochin. It's no secret that Spicy Ramen is one of character, Cayde-6's favourite dishes in the game. As one of Destiny 2's most beloved characters, the Destiny 2 x Akachochin pop-up celebrates Cayde-6's devotion to Spicy Ramen to deliver a fun, one-off dining experience for Destiny 2 fans and PAX visitors!
The Destiny 2 x Akachochin pop-up will be located at 'The Common Lawn' at the Melbourne Convention Centre, 27th – 29th October.
For the Puppies!!!
Bungie and Activision are bringing the iconic line from the Destiny 2 live action trailer 'For The Puppies' to life by helping raise awareness for non profit charity, Australian Working Dog Rescue Int (AWDRI). Activision and AWDRI will be bringing real-life puppies to PAX AUS, Australia's largest gaming expo, taking place from 27-29th October at the Melbourne Convention Centre.
Looking Ahead
Right now at Bungie, we've passed the development torch from the people that made Destiny 2 to the people who will sustain it. We began a new conversation at TwitchCon with an introduction to two designers from the Live Team who are working on seasons of change for your Guardian lifestyle. If you missed their panel discussion, here is a glimpse at some of the items you can look forward to earning in Season 2.
We've been playing the game in the wild for seven weeks, and like the Destiny experiences that have come before, we're always thinking about where the game is heading next. We're still planning when a bunch of the improvements listed below are going to make their way into the game, but we wanted to let you know what we're up to. Here's a short list of updates we're working on:
New systems and rewards to give our most engaged players additional, optional pursuits.
Better incentives for players who complete challenging Prestige activities.
Better rewards and replay value for strikes, adventures, and Lost Sectors.
Private matches for the competitive community (we are targeting early 2018).
Crucible tuning like adjusted Supremacy scoring and better spawning rules.
Better incentives for completing Crucible matches (and penalties for quitting competitive games).
Continued improvements to Iron Banner and Faction Rallies, including uniqueness of rewards.
Changes to make the mod economy more interesting and impactful.
Ongoing improvements to Exotics, including adjustments to reduce instances of duplication.
New ways to spend surplus currency and materials (looking at you Legendary Shards).
An emote interface that allows players to equip Salty, Spicy Ramen, Six Shooter, and Flip Out all at the same time.
To read more about how the game will evolve and to hear from Game Director Christopher Barrett, head over here.
Movie of the Week
Destiny 2 feels really good on PC.
There is another update coming next week and you just got a look at some of our future plans on how we will support the game. Thanks for continuing to help us shape the game by playing and giving us feedback.
For more information, head on over to Bungie.net