Games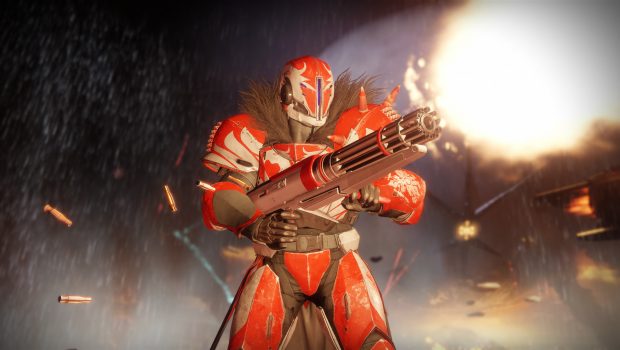 Published on January 29th, 2018 | by Admin
This Week at Bungie, we've got details on the next update to Destiny 2
This week at Bungie, we've got details on the next update to Destiny 2.
Last week, Faction Rallies came to a close, and New Monarchy defended their title. They are now two-time champions and you can pick up their prize in the Tower. Servants loyal to the New Monarchy will get a discount. Everyone else can still get it, but it's going to cost more Glimmer.
Perhaps Future War Cult will finally get a "W" the next time Factions Rallies returns. Until then, we have a new event to look forward to.
Salad Bar
It's time. A battle of Guardian versus Guardian returns.
Begins: Wednesday, January 31 in ANZ
Ends: Wednesday, February 7 in ANZ
The game is Control!
This will be the first time Lord Saladin returns to the Tower in Season 2. There have been some changes to how you'll go about decorating your Guardian with relics of the Iron Lords.
First, we are adding new items to the engrams you will find waiting for you when you visit Lord Saladin. There will definitely be Season 2 weapons in the Iron Banner Engram and we will be adding more in the next event.
To check out which rewards you can expect to earn next week, head over here.
If you are missing items from last season, they will still drop as possible rewards from the engram. There is also a new emblem that tracks how many lifetime rank ups for Iron Banner you have earned in Destiny 2. You can earn it by completing the Iron Banner Milestone.
We've received a lot of feedback from previous Iron Banner events that players preferred a way to directly acquire items. We have added the ability to obtain armour and three different weapons from Lord Saladin during each event. Here is what he has to offer next week.
The final way to earn rewards is by completing challenges. Ornaments are available for all your Iron Banner gear and you can unlock them by completing various objectives for Lord Saladin.
Season 2 Ornaments
There are no limits to how many engrams you can acquire or how many tokens you can earn. Get as much playtime as you can during the week. It will always move you a little closer to opening another engram, earning an ornament, or purchasing a piece of gear from Lord Saladin. Go nuts!
Masters of the Armour
Many of you have already been discovering Masterwork weapons and adding them to your collection. Next week, we are adding Armour Masterworks to the mix. All Legendary armour now has a chance to drop as a Masterwork. The same rules apply as with the weapons, you will have a higher chance of getting Armour Masterwork from Trials of the Nine and Raid activities. But you might get lucky with an engram from Lord Shaxx or any other vendor who offers engrams.
Please note: All Raid Masterworks must be earned from raid drops and can't be obtained from Engrams or vendors in the Tower.
The Benefits
Each armour piece grants 3% damage resistance while using a Super
This stacks for a 15% damage reduction if you have a full set of Masterwork Armor
Masterworks armour can be reworked to a different stat package (Heavy, Light, or Restorative) for one Masterwork core and 10 Legendary Shards
You can now rework stats on your armour. The results will still be stat packages that are found on other pieces. There is a UI bug right now where if you try to quickly rework Armour sets it will appear to rework to the same stats. It doesn't actually perform the rework function or use your materials, but can be quite scary, so we wanted to give you a heads up.
This is just the first version of Armour Masterworks. We are planning to continue updating this system and adding additional benefits. As always, if you have any feedback, please let us know.
Happy hunting.
Raid Reward Renewal
Raiding is one of Destiny 2's ultimate endgame experiences. So far, you have explored the mysteries of the Leviathan and dove even deeper into its first Lair, the Eater of Worlds. We've received feedback that, while the experiences were epic, the rewards could use some more love. We invited Senior Designer Daniel Auchenpaugh to tell you more about what we're changing with rewards starting with next week's Raids. To read more, head over here.
Shader Sit-down
Since the launch of Destiny 2, we've gathered a lot of feedback on the new shader system. We just want to be transparent about what the problem is, and how we are going to go about solving it. Hear from Senior Design Lead Tyson Green as he sheds some light on shaders here.
Turning the Page
Recently, we unveiled our very first webcomic. To call it the first implies that it would not be the last. Coming soon, we'll be delivering the next episode.
Keep your eyes trained on Bungie.net next week for the continuation of the story.
The Dundies
These are our favourite movies from this week. We are sending their creators a special emblem as a reward for their effort. You too can get your hands on the emblem by submitting your video to the Creations page.
Some of what we're talking about this week are just the first steps in the plan we laid out in our Development Update a few weeks ago. You can expect the next update to land in February.
Next week, we will send out a graphical roadmap that will illustrate the updates we have planned for the coming weeks and months, along with what you can expect to find in them.
With Armour Masterworks and the new Raid rewards, next week is a prime opportunity to revisit the Leviathan. If raiding isn't your jam, Iron Banner is calling your name.
For more information, head on over to Bungie.net