Games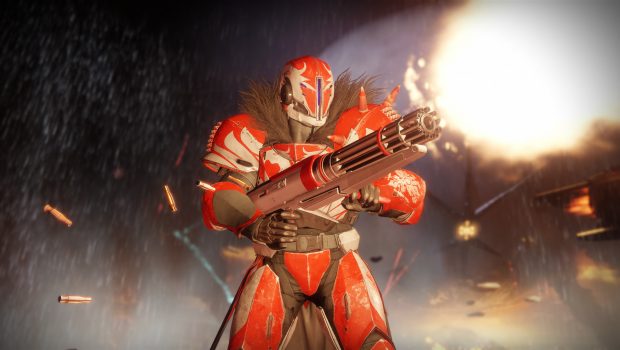 Published on February 24th, 2018 | by admin
This Week at Bungie, the factions are rallying again
This week at Bungie, the factions are rallying again. Future War Cult is aiming for its first win in the Faction Rallies event, but it won't be taken easily. New Monarchy is eyeballing its third victory (in a row, mind you), with legions of dedicated players hitting the grind on public events, Crucible, and Lost Sectors. With a few new rewards to entice a change in pledges of loyalty, it's up in the air as to who will claim victory. We'll find out next week, once Faction Rallies comes to a conclusion and the Tower is decorated with the banners of the victor.
Course Correction
The most important element of making a plan is being open to the fact that it will change. We've updated the Destiny 2 Development Roadmap with some new information. Exotic repetition reduction and Nightfall Strike unique rewards have each been moved out to Destiny Update 1.1.4. Additionally, Exotic weapon and armour sandbox changes have been delayed to Destiny update 1.2.0, to grant proper time to test and implement these changes.
Teams are hard at work ensuring these upcoming features not only meet a proper quality bar, but also don't endanger other aspects of the game with potential bugs or issues. We'll keep you updated every step of the way to make sure you know when to expect items to be released.
Say My Name
Next week, Destiny update 1.1.3 will introduce Strike Scoring, the first version of the Prestige Nightfall Challenge Card, and emblem variants. Two weeks ago, we went through how Nightfall Emblems are changing. Joining us again to go a bit deeper, here's Senior Design Lead Tyson Green to talk about the upcoming emblem and aura changes:
Tyson: Emblems in Destiny have been positioned as a vanity collectible, with a few exceptional (and popular) emblems that reflect noteworthy achievements. In D2, we started to pivot emblems more towards the latter example by adding stat displays to some of them. Now, we want to go further in the direction of emblems as a means of exposing achievement.
First, we're exposing more stats on emblems and making those emblems more available to players who want to display those stats. For example, the Crucible emblems that advertise wins or KDA can now be obtained directly from Shaxx after 10 Crucible rep packages (if you don't get one earlier). We're also deploying a new emblem that advertises your Crucible kills, which are broken down by class so you can see who find themselves in your crosshairs most often.
Second, we're collapsing auras into emblems and removing them as standalone items. This means that existing Raid, Trials, and new Nightfall Emblems will provide the existing aura effects to players, and future emblems can also roll out new effects. These auras are conditional—for example, you still have to go Flawless or do a Prestige Clear to activate them. Some of these auras will also come with fireteam bonuses, so when they see that aura over you, they know who is giving them that benefit.
To read more on the introduction of variants to some emblems, head over here.
Movie of the Week
As always, there is a plethora of community created content on the Creations page. These movies have taken the top spot for Destiny related entertainment this week, and their creators will be granted an awesome emblem in-game for their troubles.
Movie of the Week: First we dance, then we fight
Honourable Mention: Crimson Days- Grenades and Fists Only
Honourable Mention: Run from Acrius
The team are eager to hear your feedback on Nightfall Strike Scoring, and will be watching for new threads in the #Feedback forum once the feature goes live. Thanks to all who stop by and share their thoughts, as player feedback is integral to the growth of Destiny 2. As we continue on the path of the roadmap, we'll ensure to keep you up to date on forecast changes as they occur.
For more information, head on over to Bungie.net