Games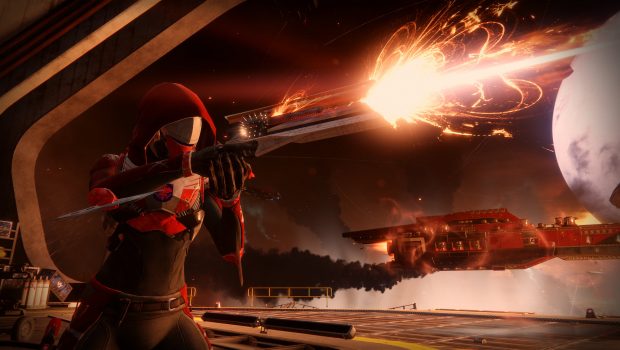 Published on February 9th, 2018 | by admin
This Week at Bungie, we're decorating the world for the big dance
This week at Bungie, we're decorating the world for the big dance.
Yesterday, we revealed that Crimson Days is coming to Destiny 2.
Crimson Days begins in Destiny 2 on Wednesday, February 14 in ANZ. At the heart of the weeklong event is a 2v2 Crucible playlist intended to get your blood pumping as you and a friend test your bonds to the breaking point. This celebration of teamwork will last one week!
The combat scenario is 2v2 Clash with a round-based twist. We will also be debuting The Burnout, a new take on The Burning Shrine set in a future timeline where the Vex have succeeded in altering our reality.
To find out more about what rewards you can earn during Crimson Days, head over here. We'd be honoured to have you join us for the celebration. Don't forget your dance partner!
Earlier this week, Lord Saladin packed up his wares and left the Tower. We heard some good things about Iron Banner in Season 2. If you are still holding tokens, you can use them the next time the ritual returns. If you still need to punch some Guardians to get that chest ornament, you can also continue your progress when Lord Saladin returns.
Settle the Score
"Do you see the stars flutter? Now listen. They scream from the lacerations of our enemies. The balance has been threatened. Nightfall is upon us. This burden of Light has never been heavier. We can sleep no more." — Ulan-Tan
Last week, we published a Destiny 2 Development roadmap, to forecast some changes coming to Destiny 2. You may have noticed some changes coming to Nightfall strikes. The Nightfall has been the subject of a lot of feedback since launch. Many of you felt that the timer was pretty stressful and preferred being able to slowly work your way through the challenges at your own pace. This feedback will be addressed with upcoming changes.
Game Director Christopher Barrett has some context to frame up the essential fantasy that we'd like for the Nightfall to serve, read more here.
Designer John Favaro has some additional info about what you can expect from the new Nightfall modifiers in the Prestige mode. To read more, head over here.
Raid Plans
Another thing that may have jumped out at you as you read the Destiny 2 Development roadmap was that the Eater of Worlds Prestige mode was pushed out until May.
We didn't want to release it in its current form. Before rolling it out, we thought we could add some more flavour to this special activity that will make it worth the wait. Here to tell you more about our plans for raid activities is Senior Designer Joe Blackburn. To read more, head over here.
Romantic Comedies About Time Travel
Grab your popcorn and pour some of the gooey butter simulation sauce on it. It's movie time!
We have been flipping through the pages of the Creation page looking for the best movies to highlight here for everyone to see. We will give the creators a special emblem as a small memento to remember their accomplishment. If you want your shot at it, just submit your video to the Creations page.
Movie of the Week: Pleasure Gardens with two Guardians
Honourable Mention: Happy Crimson Days
The team will be reading your thoughts and feedback on what we laid out this week. Be sure to share your thoughts and we'll continue to keep you updated.
Crimson Days is only 6 sleeps away- get excited!
For more information, head on over to Bungie.net