Games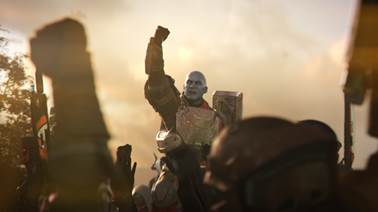 Published on May 8th, 2017 | by admin
This Week at Bungie – 10 Days until Destiny 2 gameplay premiere and the Iron Banner Mayhem Clash
As the Destiny Gameplay Reveal on the 18th of May approaches, expect to see in the lead up to its release how Bungie has been developing the highly anticipated Destiny 2. Although for now, we'd like to introduce you to some fan favourites and new characters you'd expect to see in Destiny 2 including:
The Vanguard, which consists of the three high-ranking Guardians: Zavalla, Ikora Rey and Cayde-6. The trio, all of whom act as leaders for each of the Guardian classes, direct the action and setting mission objectives.
Warlock – Ikora Rey
Ikora's role in the Vanguard is to study enemy threats and in particular, any unconventional threats posed by the forces of darkness. In Destiny 2, her leadership will be needed more than ever in humanity's fight against Lord Ghaul and his Red Legion. 
Titan– Commander Zavala
Commander Zavalla is a veteran Titan who co-ordinates the defence of the City. In Destiny 2 we will see how he responds, now that humanity's last safe city has fallen to Lord Ghaul.
Hunter – Cayde-6
The Ghost once remarked: "Cayde is a cunning hunter, with years of experience in staying alive in the wilds. But, um, fighting a war isn't his strong suit. I'm not sure the 'shoot them all to death' strategy is going to be enough."
The New Enemy
This Cabal force, known as the Red Legion, is a new deadly enemy comprised of a variety of combatants from massive soldiers to rabid dog like creatures.
We're looking forward to showing off the powers that Guardians will wield to face off against this new threat when we reveal the new gameplay, until then, the Iron Lords have set a task for every Guard
From Wednesday, May 10, 3AM AEST until Tuesday, May 16, 7PM AEST, the Mayhem Clash will see the Iron Banner set up for maximum supercharge, with the following set of loot up for grabs:
Pulse Rifles
Machine Guns
Titan Armour
Hunter Armour
Warlock Armour
For more information, head on over to Bungie.net