News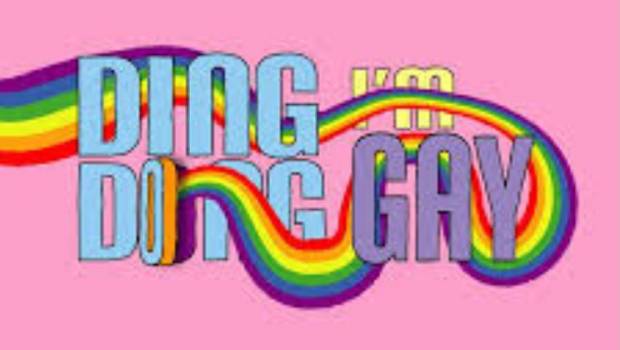 Published on February 6th, 2020 | by Damien Straker
WEB COMEDY 'DING DONG I'M GAY' SEASON ONE COMMENCES PRINCIPAL PHOTOGRAPHY
Queer- and sex-positive web comedy Ding Dong I'm Gay Season One begins filming in Sydney today, with principal production investment from Screen Australia and financed with support from Screen NSW. Based on the pilot web series of the same name now live on YouTube with over 1.6 million views, the 6 x 7-minute Wintergarden Pictures production is created by award winning writer Tim Spencer (Oasis, Cherry Season) and jointly directed by Sarah Bishop (Skit Box, Wham Bam Thank You Ma'am) and Joshua Longhurst (Oasis, Cherry Season).
Offering new, exciting and entertaining LGBTQIA+ content for an online audience hungry for diverse stories, Ding Dong I'm Gay Season One sets a boundary-pushing comedic lens on fantasy boyfriends, awkward hook-ups, internalised rejection and even a surly sphincter. Over six episodes, this unique comedy series follows a high-achieving neurotic, Cameron, as he seeks to guide his naive, newly-out country cousin, Toby, through the urban gay experience. But when Toby flourishes, Cameron's insecurities blind him to the genuine connection they share.
Screen Australia Online Investment Manager Lee Naimo says, "This is an exciting team who have already proven their ability to connect with viewers, with such an impressive reception to the pilot series, and we are thrilled to support them take the project into production."
Head of Screen NSW Grainne Brunsdon adds, "We've long been fans of the Wintergarden Pictures team and are delighted to be involved in expanding their funny and frank LGBTQIA+ web comedy from its popular pilot season. It's fantastic to be able to bring more diversity to Australian screens through projects like this and something we are passionate about supporting."
Season One of Ding Dong I'm Gay is written by Tim Spencer (writer of queer short film, Cherry Season, now available on SBS On Demand) and Zoe Norton Lodge from ABC's The Checkout. Tim Spencer will also star in the series and produce with Joshua Longhurst and Rosie Braye of Wintergarden Pictures. New to the series, Brayden Dalmazzone (Cut, Wish for Tomorrow) will star as Toby with Rupert Raineri (Pirates of the Caribbean: Dead Men Tell No Tales, Gecko) reprising his role as Jack and director Sarah Bishop returning as Lucy. Also joining Season One are AACTA nominee Ben Gerrard (Molly, Open Slather), Alex Beauman (Staying the Night), Tommy Misa (I Am Woman) and Liam Nunan (Solitaire).
Mark O'Toole (Black Comedy) is Executive Producer and Script Editor on Ding Dong I'm Gay Season One, which was also developed with the assistance of writer Benjamin Law (The Family Law).
Creator, writer, producer and star Tim Spencer says, "This show keeps surprising me. It started as a small idea between two cousins brought together by their shared sexuality, but subtly, surprisingly, it has helped me figure out what is most important in my own life. Through Cameron and Toby's adventures we are reminded to hold on tight to those who love you for who you really are (even if that person is painfully awkward). I'm thrilled to present Season One of Ding Dong I'm Gay, whilst quietly panicking about getting my butt out on the internet."
Director Sarah Bishop adds, "I'm so excited to be back working on this show. Even though they ignored my suggestion to shoot it in France, which is apparently 'not creatively relevant' and 'expensive'. But in all seriousness – this is a solid team and I can't wait to share the full series with new audiences and the fans all over the world who have already fallen in love with the show."
Director and producer Joshua Longhurst comments, "I've loved developing Ding Dong I'm Gay and am thrilled to be directing such a unique and authentic gay story. I'm passionate about telling stories that explore sex and sexuality, and it's an absolute joy to be working with this team to bring these horny and socially awkward characters to cracked phone screens everywhere."
Writer Zoe Norton Lodge says, "I am so proud of Ding Dong I'm Gay and the criminally attractive team behind it. Everyone has worked so bloody hard and I am beyond thrilled that we get to see it come to life in full series."
Synopsis:
After moving to Sydney and coming out, Cameron was certain he would be flooded with invitations to parties in tasteful apartments and weekends away with jaw-lined boyfriends who could fly planes and knew CPR. Now, six years later, Cameron's hopes and dreams have flatlined. He suspects his pregnant neighbour, Lucy, is stealing his Wi-Fi and his longtime crush, Jack, only plays ball in his fantasies.
 Since Toby, Cameron's charmingly unsophisticated cousin from Yass, arrived in the Big Smoke with the news that he too is gay, Cameron has taken it upon himself to become his reluctant fairy godmother. From How to Bottom to hook-up strategy and penis-enhancing underwear, Cameron mentors his country cousin through the gay experience. But will Cameron triumph over his insecurities and strange attractions, or will he push Toby away in a jealous response to his young cousin's confronting success?
Ding Dong I'm Gay Season One will release for free online in 2020. The pilot series is available to watch on YouTube now.
Production credit: Ding Dong I'm Gay is a Wintergarden Pictures production. Principal production investment from Screen Australia. Financed with support from Screen NSW.