Hardware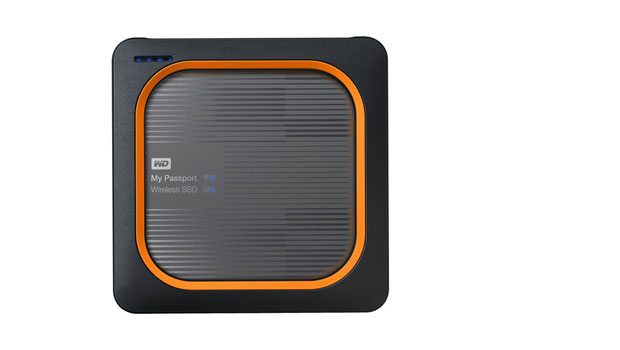 Published on April 23rd, 2019 | by James Wright
WD My Passport Wireless SSD Review (2019)
Summary: The WD My Passport Wireless SSD provides some impressive portable storage for users on the go!
Welcome to the future of storage with Western Digital's very clever wireless SSD hard drive, the My Passport Wireless SSD that easily allows you to transfer files to this device without a cable. Besides the Wi-Fi feature, this hard drive also comes with an SD card reader (perfect for photographers) and even a battery that allows you to take the My Passport Wireless SSD on the go! Furthermore, the WD My Passport Wireless SSD is available in sizes of 250GB up to 2TB and we checked out the 2TB version which retails for around $1250AUD (April 2019).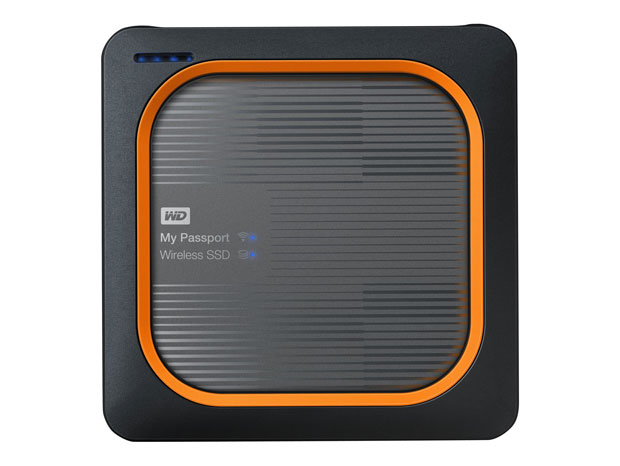 WD My Passport Wireless SSD Features
Storage Type: Solid-State Drive (SSD)
Storage Capacity: 250 GB, 500 GB, 1 TB, or 2 TB
Interfaces: SD 3.0 Card Slot
MicroUSB: 3.0
USB-A: 2.0
Networking: 802.11ac/n Wi-Fi (1×1)
Battery: 6700mAh (10 Hours)
Streaming: DLNA/UPnP or Plex-enabled devices
Warranty: 2-years
Out of the box, the WD My Passport Wireless SSD is quite a small portable drive and measures at 135mm x 135mm x 30mm which has a small footprint, particularly for photographers or those looking to travel. In terms of weight, the Passport Wireless weighs in at 0.45kg which is another highlight in its features.
Design wise, the SSD has two buttons, one for power and the other to commence the data transfer process plus two USB ports (USB-A 2.0 / MicroUSB 3.0), including an SD 3.0 port. There are also LED lights which act as an indicator to the user in terms of its functioning such as power, Wi-Fi connection, battery and data transfer. Lastly, it has rubber feet to ensure it doesn't slip plus a rubber casing for additional protection.
As the drive supports Wi-Fi connections, you do need the My Cloud App to access the Passport Wireless which is available from both the Apple and Google Play stores. While a relatively minimalistic app, it does give the user all the functionality needed in transferring their files wirelessly to the product. Alternatively you can connect to the drive directly to its IP address (192.168.60.0) which brings up a Web UI that is another handy feature and both methods also display the battery level. Once connected to your device, it brings up a file management system and more importantly, wireless speeds are quite fast.
Alternatively you can use the USB 3.0 connection to directly connect the WD My Passport Wireless SSD to your computer for even faster speeds. Another useful feature is the ability to view files by file type like photos or music and my favourite feature is the ability to 'lock' the drive via the app. Furthermore, you can even share media (Dropbox, Google Drive, One Drive & Media Servers) from the unit itself plus create auto-backups which definitely makes this wireless drive quite a holistic product with all facets managed through the My Cloud app. For fixed connections, you can also install the WD Access software for your PC which provides similar functionality as the My Cloud app.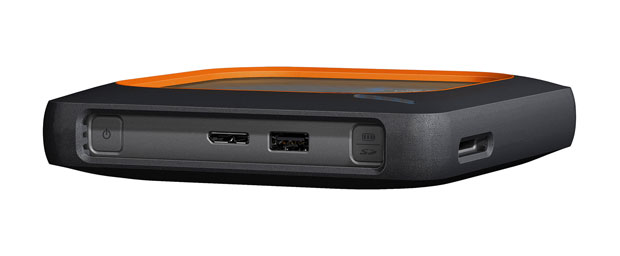 Final Thoughts?
My Passport Wireless SSD is an ideal solution for those who need to transfer files wirelessly on the go, without too much input from the user. Ideally we would recommend this to photographers or holiday makers who need the convenience of a wireless SSD without the myriad of cables. So while it is not the fasted drive on the market, it comes with an excellent battery of up to 10 hours and some great features to ensure that your data is well-protected. Lastly, nothing is more satisfying than turning on your smartphone and wireless moving files to the SSD as you can move onto the next task.
Recommended!
Key Features
Built-in SD card reader
A built-in SD card reader with up to 65MB/s** read speeds and one-touch copy button makes it easy to quickly back up photos and videos from an SD card without a computer or additional software.
Solid state durability
With an SSD inside and protective bumper outside, your content is safeguarded from shock, vibrations and drops up to 1 meter, even when the drive is in operation.
Fast SSD transfer speeds
Enjoy fast access speeds and transfer rates (up to 390MB/s read) when using the USB 3.0 port to move files to and from PC or Mac computers.
All-day battery life
My Passport Wireless SSD has up to 10 hours* of continuous use. Bring it on an all-day shoot, stay out in the field longer. Take it on a long trip, continuously stream videos on the road or in flight.
Wireless access and 4K streaming
My Passport Wireless SSD creates its own fast 802.11ac Wi-Fi connection so you can wirelessly connect to your drive to access and view saved photos or smoothly stream 4K video directly to your phone or tablet using the My Cloud app.***
Import media from card readers
A convenient USB 2.0 port and the one-touch copy button let you easily transfer files from compatible card readers and external USB storage devices.
Please visit support.wd.com for a list of compatible card readers.
Built-in power bank
No electrical outlet? No problem. Charge your smartphone, action camera and other mobile devices on the go with the handy, integrated 6,700 mAh power bank. My Passport Wireless SSD provides up to 1.5A of power (0.9A when the drive is powered on).
RAW image support
Preview RAW images on your phone or tablet, and export to edit them with third-party apps.
Please visit support.wd.com for a list of supported RAW images.
Password protect captured moments
Wi-Fi password protection helps keep your photography, films, music and files safe from unauthorized, wireless access. Set up Drive Lock in the device's dashboard to help prevent USB access to content in the event that your drive is lost or stolen.
Dual wireless band support
My Passport Wireless SSD is equipped with a 5GHz 802.11ac band for faster performance on compatible wireless AC devices, a 2.4GHz 802.11n band for better long-range performance for both wireless AC and N devices, and can connect up to 8 devices simultaneously.
System Requirements
Windows 7, 8. 1 or 10
macOS v10.11, 10.12, or 10.13
iOS 9+ and Android™ 4.4+
DLNA™/UPnP™ or Plex™-enabled devices for streaming
What's in the box
My Passport Wireless SSD device
Drop-protection bumper
USB cable
USB power adapter
Quick install guide