Hardware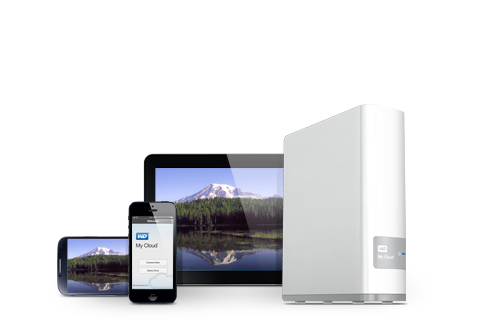 Published on November 13th, 2013 | by admin
WD Gives Consumers A Cloud Of Their Own
SYDNEY, Australia – 13 November 2013 – Today, at the iconic Sydney Tower, WD®, a Western Digital company and a world leader in storage solutions for the connected life, held the Australian launch for the new My Cloud™ family of personal cloud solutions.
At the launch, guests were shown how, by simply connecting a My Cloud personal cloud drive to the Internet, consumers get the same anywhere, any-device access they can get from the public cloud, without having to pay monthly fees or giving up control of their personal data. Being able to access files from anywhere in the world via PC and mobile devices, users have the freedom to organise and centralise their digital content while it remains secure on their home network.
"We believe that there's no place like home for the cloud. Our customers have thousands of digital files scattered across multiple computers and mobile devices, but by using a WD personal cloud solution, they have an easy, secure and affordable way to control that chaos, with access to all of their files anywhere, anytime," said Jim Welsh, executive vice president and general manager of WD's branded products and consumer electronics groups.
With the WD My Cloud, you can stream audio and video while on-the-go, upload your travel photos to the drive back home or access important documents during meetings, all while knowing exactly where your data is and who has access to it. While at home, the drive acts as a network drive which can be used for backup, extra storage or streaming to DLNA certified devices like Smart TVs, Game Consoles and the WD TV Live.
Research firm Gartner estimates that the average household will own approximately 3.3 terabytes (TB) of digital content by 20161. In line with this growth of digital content is the explosive growth of Internet-connected devices, with the current U.S. household owning 5.7 connected devices, according to The NPD Group2. The convergence of rapid content and device growth requires a new storage paradigm that gives consumers complete control over their digital lives. Personal cloud storage is the new standard, allowing users to keep media and files safe at home on their own physical drive and then access them over the Internet with any PC or Mac® computer or on tablets and smartphones through mobile apps. Using the My Cloud drive, users can share files, stream media and access content anywhere with no monthly fees and feel secure in the knowledge that their cloud resides in their own home under their exclusive control.
"Families are connecting, sharing, syncing, and backing-up numerous mobile devices and computers in their household, with the amount of digital data being created on these devices growing dramatically," said Liz Conner, Senior Research Analyst, Storage Systems, IDC. "Personal cloud is an ideal solution to simplify the complex issue of organising digital files across various devices so that users can enjoy their digital videos, photos and music on all of their devices."
Streamlined Setup and Backup
Customers can get their personal cloud up and running in minutes with WD's rich web-based user interface for seamless web-guided setup. WD's software auto-detects the drive to make setup simple for novice users. Once the My Cloud drive is setup, customers can easily connect their computers and mobile devices with WD's free desktop and mobile apps. With a Gigabit Ethernet connection and Dual-Core processor, transferring files is blazing fast, allowing customers to quickly centralise all of the digital content scattered across various devices onto My Cloud. With direct file uploads from mobile devices, important files and videos can be safely moved to My Cloud, freeing up valuable space on users' tablets and smartphones.
Customers can also use their My Cloud to back up their computers and digital files. For PC users, WD SmartWare™ Pro software offers options for how, when and where to back up files. Mac users can utilise all the features of Apple® Time Machine® backup software to protect their data.
Complete Control
My Cloud users can store and organise their families' photos, videos, music and important documents in one secure place on the home network. With the new My Cloud desktop app, navigating, controlling and sharing these files from anywhere in the world is simple and intuitive. My Cloud is available in 2 TB, 3 TB, and 4 TB capacities, providing bountiful storage capacity with no monthly payment required. Customers can also attach a compatible USB 3.0 hard drive directly to the USB expansion port on the My Cloud drive and instantly expand their storage capacity.
Additionally, My Cloud serves as a home's digital entertainment hub, storing terabytes of movies and music that can then be streamed to any DLNA™-certified multimedia device such as a WD TV® Live™ media player, as well as smart TVs and gaming consoles.
Accessing the Personal Cloud
Available for iOS® and Android™ devices, the new WD My Cloud mobile app allows users to view photos, stream video and access their files from anywhere on their smartphones or tablets. The mobile app also makes file sharing and collaborating simple and secure, allowing customers to easily email files, share files as a link, and print and open files with third party apps.
Additionally, the My Cloud mobile app integrates major public cloud services so that customers can easily transfer files between their Dropbox™, SkyDrive® and Google Drive™ public cloud accounts3.
Price and Availability
Product Name: My Cloud™
Australian Distributors: Synnex Australia
New Zealand Distributors: Synnex New Zealand
Availability: Now
Website: http://wdc.com/en/products/products.aspx?id=1140
Facebook: https://www.facebook.com/WDAustralia , https://www.facebook.com/WDNewZealand
Warranty: 2 years
MSRP:
| | | | |
| --- | --- | --- | --- |
| Model Number | Capacity | AUD | NZD |
| WDBCTL0020HWT | 2 TB | A$ 199.99 | NZ$ 269.99 |
| WDBCTL0030HWT | 3 TB | A$ 269.99 | NZ$ 329.99 |
| WDBCTL0040HWT | 4 TB | A$ 349.99 | NZ$ 419.99 |
The My Cloud mobile app currently is available for download from the App StoreSM and Google PlayTM.
Capacity and Compatibility
My Cloud personal cloud storage is available in capacities of 2 TB, 3 TB and 4 TB is compatible with Windows® 8, Windows 7, Windows Vista®, Windows XP, OS X Mountain Lion™, Lion®, Snow Leopard®, as well as DLNA®/UPnP® enabled devices.