Hardware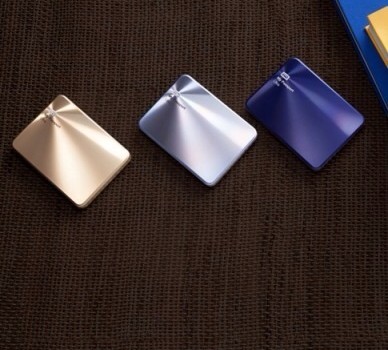 Published on August 21st, 2014 | by admin
WD Celebrates 10th Anniversary of My Passport Drives with new Design and Limited Anniversary Edition
SYDNEY, Australia – Aug. 21, 2014 – To commemorate the 10th anniversary of its My Passport line of portable external hard drives, WD®, a Western Digital (NASDAQ: WDC) company, is introducing a sleek new design for the world's most popular external hard drive lines. More than 60 million My Passport drives have been sold in the past 10 years, providing approximately 42,000 petabytes of content protection for consumers worldwide. The My Passport Ultra™ – Metal Edition™ drive and My Passport Ultra – Anniversary Edition drive represent a decade of refinement for WD's enduring portable drive line. They feature elegant metal exteriors, up to 2 TB capacities in smaller enclosures, content protection, including backup, and cloud integration for anywhere access to personal content.
The My Passport Ultra – Metal Edition and Anniversary Edition drives incorporate a unique and innovative radial-spin-design aluminum enclosure, which provides attractive styling and extra protection against the everyday knocks experienced in the hands of today's mobile consumer. In addition, the drive offers users hardware encryption and password protection to prevent unauthorised use of the drive in the event of loss or theft. For additional content protection and remote sharing, the My Passport Ultra – Metal Edition drive includes WD SmartWare™ Pro software with Dropbox integration, allowing users to back up content from their computer to the drive and from the drive to the cloud, and retrieve content from their Dropbox account to the My Passport drive. These features make the My Passport drive an ideal choice for backing up, protecting, storing and enjoying digital content on the go.
"Ten years is a milestone by any consumer technology standard, and having the opportunity to consistently reinvent a product line like My Passport to suit the changing needs of consumers and creative professionals is something we are especially proud of," said Tony Tate, vice president and general manager of WD's Content Solutions unit. "We thank all of our customers for their ongoing feedback over the years, which have helped make My Passport the most popular external hard drives ever."
Pricing and Availability
My Passport Ultra – Metal Edition drive is available from the WD store at www.wdstore.com.au and at select retailers and distributors. My Passport Ultra – Anniversary Edition drive is available exclusively from JB HiFi (1 TB) and Harvey Norman (2 TB) in Australia, and Noels Lemmings in New Zealand.
Facebook: https://www.facebook.com/WDAustralia, https://www.facebook.com/WDNewZealand
Warranty: Regional 3-year limited warranty
Website: http://www.wdc.com/en/products/products.aspx?id=1290
Product Name Model Number Capacity AU MSRP NZ MSRP
My Passport Ultra™ – Metal Edition™ WDBTYH0010Bxx 1 TB AU $119.99 NZ $149.99
My Passport Ultra™ – Metal Edition™ WDBEZW0020Bxx 2 TB AU $179.99 NZ $219.99
My Passport Ultra – Anniversary Edition WDBTYH0010BCG 1 TB AU $119.99 NZ $149.99
My Passport Ultra – Anniversary Edition WDBEZW0020BCG 2 TB AU $179.99 NZ $219.99
About WD
WD, a Western Digital company, is a long-time innovator and storage industry leader. As a storage technology pacesetter, the company produces reliable, high-performance hard disk drives and solid state drives. These drives are deployed by OEMs and integrators in desktop and mobile computers, enterprise computing systems, embedded systems and consumer electronics applications, as well as by the company in providing its own storage products. WD's leading storage devices and systems, networking products, media players and software solutions empower people around the world to easily save, store, protect, share and experience their content on multiple devices. WD was established in 1970 and is headquartered in Irvine, California. For more information, please visit the company's website at www.wd.com.
Western Digital Corp. (NASDAQ: WDC), Irvine, Calif., is a global provider of products and services that empower people to create, manage, experience and preserve digital content. Its companies design and manufacture storage devices, networking equipment and home entertainment products under the WD, HGST and G-Technology brands. Visit the Investor section of the company's website (www.westerndigital.com) to access a variety of financial and investor information.
Western Digital, WD, the WD logo and My Passport are registered trademarks in the U.S. WD SmartWare and WD Security are trademarks in the U.S. and other countries. Other marks may be mentioned herein that belong to other companies. Pictures shown may vary from actual products. Not all products may be available in all regions of the world.
This email was sent by Gap Marketing and Management Pty Ltd, Level 10, 263 Clarence Street Sydney NSW 2000. Tel: (02) 9264 0701 to andrew@impulsegamer.com
Unsubscribe