Hardware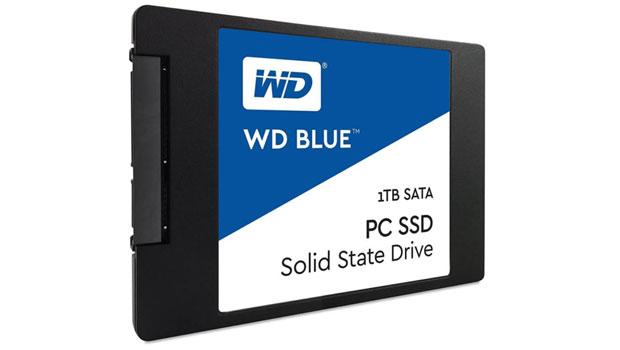 Published on November 15th, 2016 | by James Wright
WD Blue SSD Review (1TB)
Summary: The WD Blue SSD is this company's first drive but in terms of performance, it's right in the middle and a little pricey.
Available in three sizes that include 250GB, 500GB and 1TB (reviewed), the WD Blue which is an SSD drive boasts a notable read speed of 545MB/s and write speeds of 525MB/s that is perfect for those users upgrading their PC's or notebooks and need that additional grunt in performance. The drive also uses TLC (triple-layer cell) technology which is part of the family of NAND flash and combines LDPC (low density parity check) to help reduce errors when writing and reading. Add in S.M.A.R.T. (Self-Monitoring, Analysis and Reporting Technology) and TRIM to improve drive speeds plus thermal support throttling to prevent your drive from overheating, the WD Blue has some very useful features.
The WD Blue also comes in two different form factors that include 2.5″ and M.2 with a MTTF (mean time to failure) of 1.75 million hours plus a 3-year warranty for additional piece of mind. After Western Digital purchased Sandisk, this also makes the WD Blue their first solid-state drive after being known for their more traditional HDD's. Laptop users will also be pleased that the drive has a very low power rating of 70mW in order to help with battery life, especially the thermal support throttling which slows down the drive speed to prevent any errors.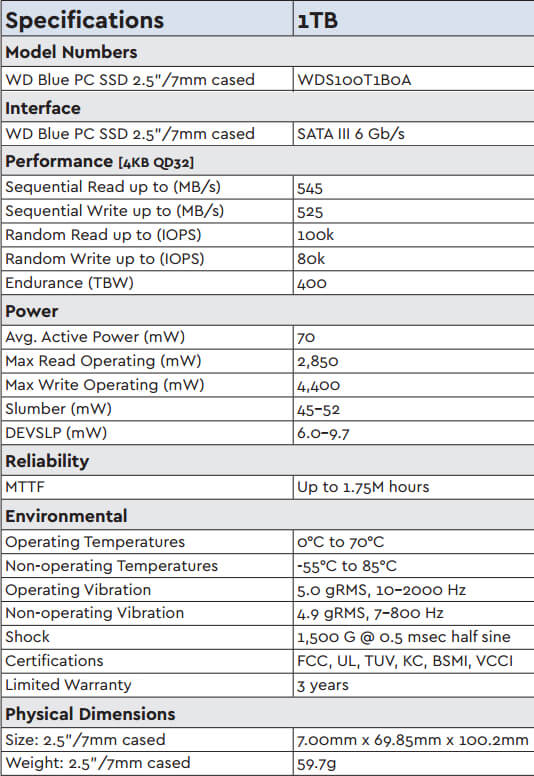 Like other modern SSD's, it's been optimised for multitasking and unlike traditional hard drives, it will not only increase the boot-up speed of your PC but also how it accesses files. This also means that gamers and PC enthusiasts will see a difference when they install this drive compared to older hardware. On both our laptop and desktop, we did notice improvements, however compared to some of its competitors, it's definitely not the fastest drive on the market but is a great introduction into the world of SSD's from Western Digital.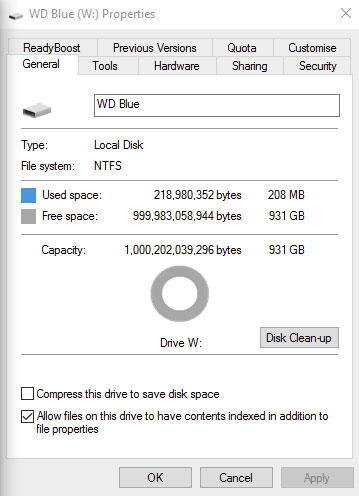 We tested this drive on a fresh install of Windows 10, however one interesting aspect is cloning. Although Acronis is available for cloning for Western Digital users, when we tried to install this software to clone another drive, it did not detect the WD Blue. We had to use a free program to achieve this result.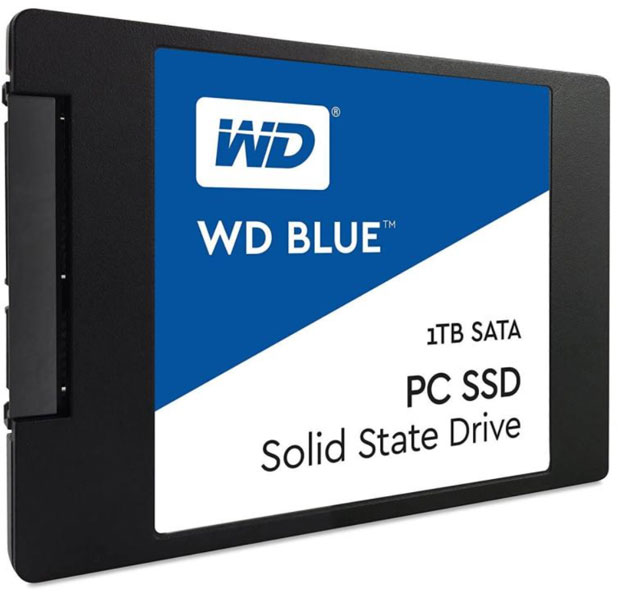 Out of the box, it looks like any other SSD unit but it's blue and white colouring with the WD logo definitely makes it stand out. Installation was easy in both a PC and a laptop as it just clips into an existing SSD connection or cable. In terms of bechmarking, this is dependent on a number of factors and the slightest hardware issue or operating system problem may effect the overall results. On our Windows 10 system that included an Intel Core i7-4770k with 16GB RAM and as mentioned, it was a fresh install (no cloning here) so hopefully it gives you a rough idea of his this drive performs in the real-world.
Crystal Disk Benchmark
Crystal Disk Benchmark is a popular free benchmarking tool for Hard Drives of all different technologies. The scores produced on Crystal Disk Benchmark were similar to those advertised by Western Digital, however once again benchmarking is subjective. Nonetheless, it does indicate this drive sits somewhere in the upper range of drives but Crystal Disk Benchmark is not the best indicator of performance.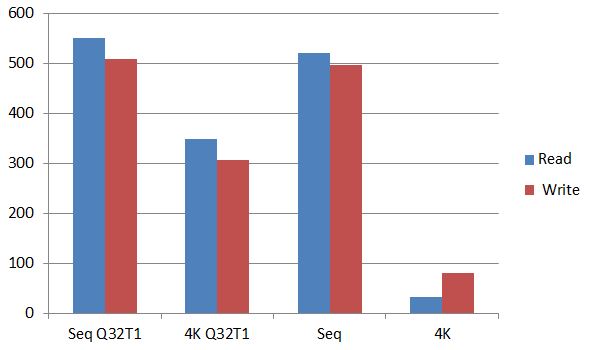 IOMeter
Another program we used was IOMeter which is another free program and the drive scored lower than Crystal Disk Benchmark and is more on par with real-world tests. We were actually surprised that the drive didn't score higher with this program as it firmly puts this unit in the realm of a midrange SSD.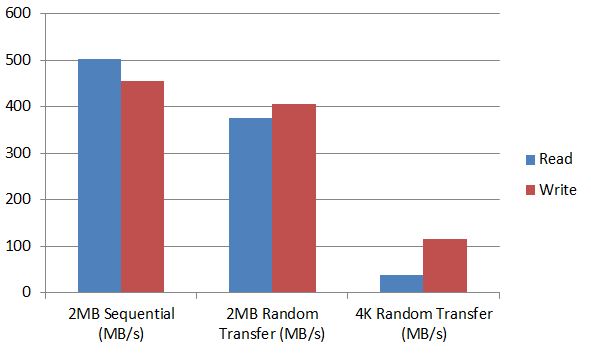 Storage Mark
Next up was Storage Mark that gives the user more 'real-world' tests like productivity and gaming. The results, although not bad were on par with a mid range drive and maybe a little better. Given the features of the drive, it definitely makes it an all-round SSD that can be used by a variety of people from gamers, PC enthusiasts, home users and business users, including storing security footage.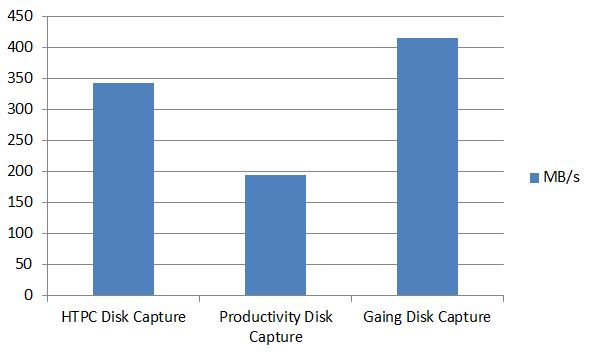 Final Thoughts?
The WD Blue (PC Solid State Drive) is not the fastest drive on the market but does provide the user with some useful features to not only store their data safely but also access it at above normal speeds, even when writing. Sure, there are cheaper drives available and that's hurdle the WD Blue needs to face but overall, it's a good drive but don't expect super performance as other companies still hold that award at the moment.