Hardware
Published on June 18th, 2019 | by Tony Smith
WD Black SN750 SSD Review (June 2019)
Summary: The WD Black SN750 SSD ticks all the right boxes and more for both gamers and PC enthusiasts!
Welcome to Western Digital's latest SSD with their WD Black SN750 that includes plenty of speed and features to ensure your gaming rig gets the power-up it needs. According to Western Digital, their new SSD boasts read speeds of up to 3470MB/s and write speeds of 3000MB/s… in other words super fast access to your files and speedy load times.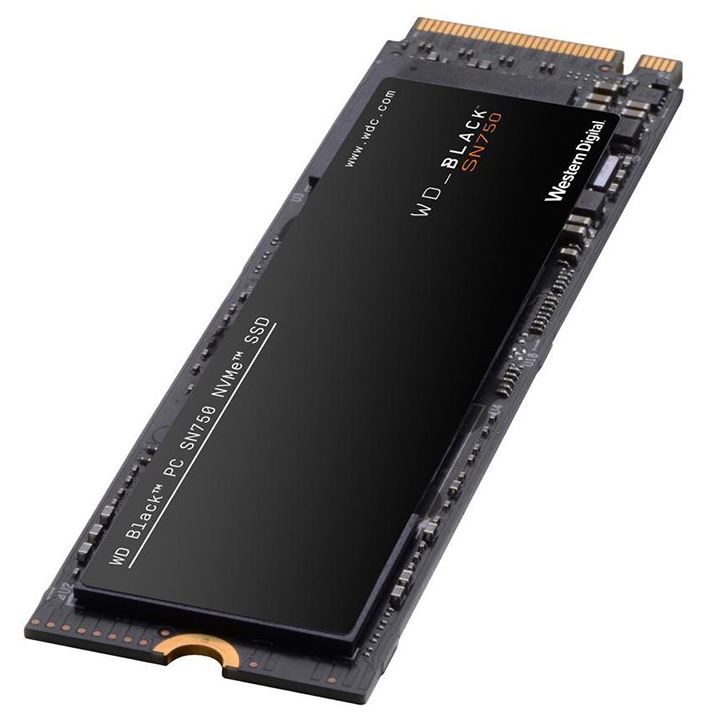 The WD Black SN750 also comes in four different sizes that include 256GB, 512GB, 1TB (reviewed) and 2TB. Interestingly, the 1TB version is actually the fastest out of its speedy SSD siblings. However before we jump into our review, let's check out the official blurb and features/specifications from Western Digital themselves.
The WD BLACK™ SN750 NVMe™ SSD delivers top-tier performance for gaming and hardware enthusiasts who are looking to build or upgrade their PC. Available in capacities up to 2TB, the WD Black SN750 NVMe SSD rivals some of the best performing drives on the market to help give gamers that competitive edge.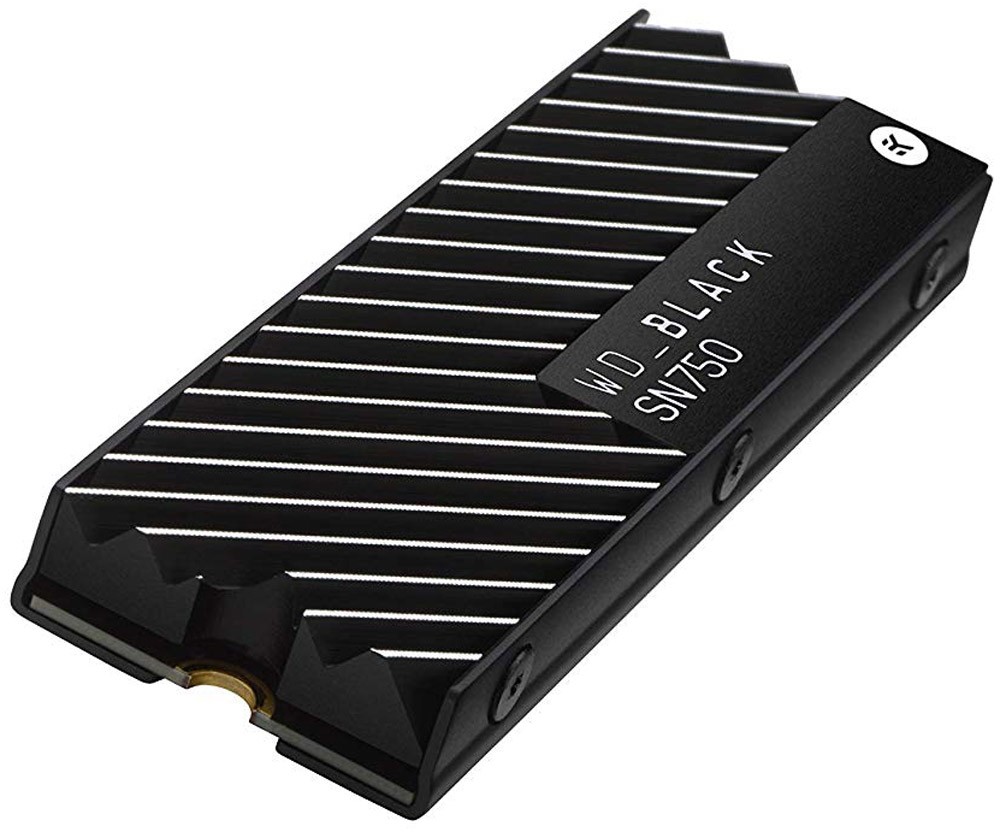 FEATURES
PERFORMANCE MATTERS
Live life in the fast lane, whether you're looking to boost your system's overall responsiveness or load games and levels quickly, the WD BLACK drive cuts down on your wait time to get back into action and gets you ahead of the game.
SPACE TO PLAY
At the core of the WD BLACK drive is its revolutionary NAND technology. By doubling the storage density from its previous generation, our 64-layer 3D NAND pushes the limitations of storage and showcases the amazing feat of NAND innovation. This means extended capacity on a single-sided drive that's roughly the size of a gumstick, enough to store your large files and video games.
SLEEK HEATSINK DESIGN
Every system is not created equal. From different graphics cards and CPUs to DRAM and storage, PCs all differ in performance and appearance. The WD BLACK SSD's sleek and modern heatsink model1 goes well with desktop PC builds that support the M.2 form factor and is the perfect component to complement systems with RGB lighting and other cooling technologies, such as water cooling. SN750 is available with or without heatsink.
WD BLACK SSD DASHBOARD
The WD BLACK SSD Dashboard gives you the ability to optimize performance by enabling the gaming mode feature. This disables the low power mode function on the SSD, which keeps your drive firing on all cylinders during intense gaming sessions.
SPECIFICATIONS
| | |
| --- | --- |
| Product | WD Black SN750 1TB |
| Pricing | $249.99 |
| Capacity (User / Raw) | 1000GB / 1024GB |
| Form Factor | M.2 2280 Single-Sided |
| Interface / Protocol | PCIe 3.0 x4 / NVMe 1.3 |
| Controller | WD NVMe Architecture |
| DRAM | SK Hynix DDR4 |
| Memory | SanDisk 64-Layer TLC |
| Sequential Read | 3,470 MB/s |
| Sequential Write | 3,000 MB/s |
| Random Read | 515,000 IOPS |
| Random Write | 560,000 IOPS |
| Encryption | N/A |
| Endurance | 600 TBW |
| Part Number | Heatsink: WDS100T3XHC-00SJG; No Heatsink: WDS100T3X0C-00SJG |
| Warranty | 5-Years |
As you can see, the WD Black 3470 ticks all the right boxes when it comes to performance and installation from an optional heatsink model, powerful 64-layer 3D NAND technology, including WD BLACK SSD Dashboard to enable the gaming mode plus a 5-year warranty and the end-user has everything they need for a zippy experience. As a bonus, WD give you access to Acronis True Image that allows you to clone your existing drive and transfer the data to the new WD Black 3470.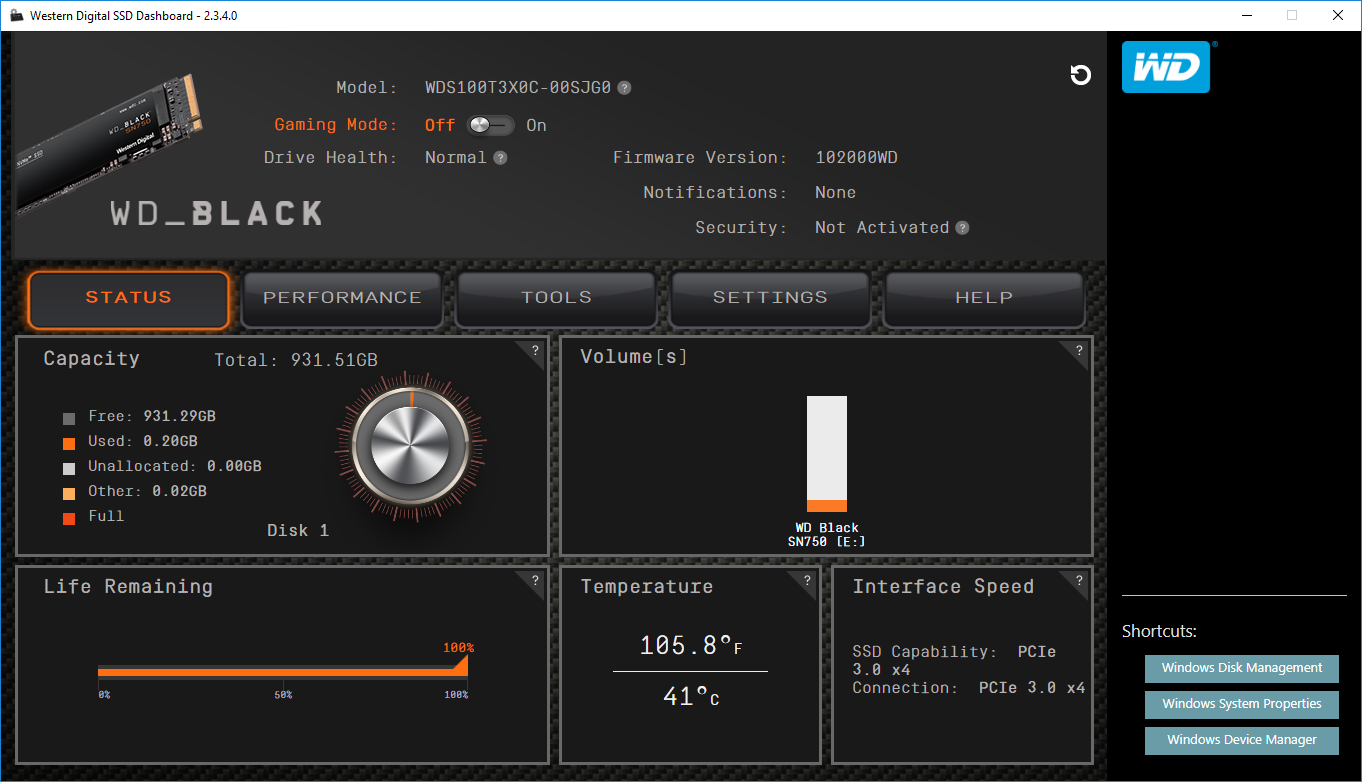 In terms of size, the WD Black 3470 is tiny and measures at 80mm x 22mm x 2.38mm without the heatsink or with it, 80mm x 24.2mm x 8.10mm and it's still a small unit. Installation is easy and once you have plugged the 3470 into your motherboard, our BIOS and in turn Windows 10 automatically detected the SSD and we were ready to go.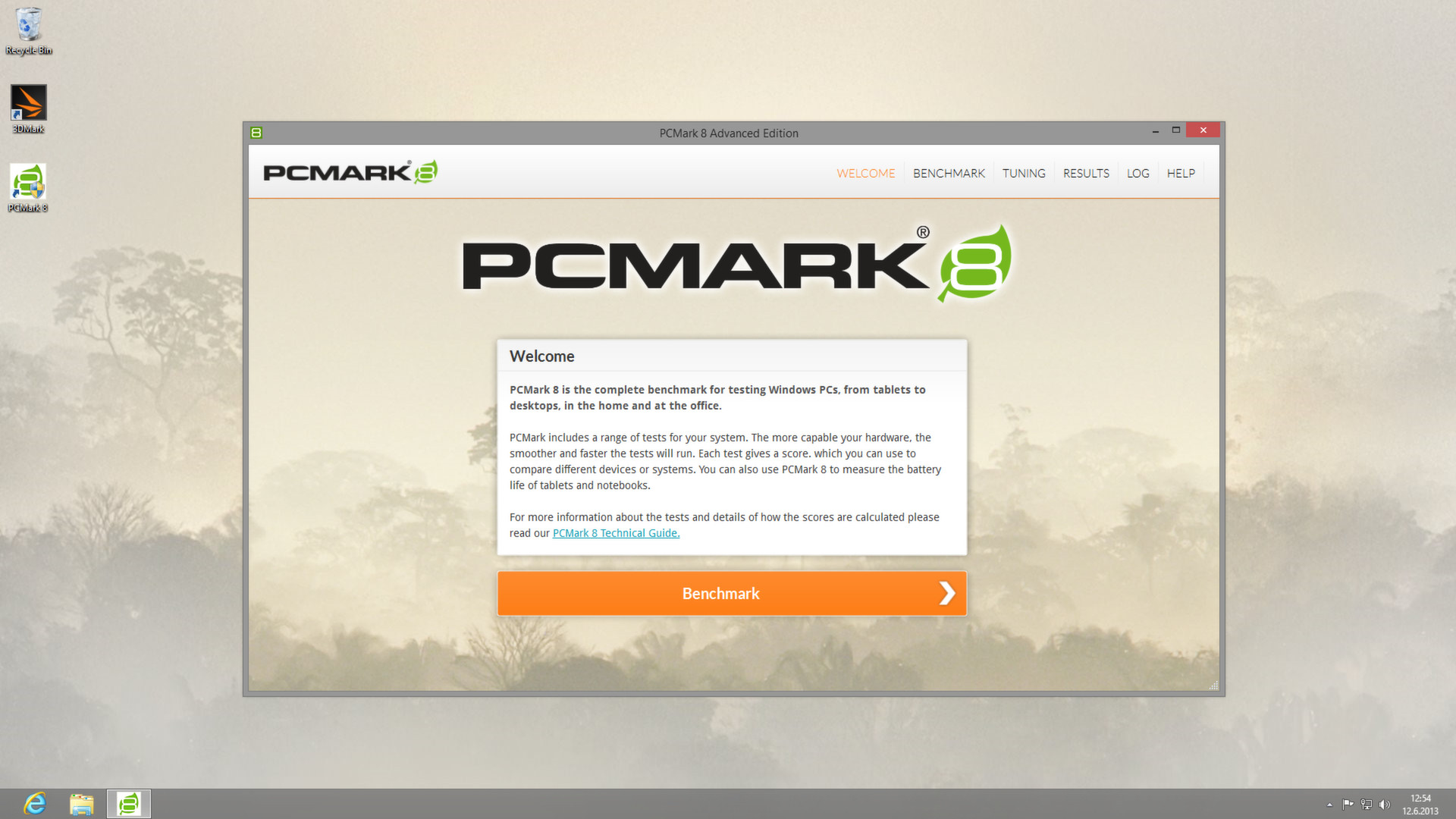 We tested the WD Black 3470 on a variety of benchmark programs and in terms of performance, it definitely erred on the upper echelon of its competitors, however the fabled Samsung 970 Pro is still the king but this SSD still comes in very close. First up was PCMark 8 that is an industry standard PC benchmarking tool. With PCMark 8 you can test the performance of all types of PC components to find out the efficiency and performance of your parts.  This test focused on Storage Test 2.0 with the WD Black 3470 scoring a very respectable 5102. The great aspect about this test is that it mirrors real-world programs such as Microsoft Office to even games such as Battlefield 3.
Another popular tool is ATTO Disk Benchmark that is a storage performance measurement tool for Windows based system. With this program set to the "standard" settings, the WD Black 3470 scored an impressive 3.5GB/s for read and 3.01GB/s for write that mirrors the advertised results of Western Digital. Again mirroring these results was CrystalDiskMark, a free and highly popular hard drive performance measuring tool. Similar to ATTO Disk Benchmark, the WD Black 3470 achieved 3054MB/s for write and 3511MB/s for read.

Final Thoughts?
The WD Black 3470 is powerful beast that is not only backed by Western Digital's excellent support but comes with a very handy dashboard app but more importantly, everything under the hood is high quality technology that ensures a superfast SSD that is ideal for gamers and PC enthusiasts. Best of all, it comes very close to its top 5 competitors with excellent power consumption and impressive 5-year warranty for additional peace of mind.
Recommended!