Hardware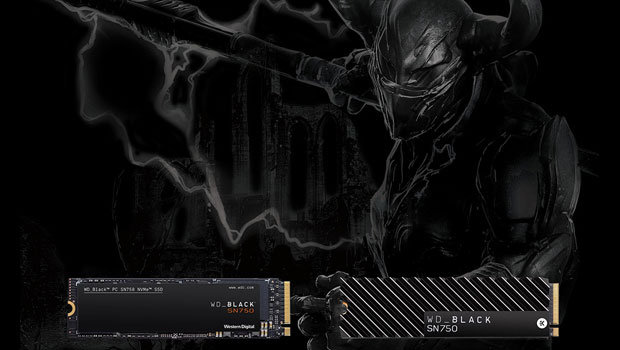 Published on April 25th, 2019 | by Tony Smith
WD Black SN750 NVMe SSD Review (1TB)
Summary: The WD Black SN750 NVMe SSD provides gamers with a very fast hard drive that will almost make you fly!
While traditional Solid-State Drives (SSD) revolutionised the computer industry with supersonic (well, almost) read/write speeds, lower power consumption, a smaller physical footprint and reduced errors, this technology has levelled up again courtesy of NVMe. NVMe which stands for Non-Volatile Memory express is a host controller interface that considerably increases the transfer of data between the SSD and the computer's Peripheral Component Interconnect Express (PCIe) bus. As a result, NVMe SSD's run even faster than your traditional SSD's speeds of up to 550MB/s. You're now looking at speeds of up to 3500MB/s!

So if your computer supports NVMe SSD, you've come to the right place with the new WD Black SN750 NVMe SSD which makes for the perfect hard drive for gamers and computer enthusiasts. Supporting the speed of this drive is a 64-layer 3D NAND architecture, including DRAM cache to help deliver unparalleled performance.
As mentioned, this drive has a smaller physical footprint with a form factor of 22mm x 80mm which makes it quite a tiny unit. The drive also comes in four sizes that include 250GB, 500GB, 1TB (reviewed)and 2TB plus it comes with a 5-year warranty. According to WD, the drive supports read speeds of up to 3.47GB/s and write speeds of up to 3GB/s for the 1TB model.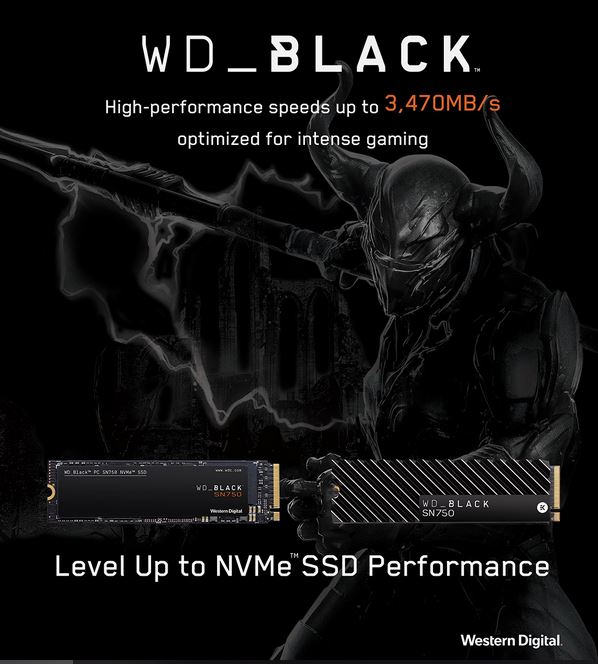 WD Black SN750 NVMe SSD Specifications
Form factor
M.2 2280
Interface
PCIe Gen3 8 Gb/s, up to 4 lanes
Capacity
250GB
500GB
1TB
2TB
Performance
Sequential Read up to (MB/s) (Queues=32, Threads=1)
3,100
3,470
3,470
3,400
Sequential Write up to (MB/s) (Queues=32, Threads=1)
1,600
2,600
3,000
2,900
Rand Read 4KB IOPS up to (Queues=32, Threads=1)
220K
420K
515K
480K
Rand Write 4KB IOPS up to (Queues=32, Threads=8)
180K
380K
560K
550K
Endurance (TBW)
200
300
600
1,200
Power
Peak Power (10us)
2.8A
2.8A
2.8A
2.8A
PS3 (low power)
70mW
70mW
100mW
100mW
Sleep (PS4) (low power)
2.5mW
2.5mW
2.5mW
2.5mW
MTTF
1.75 million hours
Environmental
Operating Temperatures
32°F to 158°F (0°C to 70°C)
Non-operating Temperatures
-67°F to 185°F (-55°C to 85°C)
Limited Warranty
5-year
Physical Dimensions
Form Factor
 M.2 2280
M.2 2280 with heatsink
Length
80 ± 0.15mm
80 ± 0.15mm
Width
22 ± 0.15mm
24.2 ± 0.30mm
Height
2.38mm
8.10mm
Weight
7.5g ± 1g
33.2g ± 1g
While this drive can be setup as a new SSD, the product comes with Acronis True Image that allows you to clone your existing drive in order to transfer this information to the new SSD. Furthermore, WD include a very useful app called the Western Digital SSD Dashboard that gives the user a variety of options in order to maximise the WD Black SN750's performance.
While allowing you to tweak the performance through app, including a gaming mode which disables low-power to ensure that you get the best speeds possible, it's a very holistic tool. Needless to say, this dashboard gives you a great snapshot of its capacity, the temperature, including the 'life' of the WD Black SN750 and also the ability to update the firmware.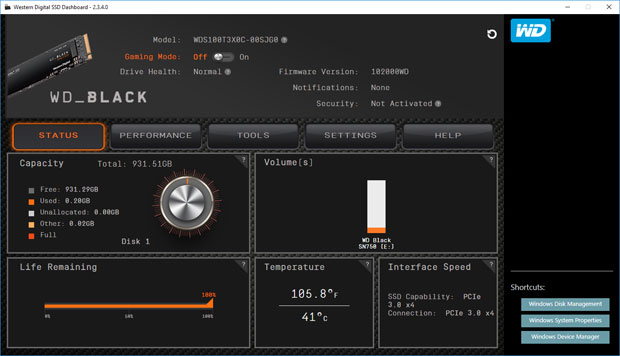 Our first test was with the excellent PCMark10. PCMark 10 features a comprehensive set of tests that cover the wide variety of tasks performed in the real-world, including a comprehensive storage test. The WD Black SN750 scored in the upper echelon with a score of 5101 and was just behind one of its nearest competitors, the Samsung 970 Pro. In other words, the WD Black SN750 is a very fast drive.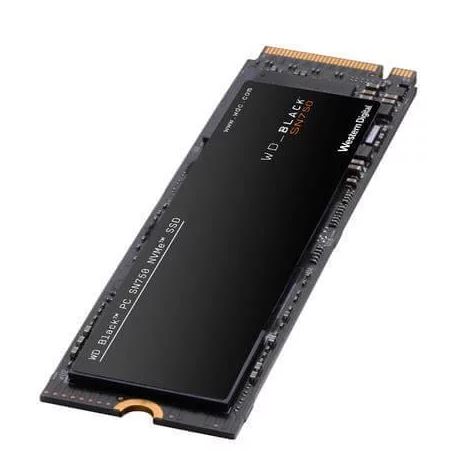 Next up was ATTO Disk Benchmark which is another performance management tool used to test SSD's and these results mirrored the reported speeds of Western Digital, with a read score of almost 3.5GB/s and a write of 3.0GB/s. A test wouldn't be a test without CrystalDiskMark that tests read/write speeds of SSD's and again matched the top speeds of Western Digital with a maximum read of 3.51GB/s and a write of 3.07GB/s.

The verdict?
The WD Black SN750 is one of the fastest drives on the market and while not at the top, it gives its competitors a true run for their money and with our real-world tests, the speeds rarely dropped below 1GB/s with maximums flawlessly reaching 3.5GB/s for read speeds.
We also noticed considerable speed jumps in gaming, particularly those large open world games like Far Cry, Assassin's Creed and Tomb Raider which loaded these areas almost instantaneously. One final tool we used was the Final Fantasy XIV Stormblood Benchmark program that tests how well this game will run on your PC. Compared to other SSD's, the WD Black SN750 is very close to the top that again cements this product as a gamer's SSD.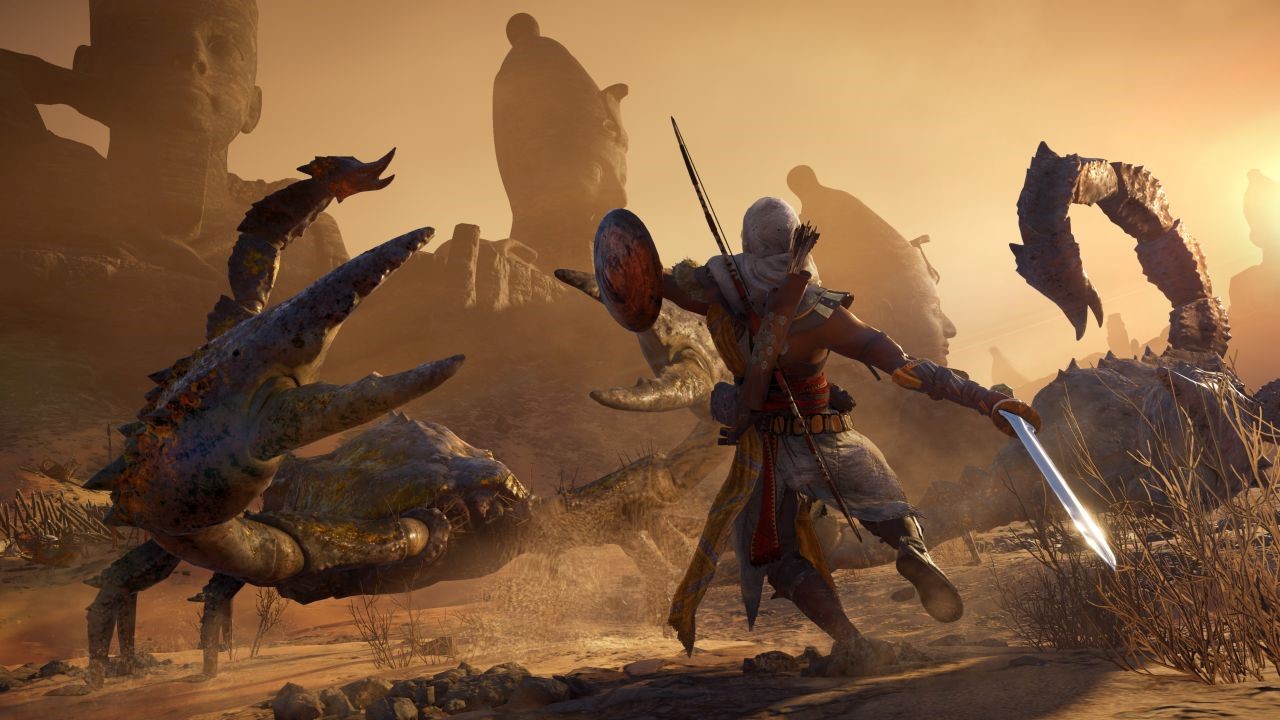 Final Thoughts?
The WD Black SN750 is a very and I mean very fast SSD that gamers and computer enthusiasts will thoroughly appreciate. Add in an impressive 5-year warranty and the WD Black SN750 will easily become your new tech friend as your virtual gaming worlds will load with ease as you save the world and the universe from the evil menaces that you face.