Hardware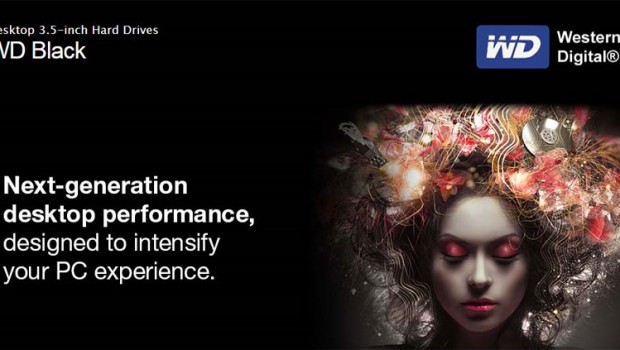 Published on December 1st, 2013 | by Admin
WD Black 4TB Desktop Hard Drive Review (WD4003FZEX)
Summary: The WD Black 4TB Desktop Hard Drive (WD4003FZEX) offers some very impressive results in terms of performance without increasing the overall power consumption of the drive.
Title: WD Black 4TB Desktop Hard Drive Review (WD4003FZEX)
Company: Western Digital (SD)
Cost: $319AUD (December 2013 – Online Price)
Reviewer: James Wright
Review Date: December 2013
Western Digital (WD) have just released one of their largest and fastest SATA drives that boasts some truly impressive features. This drive has been designed with performance in mind and thanks to WD's new technology and software algorithms, the end result is some great read and write times that will benefit PC enthusiasts and gamers across the globe.
It also supports VCT which is vibration Control Technology which minimises external vibrations against the drive which improves performance, reliability and better data accuracy. Add in SATA 6 Gb/s interface, 64MB cache, a rotational speed of 7,200 RPM and five 800GB platters, the WD4003FZEX was truly a joy to review. Zoom zoom!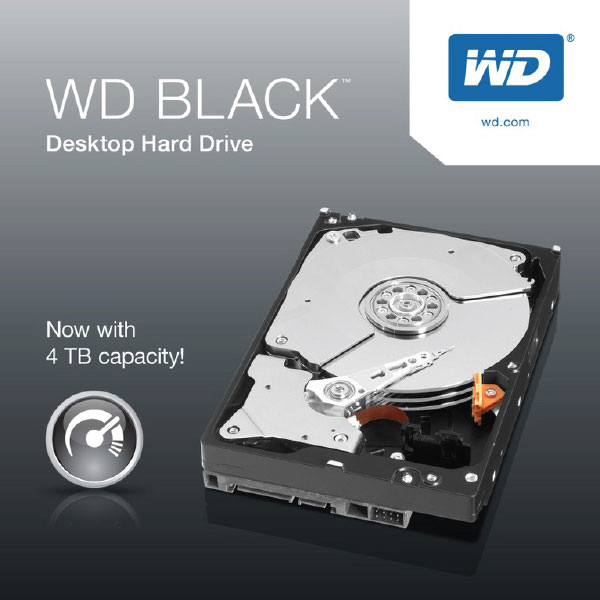 Specifications
WD Black 4TB Desktop HDD Specifications
Capacities:

1TB – one single 1TB platter (WD1003FZEX)
2TB – three x 800GB platters (WD2003FZEX)
3TB – four x 800GB platters (WD3003FZEX)
4TB – five x 800GB platters (WD4003FZEX)

Interface: SATA 6 Gb/s
Rotational Speed: 7,200 RPM (nominal)
Buffer Size: 64 MB
Load/unload Cycles: 300,000 minimum
Buffer To Host (Serial ATA): 6 Gb/s (Max)
Formatted Capacity: 4,000,787 MB
User Sectors Per Drive: 7,814,037,168
Physical Dimensions

Height 26.1 mm
Depth 147 mm
Width 101.6 mm

Weight: 0.78 kg
Environmental Specifications
Shock

Operating Shock (Read): 30G, 2 ms
Non-operating Shock: 300G, 2 ms

Acoustics

Idle Mode: 29 dBA (average)
Seek Mode 0: 34 dBA (average)

Temperature

Operating: 32° F to 140° F
Non-operating: -40° F to 158° F

Power Dissipation

Read/Write: 9.50 Watts
Idle: 8.10 Watts
Standby: 1.30 Watts
Sleep: 1.30 Watts

Warranty: 5 year
Installation
Installing the new WD Black drive is quite easy and you simply connect the unit to the SATA and power cable and depending on your operating system, there may be some user input required to get the O/S to recognise the drive, including formatting. For Windows 8, we needed to go Disk Management in order to active the drive. This is basically done by selecting the drive, assigning a drive letter (e.g. D:) and then formatting it.
This whole process took just a couple of minutes in Windows 8.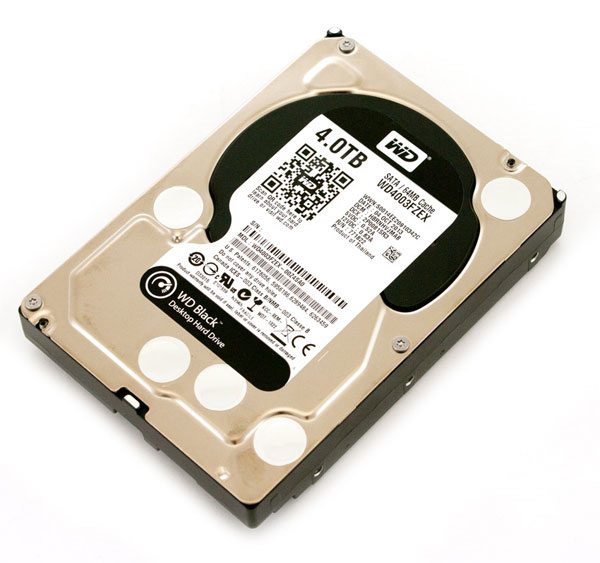 Also, the size of the drive is similar to other SATA units and measures at 26.1mm (height) x 147mm (depth) x 101.6mm (width) which will easily fit into most standard PC cases. If you have one of those funky cases like us (thanks Cooler Master),we just installed the drive into the front bay of our case and presto… the installation was complete. Even if you need to install the drive inside your case, most users with some basic computer knowledge should have no issues at all as you cannot connect the wrong cable into the drive.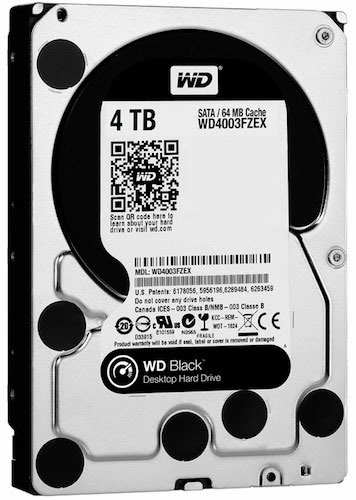 Benchmarks
We tested the drive with a variety of HD benchmarking tools that included HD Tune Pro 5.5, ATTO Disk Benchmark and CrystalDiskMark 3.0.3. Benchmarking is subjective and is dependent on many factors from RAM to CPU and even what software you have installed.  Nonetheless, the drive did score quite high.
As you can see with HD Tune Pro 5.50, the drive produced some impressive results for both read/write times and accessing files. This is especially ideal for gaming or accessing large files.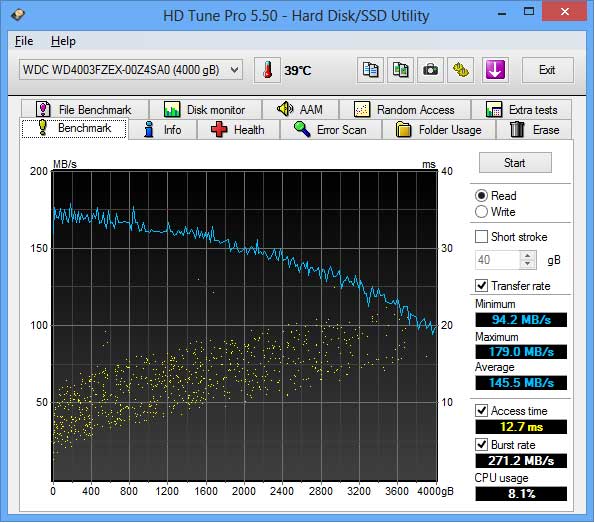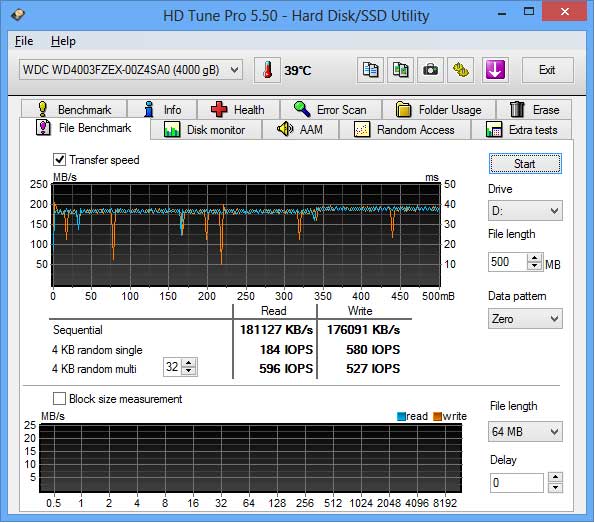 Both CrystalDiskMark and ATTO Disk Benchmark mirrored similar results as HD Tune Pro with some blistering speeds.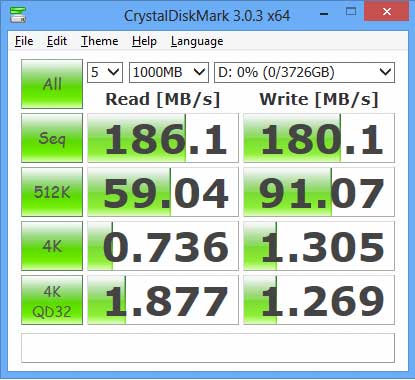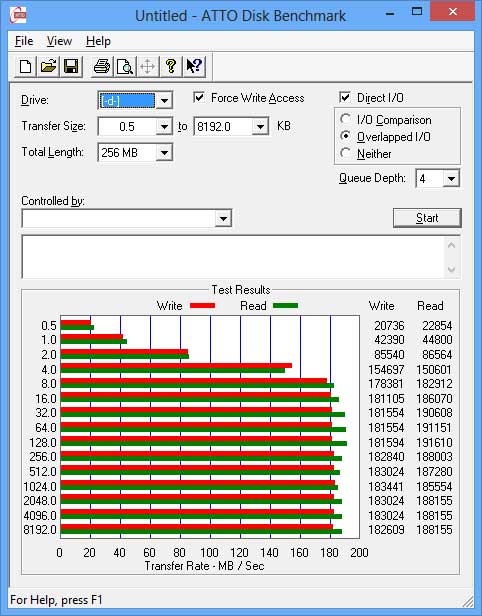 Another bonus about the drive is how quiet it is and more importantly, WD ensure that the drive is kept quite cool during high usage. From the results, you can see that the High Resolution Controller, Vibration Control Technology and dual-core processor really make a difference with performance, especially read and write times.
In terms of everyday use, the drive booted Windows 8 in just under 10 seconds and software packages such as Adobe Photoshop and Microsoft Excel shaved a few seconds off a similar drive of WD's competition. Gaming was another impressive area where the drive loaded games such as Need for Speed Rivals and Battlefield 3 a little faster and some instances, around 10 – 15 seconds. This was mirrored by TeraCopy that is a program used to monitor how fast files are copied. Once again, we saw between 8 to 15 seconds improvement with this drive. In terms of temperature, the drive idles around 29 degrees Celsius and moved to around 34 degrees during heavy use.
Final Thoughts?
In conclusion, the WD Black 4TB Desktop Hard Drive (WD4003FZEX) offers some very impressive results in terms of performance without increasing the overall power consumption of the drive. The drive itself also comes with a 5-year warranty for some great piece of mind and the only drawback of the WD4003FZEX is the price but given the quality and performance, it should definitely be taken into consideration when purchasing a new hard drive.
Zoom zoom!