Blu-ray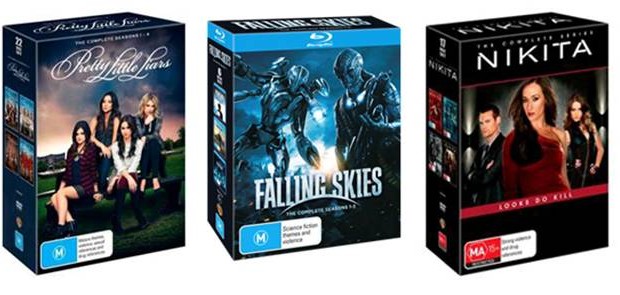 Published on August 1st, 2014 | by admin
WB Box Set Specials
FALLING SKIES: SEASONS 1 – 3
Noah Wyle stars as Tom Mason, a college professor who becomes an unlikely resistance leader in this extraordinary story about life and survival in the wake of a catastrophic alien invasion. With only ten percent of the human population surviving the extraterrestrial attack, soldiers and civilians must band together to ward off further chaos and destruction. Watch the epic struggle that unfolds in this sci-fi drama as the humans try to regain what is rightfully theirs. Falling Skies: Seasons 1 – 3 Box Set will be available on Blu-rayTM and DVD from August 20th.
NIKITA: THE COMPLETE SERIES (SEASONS 1 – 4)
Betrayals and backstabbing force our favourite assassin Nikita to wage a war against the "Division", the secret U.S. agency that trained her into becoming a lethal killer of the state. Follow Nikita as she goes rogue in an against-the-odds battle to expose the corruption of her former agency. With the series drawing to a suspenseful close in the fourth season, you can now own every minute of the action and drama in this complete series box set. Nikita: The Complete Series Box Set will be available on DVD from August 20th.
PRETTY LITTLE LIARS: SEASONS 1 – 4
Witness all the scandal, suspense and intrigue as Aria, Spencer, Hanna and Emily seek to unravel the  mystery that surrounds the disappearance of their "best friend" Alison. However, sinister secrets, dark family betrayals and a rising body count threaten to destroy their friendship before they can uncover the truth. Throughout the addictive series based on Sara Shepard's bestselling books, it becomes increasingly apparent that some of the ugliest secrets in Rosewood belong to the prettiest girls in town! Pretty Little Liars: Seasons 1 – 4 Box Set will be available on DVD from August 20th.