Games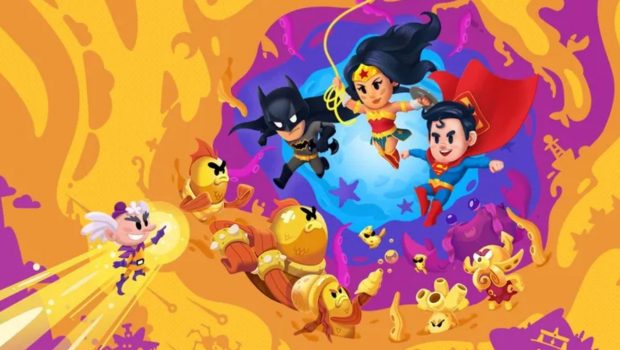 Published on February 25th, 2023 | by Andrew Bistak
Watch the Brand New DC's Justice League: Cosmic Chaos Game Play Trailer Showcasing Super Powered Action
Outright Games in collaboration with Warner Bros. Interactive Entertainment on behalf of DC has today released an epic new gameplay trailer for DC's Justice League: Cosmic Chaos, which gives fans an even deeper look at the upcoming super powered, adventure game.
Releasing on April 7th, 2023, this all-new open world action adventure title is designed to be fun for Justice League fans of all ages. Players can soar solo in single player mode or team up and combine abilities with 2-player instant action couch co-op mode. The latest gameplay trailer teases brand new environments, shows off the Super-Villain roster and also gives fans their first look at Artefacts of Justice and collectible in-game suits.
Please do let me know if you have any questions or would like a review code ahead of the game's release on 7th April.
Thanks,
DC's Justice League: Cosmic Chaos – New Gameplay Trailer Features
The newest trailer reveals brand new details of the vibrant and action-packed gameplay
A closer look at the brand new location Happy Harbor can be seen in the trailer and players can look forward to strange and mysterious environments
Players can get ready to encounter strange and unusual enemy types and get a sneak peek of battling against Mr. Mxyzptlk's henchmen and other Super-Villains
Get to know the playable Justice League members Superman, Wonder Woman and Batman even better by checking out their unique abilities
Customise your playing style with classic, cute and crazy unlockable suits for all playable characters
Play your own way with a first look at Artefacts of Justice, showcasing these powerful attack and defence items such as Green Arrow's Bow and Raven's Cloak
The Artefacts of Justice can be found by battling enemies and completing quests and can be equipped to deliver your Super Heroes a range of stat-altering boosts
DC's Justice League: Cosmic Chaos General Information
Outright Games presents DC's Justice League: Cosmic Chaos. Licensed by Warner Bros. Interactive Entertainment on behalf of DC
The game will be available to play from March 10th 2023 on PlayStation 4®, PlayStation 5®, Nintendo Switch™, Xbox One, Xbox X|S and Steam.
Play as iconic Super Heroes Batman, Superman or Wonder Woman to battle Mr. Mxyzptlk, the trickster from the 5th Dimension and the almighty Starro The Conqueror.
Players will face action-packed missions and must defeat hordes of enemies using each hero's unique abilities to restore peace.
Fly solo in single player mode or team up and combine abilities with 2-player couch co-op instant action mode
Gift With Purchase
For a limited time only, physical purchases of DC's Justice League: Cosmic Chaos will include an exclusive character keychain available only with physical Nintendo Switch game copies
The unique keychains come in a special DC's Justice League: Cosmic Chaos envelope and are suitable for children aged 3 and up.
This offer is available in all countries (excluding Germany) and can only be redeemed with a physical Nintendo Switch copy of the game.
Offer while supplies last, only included with the purchase of the Nintendo Switch copy of DC's Justice League: Cosmic Chaos.
One of four characters available; Superman, Batman, Wonder Woman or Cyborg