Comics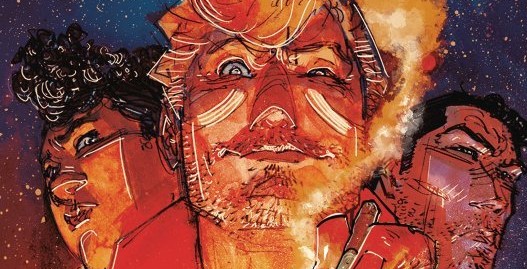 Published on March 26th, 2019 | by Dana Folkard
WASTED SPACE #8 REVIEW
Summary: Time to get Dust a new arm.
Billy Bane puts his plans to nuke some rich bastards on hold so he can help out an old friend. A dynamic and moving issue that isn't afraid to slow down and delve into some provoking questions about life, love and morality.
This issue begins with Billy deciding that they need to make a quick detour to the lawless planet Gorgeron, where they can find a new arm for Dust. Dust is a little apprehensive docking in this shady place, especially after he and Billy vowed never to return here again. Once there, Billy and Dust head out to strike a deal with an old acquaintance, whilst Molly and Rex stay on the ship to hash out some things and have some serious sibling talk.
Billy and Dust's path takes them to Chesshy, an old "friend" who despises Billy but likes Dust. He is willing to help them out, on condition that they help him run a task out to the Sunken Temple. Billy accepts, and they board the next ship heading out into the treacherous waters. Meanwhile, Molly and Rex get down to some serious talking, where Molly interrogates Rex over his past choices, questioning who he really is, who he serves and who he wants to be. Realising that he has lived his life completely dictated by the actions of his father, Rex decides to take his life back, own his shit and be a better person because of it.
Wow, this was a pretty powerful and poignant issue of Wasted Space, delving into some moving territory. It's no great surprise, coming off the heels of the previous issue, with the reunion of Molly and Rex and the death of Dust's lover, Fury. The overall pacing slows, to accommodate for the new character growth and developments, which come as a direct result from the provoking discourse between them. We see some uncomfortable questions asked, old wounds reopened and a quest for personal atonement. It's heavy stuff when you look at it like that, however, Michael Moreci handles this with a wonderfully delicate touch, really making the history and love between these characters shine through. In the end, both parties embark on an emotional, thought-provoking quest of self-atonement, and I've gotta say, it's compelling stuff guys.
The art by Hayden Sherman does a cracking good job at highlighting these emotionally intense scenes. I really love his clever panelling and character framing in this issue, finding that it really helped to carefully carry the pacing through in these scenes, making the eye focus on what really counts. Whether it be an intense glance, a guilty shrug or a nervous laugh, it all makes a difference when these are the features that dominate these emotional moments. Once again, I'm a big fan of Sherman's blocky, textured linework, as I love the layered and somewhat messy and chaotic quality it brings to the page. I especially find this to be effective when the scenes pull back to show us a nicely detailed landscape or cityscape. The colouring by Jason Wordie is really quite lovely, and finishes the art off. It's a colourful palette, dominated by vibrant blues, so when a warmer colour, like read or yellow makes an appearance, it really stands out.
Overall, I really loved this issue and thought it to be a thought-provoking and wonderfully written chapter of this story. It's nice to have an entire issue dedicated to fleshing out these characters, exploring the depth of their personal emotions in a highly poignant and dynamic way.
I'm giving this issue 5 out of 5 stars!
---
COMIC DETAILS
CREATIVE TEAM: Michael Moreci, Hayden Sherman, Jason Wordie and Jim Campbell
PUBLISHER: Vault Comics
GENRE: Science Fiction
PUBLICATION DATE: March 27, 2019
REVIEWER: Dana Folkard