Comics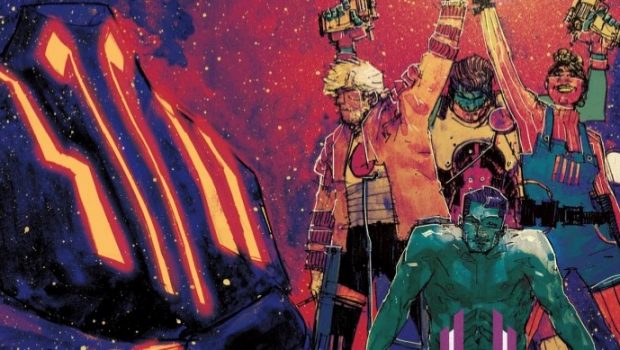 Published on January 29th, 2019 | by Dana Folkard
WASTED SPACE #6 REVIEW
Summary: A strong beginning to the new arc.
Wasted Space is back with a new arc and a new mission for Billy Bane. Now on a quest to kill the Creator, Billy and his entourage make their way to the planet Elysium, where they hope to find a dodgy politician who can help them with the next phase of their plan.
We begin this issue with the giant celestial being Legion, arguing the reasons as to why they need to interfere with the plans of the Creator. Chaos, prophecies and a tale about heavily patting a dog is discussed shortly before the abrupt arrival of the Creator himself. An interesting discussion unfolds, revealing some curious truths about these two, whilst shedding some light on their objectives.
Meanwhile, Billy and crew make their way to the planet Elysium, where they seek out a corrupt philanthropist and politician called Corrance. They have made their way here after Legion advised them to do so, with the key to their masterplan literally hanging around the neck of this dodgy fella. With this cryptokey now in their possession, they leave Elysium to make their way to their next destination. Along the way, Billy and Dust have a deep and meaningful conversation where they discuss past relationships, drugs and the new direction their lives have taken. Elsewhere on the ship, Molly has a new vision, involving her brother Rex and a new figure who is wishing to get their hands on the nuke…a bad omen indeed.
First thing I'll say about this series is that I absolutely love the dynamic between Billy and his crew. The banter is sharp, funny and tight, making for an entertaining and light-hearted read. The relationships with these characters have been evolving throughout the story, and it's nice to see quiet moments of reflection unfold, especially between Dust and Billy. This all feeds into Michael Moreci's clever character development, giving depth to their personalities, which ultimately allows for us to connect and relate to them more. Also, for a story that relies heavily on dialogue and lore, I never feel that it's ever dull or tedious to read, instead finding that Moreci does a wonderful job at crafting a compelling and engaging story, littered with these entertaining character interactions.
I'm also intrigued by the interesting encounter we see between Legion and the Creator. This conversation adds another complex layer to the story, and whilst I won't reveal what it is they talk about, what I will say is that explores more about their roles as characters, their morals and ethics. Always interesting to see celestial beings with ultimate power engage in a heated conversation. Fun times.
Hayden Sherman's art is edgy and expressive. I really love the way he captures the idiosyncrasies of each of these characters, translating their varied emotions in an animated way. There is a stylised blockiness to his art that I really like, which helps reinforce the otherworldly quirkiness of this world. There is also a lot going on in each page with Sherman filling in every panel with heaps of details and linework. Sometimes this gives the impression of a chaotic and cluttered mess, however, it visually works, making this world feel rich, detailed and alive. I'm also a big fan of Sherman's alien designs, where we get to see him flex his artistic muscle in a creative way. The colouring by Jason Wordie is absolutely spot on and alive, with a vibrant neon-like palette dominating. I really enjoy some of the scenes where we see a more graphic use of colour, with splashes of vivid colour sprayed across the page, giving an almost street art quality to these scenes.
Overall, I thought that this was a strong beginning to the new arc. Things are tense with various new elements introduced to the story, resulting in some curious developments. Keen to see where the next chapter of this story will take us.
I'm giving this issue 4.5 out of 5 stars!
---
COMIC DETAILS
CREATIVE TEAM: Michael Moreci, Hayden Sherman, Jason Wordie and Jim Campbell
PUBLISHER: Vault Comics
GENRE: Science Fiction
PUBLICATION DATE: February 06, 2019
REVIEWER: Dana Folkard