Hardware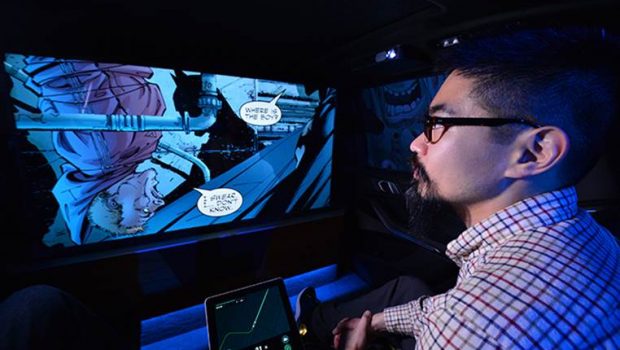 Published on January 9th, 2019 | by Admin
Warner Bros. Immersive CES Experience Previews Entertainment's Future
What's New: Intel and Warner Bros.* demonstrated exciting potential for immersive entertainment in an autonomous driving world with a first-of-its-kind concept car at CES 2019. The car transports guests to Gotham City, home to DC's most popular super hero, Batman. Through a virtual ride and 270-degree entertainment, the vehicle delivers on a commitment the two companies made at the LA Auto Show in 2017 to explore the potential for next-generation entertainment in future autonomous vehicles. More: Intel at CES 2019(All Intel News)
"The emergence of autonomous vehicles portends a major shift in how people use their time. The concept car shows how cars will become a new kind of 'space.'"
–Marcie Miller, Automotive Strategic Marketing, Intel Corp.
How It Works: The interior of the Intel Warner Bros. autonomous vehicle, a retrofitted 2019 BMW X5, is equipped with advanced technology, a large-screen TV, projectors, mobile devices, sensory and haptic feedback, and immersive audio and lights to bring passengers on a virtual ride moderated by Batman's trusted butler, Alfred Pennyworth. Upon entering the vehicle, guests experience the future of in-cabin entertainment while becoming familiar with safety measures in place through five "chapters":
Chapter 1: Welcome to the future of in-car entertainment: Once passengers settle into the vehicle, the cabin is illuminated, and Gotham City appears on the windows. Alfred delivers a welcome message and passengers begin their ride as Gotham City moves by on side windows.
Chapter 2: Navigating Gotham City with comic book reader: Guests are treated to new immersive entertainment content as they engage with a comic book reader that's presented and narrated across the cabin. After experiencing Batman and Killer Croc interactions from around the vehicle, Alfred alerts guests to a road closure ahead. The interactions demonstrate how passengers may be notified of important route changes when their eyes and ears are off the road.
Chapter 3: Bringing additional safety technologies to life with RSS: Responsibility-Sensitive Safety (RSS) is Intel's framework for helping autonomous vehicles operate in a more safe and trustworthy manner. RSS formalizes the human notions of safe driving into mathematical equations, helping provide verifiable safety assurance for autonomous vehicle decision-making. Within the cabin, Alfred and a dedicated RSS screen illustrate for guests how RSS helps keep a 360-degree safety monitoring zone around a vehicle.
Chapter 4: Previewing movies in the car of tomorrow: Intel and Warner Bros. demonstrate how passengers might decide on what movie to see next from the back seat of a car. Guests are provided an immersive entertainment experience with a trailer for Warner Bros.' current global blockbuster, DC's "Aquaman*," adapted for in-car 270-degree viewing by ScreenX*. Guests are also shown how they might identify nearby theatres and purchase movie tickets from inside the car.
Chapter 5: Helping complete the ride safely and securely: Without a driver, autonomous vehicles will need to inform passengers of important information about their trip, such as where they have arrived and how to exit. In this final chapter, Alfred tells passengers they are arriving and instructs them how to safely depart.
Intel CES 2019 B-Roll video includes a demonstration of the BMW X5 outfitted by Intel and Warner Bros. that offers passengers a taste of what's to come in automotive entertainment in autonomous vehicles. See it at the 55-second mark. (Credit: Tim Herman/Intel Corporation)
Why It Matters: Intel predicts the coming "Passenger Economy" will free more than 250 million hours of commuting time per year in the world's most congested cities. What's more, Intel predicts a total addressable market of $200 billion from rising consumer use of new in-vehicle applications and content. As leaders in their respective fields, Intel and Warner Bros. are pioneering innovative research and development to explore how consumers interact with new forms of entertainment within vehicles once they are uncoupled from the steering wheel.
By transforming the cabin into an immersive entertainment platform, the companies are scratching the surface of the possibilities that will come with the future Passenger Economy.
Beyond reimagining in-car entertainment, the car includes interactive communications to keep riders informed and comfortable, while also demonstrating in real-time how Intel's RSS model can help keep them safe.
Both companies believe consumer trust is critical for advancing autonomous vehicles. In order to create trust, autonomous vehicles must address a core set of interactions that engender confidence, control and a sense of safety. Intel is already helping address public trust by offering RSS to the broader automotive industry as a safety standard starting point. The Intel-Warner Bros. concept car demonstrates how content that is entertaining and informative has the power to help build trust while keeping passengers engaged.
What's Next: Following CES, further research and development will be conducted on the vehicle at the Warner Bros. Studio in Burbank, California. To remain at the forefront of this transformation in how passengers consume content in cars, Warner Bros. and Intel will gather real-world feedback from passengers through a series of test drives and pilots this year on the Warner Bros. Studio lot.
Intel's and Mobileye's Role: Unlocking our autonomous future requires innovation in the areas of computing, safety and mapping. Together, Intel and Mobileye are delivering the full breadth of world-class technologies and products needed for this next era.
More Context: Intel and Warner Bros. Announce Partnership to Develop In-Cabin, Immersive Experiences in Autonomous Cars of the Future | A Matter of Trust: How Smart Design Can Accelerate Automated Vehicle Adoption | Intel and Mobileye Offer Formula to Prove Safety of Autonomous Vehicles | Intel Predicts Autonomous Driving Will Spur New 'Passenger Economy' Worth $7 Trillion