Games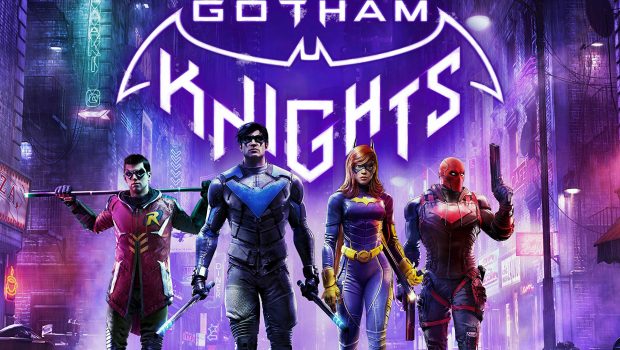 Published on October 20th, 2022 | by Andrew Bistak
Warner Bros. Games Debuts New "What Is Gotham Knights" Trailer Ahead of Oct. 21 Launch
Warner Bros. Games and DC have debuted the new "What Is Gotham Knights" trailer, providing a rundown of must-have details about the open-world action RPG ahead of the game's launch on Oct. 21, 2022. The video dives into several key areas that make Gotham Knights the complete gameplay experience. This includes its unique playable heroes Batgirl, Nightwing, Red Hood, Robin; open-world crimefighting, exploration and traversal; solo play or seamless online co-op; gear, suit and weapon customisation; epic villain confrontations and encounters with the likes of the Mr. Freeze, Harley Quinn, Clayface and the mysterious Court of Owls; and more.
Gotham Knights is scheduled to release worldwide on Oct. 21 for PlayStation 5, Xbox Series X|S and PC. Pre-orders will receive the 233 Kustom Batcycle Skin at launch, based on the vehicle's first appearance in DC's Detective Comics #233.
Developed by Warner Bros. Games Montréal, Gotham Knights features the Batman Family as players step into the roles of Batgirl, Nightwing, Red Hood and Robin, a new guard of trained DC Super Heroes who must rise up as the protectors of Gotham City in the wake of Batman's death. From solving mysteries that connect the darkest chapters in the city's history to defeating notorious Super-Villains in epic confrontations, players will tackle an array of challenges as they evolve into their own version of the Dark Knight.
To learn more about Gotham Knights, visit GothamKnightsGame.com or connect with us online via Twitter (@GothamKnights), YouTube (GothamKnights), Instagram (@GothamKnights), Facebook (GothamKnights) and Discord (GothamKnights). To learn more about the game's backstory, don't miss DC's official six issue prequel series, Batman: Gotham Knights – Gilded City launching on Oct. 25. Each physical issue includes a code for a redeemable in-game item; issue No. 1 includes a code for an exclusive BOSO22 Batcycle skin. Subscribers to the DC UNIVERSE INFINITE digital subscription platform will also receive each issue day and date with its print counterpart and is the only digital path to receiving the in-game items. The platform also includes a wide-ranging selection of stories featuring all of the Gotham Knights videogame characters. For more information and a free trial (where applicable), check out DCUniverseInfinite.com. Please note, DC UNIVERSE INFINITE is not intended for children and is not available in all countries.