Switch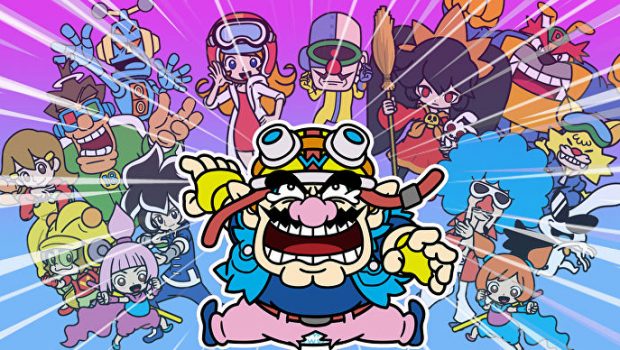 Published on September 20th, 2021 | by Nathan Misa
WarioWare: Get it Together! Nintendo Switch review
Summary: The same weird and wonderful aesthetic and fast-paced mini-game fun as its predecessors, with some fresh twists.
WarioWare: Get It Together!, the latest entry in the Nintendo-developed franchise of experimental, under-the-radar and maddeningly fun minigames, and the first to grace the Nintendo Switch, is pure, mad fun.
As a casual fan of the series, I've always enjoyed playing its random collections of short and sweet 'microgames' on-the-fly or with friends, and Get It Together's assortment offers just the right amount of challenge, plenty of entertaining weirdness, and uncomplicated fun for most players.
The story mode in WarioWare: Get It Together! is very simple, straight-to-the-point, but no less charming. The underdog, big-nosed antithesis to Mario and his band of equally exaggerated, cartoon-ish crew of the in-universe game development studio WarioWare, Inc face a crisis; the new game they just finished making just has inexplicably transported them into its world, where glitches run rampant and wreak havoc on the levels. Starting with Wario and a few friends, you have to go through a series of levels, with mini-games loosely themed around other, unlockable characters, to fix bugs.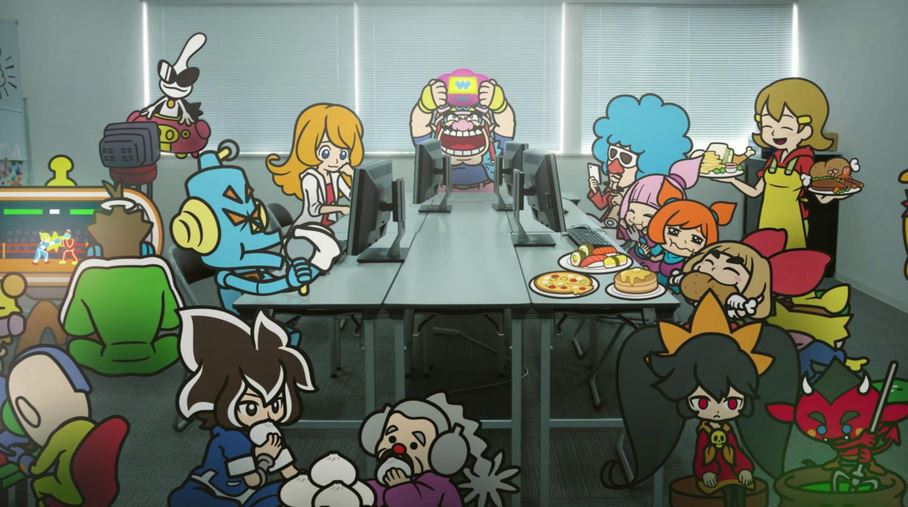 The introduction of characters is the biggest change that Get It Together! brings to the formula. Up to two players choose and directly take control of WarioWare, Inc's finest during levels of mini-games, forming a crew based on the level's featured character and some of your own choice presented in a crew member select screen very similar in style to Super Smash Bros. Every character has their own playstyle to approach mini-games in unique ways, and the game wisely eases you into things with simpler characters like Wario, with a jetpack for moving that allows for bull-rushing, and Young Cricket, who is fast and can jump higher than his peers.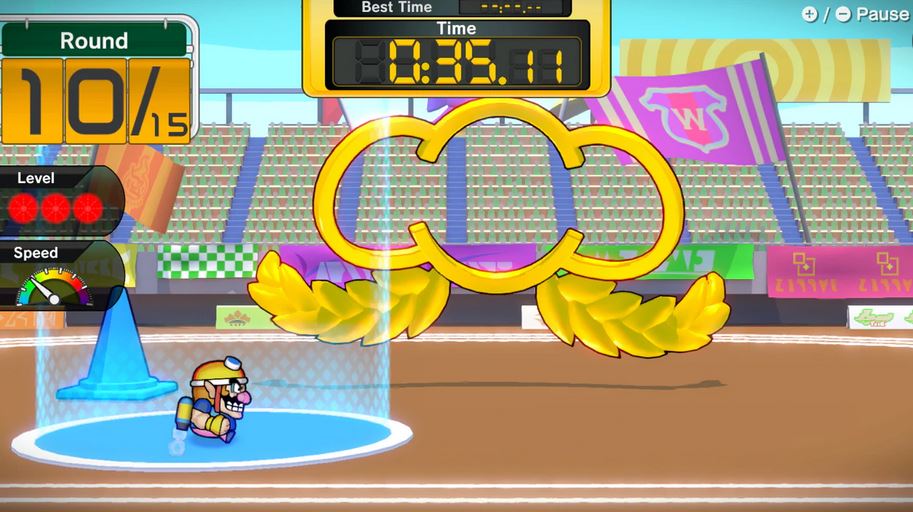 Later on you get trickier characters like 18-Volt, who can't actually move without shooting a projectile to hit uniquely placed rings, or Dribble and Spitz, who can only shoot objects to their left and right, respectively. Some felt worse or outright terrible for certain mini-games, but part of the fun I experienced was figuring out how to overcome their inherent limitations and still win. The only downer was that some characters feel redundant or like a worse clone, but at the very least, all of them exude fantastic personality and quirkiness, my favourite being disco-man Jimmy-T.
The 200+ mini-games, or micro-games as the franchise calls them (due to lasting a few fast-paced seconds) varied in quality and fun factor, but playing through them with a second player handy, I found the majority to be visually interesting, bizarrely entertaining, and just the right amount of challenge for players of all skill levels to push through. You'll be shooting or tweezing the hairs out of a Greek god's armpit, squeezing toothpaste, dodging a boxer's KO jab, protecting a kid's ice-cream, timing orchestras, and countless more seemingly random and laugh-out-loud-worthy tasks that have plenty of variety. The themed levels group the micro-games under categories such as sports, food, and, my favourite, Nintendo Classics (there's plenty of mini-games with Animal Crossing, Fire Emblem, Mario and The Legend of Zelda backdrops). There were many that felt a bit too obscure in the objective they presented, but due to the lightning-fast nature of the micro-games, they were long over before they became a problem.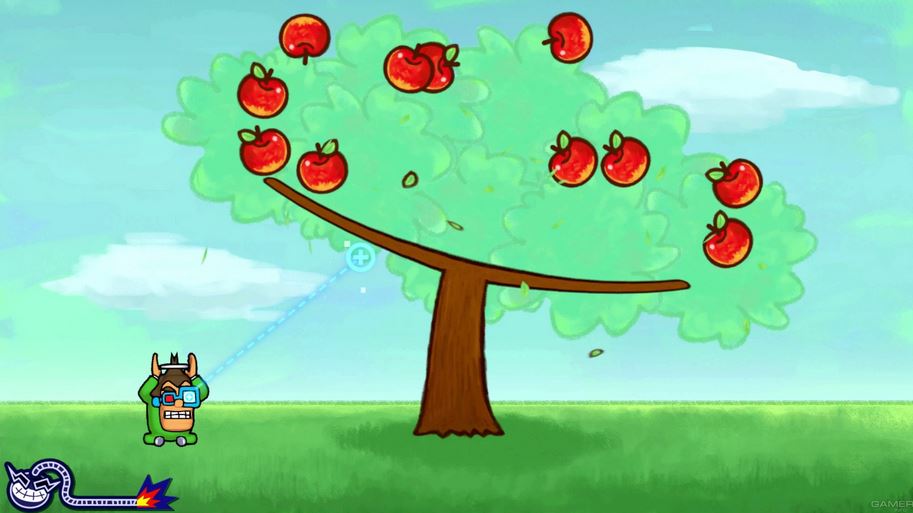 The story mode, even played casually as I did, is over in a few hours. Cutscenes are brisk, albeit very well drawn and animated, and filled with personality, and, honestly, I craved more. WarioWare Inc's cast feels like a breath of fresh air compared to the tried and true setting of Mario and the Mushroom Kingdom, and unlocking each new character and figuring out their playstyles really was a treat. There's a slightly addicting level up system to use as a currency to buy gifts for characters to unlock alternate colours and artwork to keep busy with, however.
The party-style mini-games unlocked later under the Variety Pack mode support up to 4 players and are a main draw for multiplayer nights. There's traditional micro-games like Gotta Bounce, where your crew has to keep ball in the air using each characters special talents, to madly competitive lightning rounds of Duelius Maximus where you try and finish micro-games first, to Frenemy Frenzy, a Smash-esque brawler which rotates through crew members randomly as you fight to have the most HP, surviving environmental obstacles and each other. It's been a while since I played older titles, but I do wish there was more on offer for long-term playability.
The visual art style and music of Get It Together! Is undoubtedly fantastic. Everything from the menus to the crew select screen look and feel slick to navigate through, micro-games have somehow mesh the differing themes and cameos of Nintendo games together well, and the fast-paced music, especially the main menu beat, got me pumped for every single round. If you're craving something flavourful, wacky and uniquely Nintendo, this game definitely has it.
Do the micro-games get repetitive? Depending on how often you fail, or whether you like to play games like Get It Together! in shorter, concentrated bursts or longer game sessions, the core gameplay loop can feel a little tiring faster than other games on the market. But WarioWare has always presented a unique package of fun and weird, so as long as you go into it knowing this is a collection of mini-gameplay experiences in its purest, condensed form, you'll have a blast.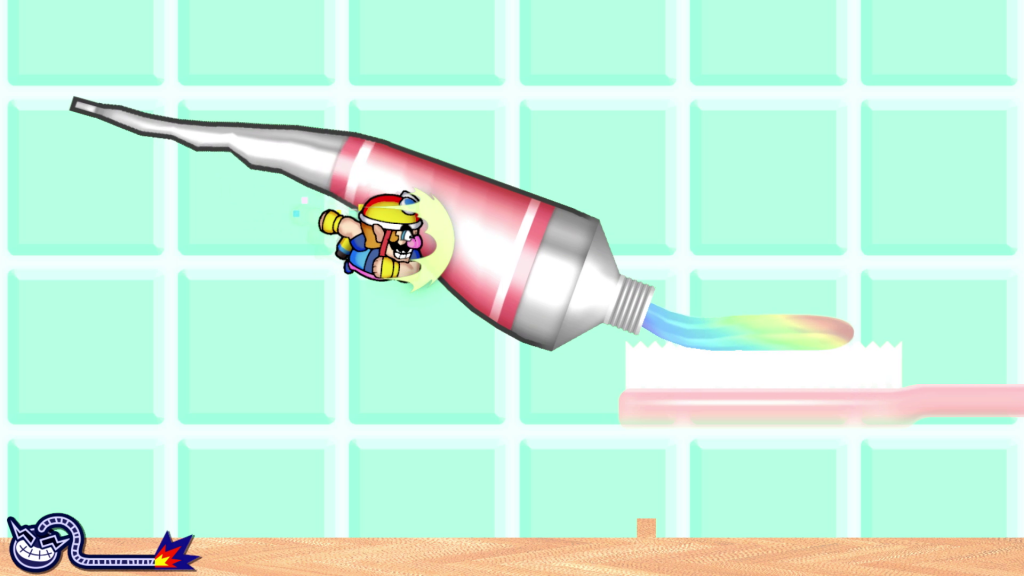 The Final Verdict
Get It Together! lives up to the premise established by its predecessors, offering changes that feel fresh, while still retaining the bizarre aesthetic and fast-paced fun in its mini-games that defines the series.