Events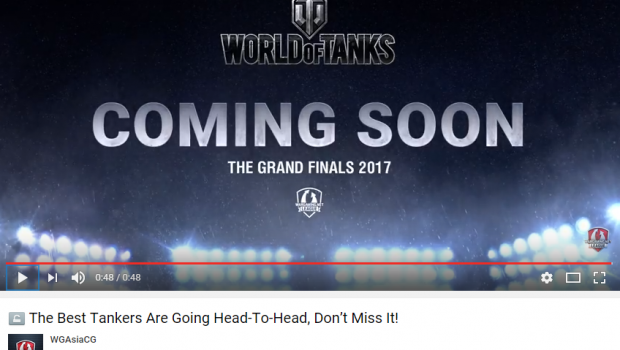 Published on March 29th, 2017 | by admin
Wargaming.net League Grand Finals 2017 First Details Revealed
The true crown jewel of the World of Tanks eSports calendar will take place May 27–28 in Moscow, Russia
March 29, 2017 — Excitement is starting to build as the World of Tanks eSports year gets closer to its culmination: Grand Finals 2017. With Challenger and Champions Rumbles' epic matches fresh in our memories, the storylines are rife with potential and promise. Who will stand atop the world in 2017? Will last year's finest defend their current title? Will we see new talent rise to the top? The 2017 World Champion title is up for grabs, and the road to it begins today as we reveal the first details about the upcoming championship.
Grand Finals 2017 will feature twelve of the finest tank squads in the world, all competing for glory, honour, and a share of the $300,000 prize pool. With stakes so high, it's only natural that such an event be hosted in an equally epic venue—in this case, none other than the VTB Ice Palace in Moscow.
Not only is the year's Grand Finals being hosted in Russia for the very first time—the event will be divided into two stages, bringing you 4 days of heart-pounding tank combat. The group stage will run May 23–24 in a studio. After the teams have been whittled down, the remaining eight will have two more days to ready themselves for the final face-off on May 27–28, at the VTB Ice Palace, where a series of matches will determine who possesses the most skill and stamina.
"There's no denying CIS has a giant and passionate World of Tanks audience, so we thought it was about time we brought Grand Finals back to where the game was born," said Mohamed Fadl, Head of Global Competitive Gaming at Wargaming. "It also presents us with a fantastic opportunity to share some exclusive details about our huge, upcoming updates for World of Tanks, making it truly an event not to be missed."
To make this year's Grand Finals an even more unforgettable experience for World of Tanks fans, we're putting on a variety of engaging activities. Here, you can follow your favorite team, learn from the world's best players and improve your World of Tanks skills so you have more fun.
As always, the 2017 Grand Finals will be free to the public. You'll also be able to enhance your experience with the Grand Pack bundle that we'll be revealing soon, so stay tuned.
Don't miss your chance to go to Moscow and cheer on your favorite team! If you'd like to watch the event in the comfort of your own home, all matches (the group stage included) will be broadcasted on Twitch.tv, so you don't miss a single moment!
Watch like a fan. Play like a pro. Win like a champion.
Catch all the action on Twitch: http://www.twitch.tv/wgl_en