Events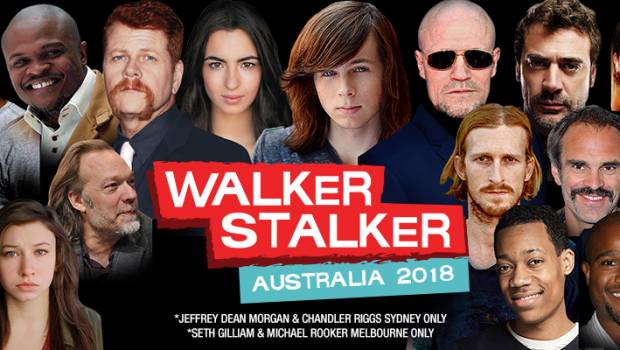 Published on January 23rd, 2018 | by Admin
Walker Stalker Con Is Almost Here! | Lineup Additions & Changes
WALKER STALKER CON
IS ALMOST HERE!
+ GREG NICOTERO, STEVEN OGG ('SIMON'), POLLYANNA MCINTOSH ('JADIS'), TYLER JAMES WILLIAMS ('NOAH'), IRONE SINGLETON ('T-DOG') & SETH GILLIAM ('FATHER GABRIEL') ADDED TO LINEUP
+ NORMAN REEDUS, CHRISTIAN SERRATOS & COOPER ANDREWS NO LONGER ABLE TO ATTEND
ONLY TWO WEEKS LEFT UNTIL FIRST EVER WALKER STALKER AUSTRALIA EVENTS BEGIN – FINAL TICKETS SELLING FAST!
+ MEDIA ACCREDITATION NOW OPEN
Continuing to deliver on its promise to provide fans with the ultimate experience, Frontier Touring are thrilled to announce that executive producer, director and special effects creator Greg Nicotero will be in attendance at Australia's first ever Walker Stalker Conventions this coming February.
He will be joined on the all-star line-up by further exciting new additions Steven Ogg ('Simon'), Pollyanna McIntosh ('Jadis'), Tyler James Williams ('Noah') and IronE Singleton ('T-Dog') who are confirmed to join both the Sydney and Melbourne conventions, as well as Seth Gilliam ('Father Gabriel') in Melbourne.
These new additions will replace Norman Reedus, Christian Serratos and Cooper Andrews who regrettably are no longer able to attend Australia's Walker Stalker Conventions due to unforeseen scheduling conflicts.
"I won't be able to make WSC Australia. I tried and was really hoping to get there. We are starting filming for RIDE now and I promise that will be awesome. Sending good vibes to you Australia." – Norman Reedus
"Unfortunately, Norman can no longer join us in Australia. We'll miss him, but are so excited for a new season of RIDE. We wish him the best and understand that this time his day job has to come first" – Fan Fest
In additional line-up news, Chandler Riggs ('Carl') will now only be attending the Sydney event.
The addition of these new actors brings the total number of The Walking Dead stars attending Walker Stalker Australia to fourteen per city. All the following stars will pose for photos, sign autographs and participate in stage interviews:
Greg Nicotero JUST ADDED!
Steven Ogg (Simon) JUST ADDED!
Pollyanna McIntosh (Jadis) JUST ADDED!
Tyler James Williams (Noah) JUST ADDED!
IronE Singleton (T-Dog) JUST ADDED!
Seth Gilliam (Father Gabriel) [Melbourne only] JUST ADDED!
Khary Payton (Ezekiel)
Michael Cudlitz (Abraham)
Alanna Masterson (Tara)
Ross Marquand (Aaron)
Katelyn Nacon (Enid)
Tom Payne (Jesus)
Austin Amelio (Dwight)
Chandler Riggs (Carl) [Sydney only]
Jeffrey Dean Morgan (Negan) [Sydney only]
Michael Rooker (Merle) [Melbourne only]
In addition to meeting their favourite cast members, fans can also take part in a number of unique activities across the venue including:
A team of incredibly talented tattoo and graphic artists, helmed by celebrity tattoo artist Chris 51 (A&E's Epic Ink, GeeksterInk Legends).
Free celebrity Q&A panel sessions led by stars of The Walking Dead
Foxtel, the home of The Walking Dead in Australia, is offering sanctuary to all who visit, in a heavily themed compound filled with activations to keep the walkers at bay and fans of the series entertained.
Escape The Biters activation – Those up for the challenge can follow in the footsteps of the show's survivors and walk, run or crawl through a house on the hunt for supplies, avoid the zombies and get out ASAP.
Vendors who deal in the comic, entertainment, zombie and other genres and industries.
Zombies and cosplayers roam the convention floor, making for interactive experiences attendees will never forget.
PHOTO OP INFORMATION:
Photo opportunities for new guests go on sale 10am AEDT Thursday 25 January with all other photo ops on sale now!
Sydney photo ops available here
Melbourne photo ops available here
Refunds for the cancelled artist photo ops will be automatically processed onto the credit card used for the original purchase within the next three business days. If you paid cash or EFTPOS at an outlet, please return to the same outlet to obtain a refund. We sincerely apologise to fans that are affected by the cancellations and wish the cast members all the best with their upcoming projects.