Hardware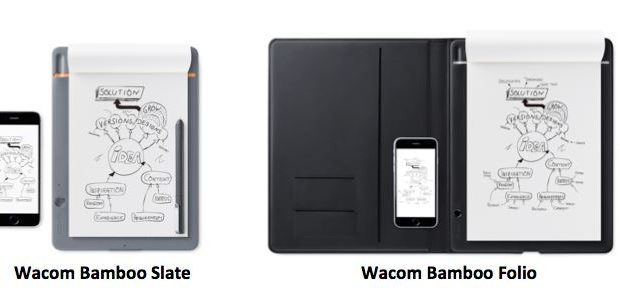 Published on June 26th, 2017 | by Admin
Wacom Unveils The Newest Additions To Its Bamboo Family Of Smartpads: Bamboo Slate and Bamboo Folio
How often have you forgotten that important note or lost it in the clutter? Help is here. Wacom's Bamboo Slate and Bamboo Folio smartpads help thinkers and doers capture, shape, share and organise ideas on the go.
"Our Bamboo smartpads are made to naturally fit into any workflow, fusing the ease of writing naturally on pen and paper with digital technology to transform thoughts to ideas. The smartpads provide a proactive solution for those that are looking to organise and protect their valuable ideas as they bring them from paper to the cloud – whether that's at home, at school or at work," says Mike Gay, Senior Vice President for Wacom's Consumer Business Unit.
Form meets function for on-the-go note taking and idea generating Bamboo Slate and Bamboo Folio smartpads allow users to turn their handwritten notes or sketches into digital files with a simple push of a button. The use of Wacom's Inkspace app and other integrated cloud services, offer easy editing and access from anywhere across the globe. Inkspace is the central hub for all digital ink files in the Wacom cloud providing a search function, helping users to manage their handwritten notes.
They're ideal for note takers and idea creators – whether it's the business traveller that needs a professional notepad to capture and organise meeting notes and ideas, students that jot down and pack their notes from class to study sessions to home, or teachers that need to record and protect their valuable lesson plans.
Bamboo Slate is a small version with no cover and a lower price tag, suitable for the at home "hobbyist" whilst the Bamboo Folio provides an added benefit for those looking to easily and safely transport their notes and ideas. The textured cover keeps everything in place and provides stylish protection with extra slots for business cards and other documents.
Stay organised
The Bamboo smartpads provide peace of mind so you never have to worry about losing a good idea again. Store and organise notes in Wacom Inkspace or easily add them to DropBox, Evernote or OneNote from a smartphone. Files can also be saved locally (up to 100 pages) on both Bamboo Folio and Slate.
Once handwritten notes are converted to digital files, users can download the Bamboo Paper app to easily highlight notes to review with classmates or add annotations to a presentation. With a paid subscription to Wacom Inkspace Plus, users can also convert images to vector files and collaborate in real-time mode, so friends and colleagues can watch ideas come to life remotely as they are drawn on paper.
Pricing and availability Bamboo Slate and Bamboo Folio are available for purchase at Scorptec AU, Noel Leeming NZ, PB Technologies NZ and online via www.buywacom.com.au
Bamboo Slate, small – $189.00 Bamboo Slate, large – $219.00 Bamboo Folio, small – $219.00 Bamboo Folio, large – $289.00