Films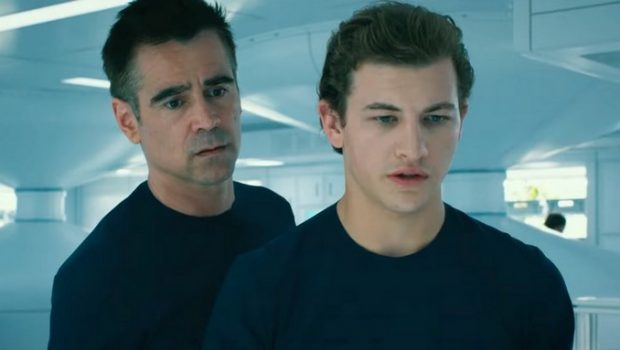 Published on April 14th, 2021 | by Damien Straker
Voyagers – Film Review
Reviewed by Damien Straker on the 14th of April 2021
Universal presents a film by Neil Burger
Produced by Brendon Boyea, Stuart Ford, Neil Burger, Basil Iwanyk, and Greg Shapiro
Written by Neil Burger
Starring Lily-Rose Depp, Tye Sheridan, Fionn Whitehead, Colin Farrell, Chanté Adams, Isaac Hempstead Wright, Viveik Kalra, Archie Madekwe, and Quintessa Swindell
Music by Trevor Gureckis
Cinematography Enrique Chediak
Edited by Naomi Geraghty
Rating: MA15+
Running Time: 108 minutes
Release Date: the 8th of April 2021
Voyagers is a dull space drama built on large sci-fi themes over deep characters and suspense. The film's director, Neil Burger, specialises in this brand of glossy but flawed high-concept filmmaking. He filmed the blockbusters Limitless (2011) and Divergent (2014), as well as The Upside (2017), a remake of the French hit The Intouchables (2011). Divergent was a middling YA dystopian film about teenagers bonding together to combat the oppressive government systems that previously trained them.
It was not as memorable or as commercially successful as The Hunger Games (2012). However, it typified Hollywood's narrow focus on younger demographics to ignite the box office. Commerce aside, the YA genre underlines the disillusion young people feel towards authoritarian governments that ignore them. Voyagers echoes these themes but settles for repetition rather than intense imagination.
It is impossible not to consider how a great filmmaker may have explored and subverted the cliché material. One can imagine Stanley Kubrick's interpretation of Voyagers' themes, including freewill, social conditioning, and sexual repression. Burger's film, now branded 'Lord of the Flies in space', lacks a distinct visionary at its helm. Its most intriguing ideas succumb to formula, including a good versus evil paradigm without the depth of character needed to overlook its predictable scripting.
The opening scenes are incredulous but promising. We are told the Earth verges on environmental unsustainability. This is a tangible idea given the threat and inevitability of climate change and the involvement of young activists. To counter the impending doom, a programme is developed where people at a young age are sent into space. Their journey to a new planet will take over eighty years. The intention is that their grandchildren will repopulate a new planet and start a new civilisation.
The only adult on board their vessel is Richard (Colin Farrell). He is a kind man who monitors the behaviour of the group. Ten years into the journey, two students, Christopher (The Tree of Life's Tye Sheridan) and Zac (Dunkirk's Fionn Whitehead), discover the blue drink the crew has been consuming modifies and suppresses their behaviour, including their sexual urges.
Both boys stop inducing the drink, which quickly alters their moods. Furthermore, an accident occurs during a maintenance run on the outside of the ship. Tribal lines are quickly drawn, which leaves the crew's more sensible students, such as Sela (Lily-Rose Depp), at risk as Zac mutinies the ship.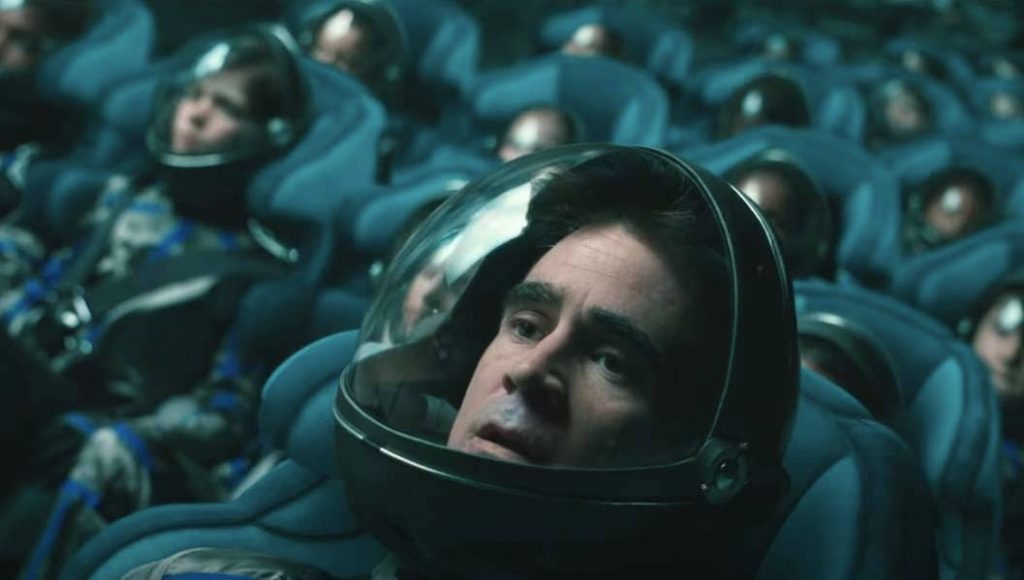 After an interesting start, Burger's script lacks conviction and crucial fundamentals. Science fiction admittedly tests the fabric of the real world. It stretches our fears and imaginations to new limits particularly when probing the mind and technology. Yet nothing about Voyagers' narrative bears scrutiny. The premise of small children capably handling space travel's intense rigors is a major contrivance. The notion of having only one adult available to supervise an entire crew is another.
Burger fails to establish the characters properly, including the identity of the main protagonist. Following an entirely predictable inciting incident, Voyagers switches perspectives to Sela but without drawing her in meaningful detail. The omission of backstory and personal traits, coupled with flimsy characterisation, dilutes Voyagers' personal conflict into a dull binary between good and bad students. Zac's resistance to the drink instantly reduces him to animalistic tendencies, including groping Sela. She and Christopher also start a forgettable romance, which further ignites Zac's jealousy.
The story is increasingly formulaic and the way it mirrors recent real-world events is clumsy and transparent. The most leaden example is when the young crew votes on its leadership. Zac refuses the result and declares himself the boss. He rallies people against the sensible students, claims there is an alien on board, and even engages in racial violence by targeting an ethnic crew member.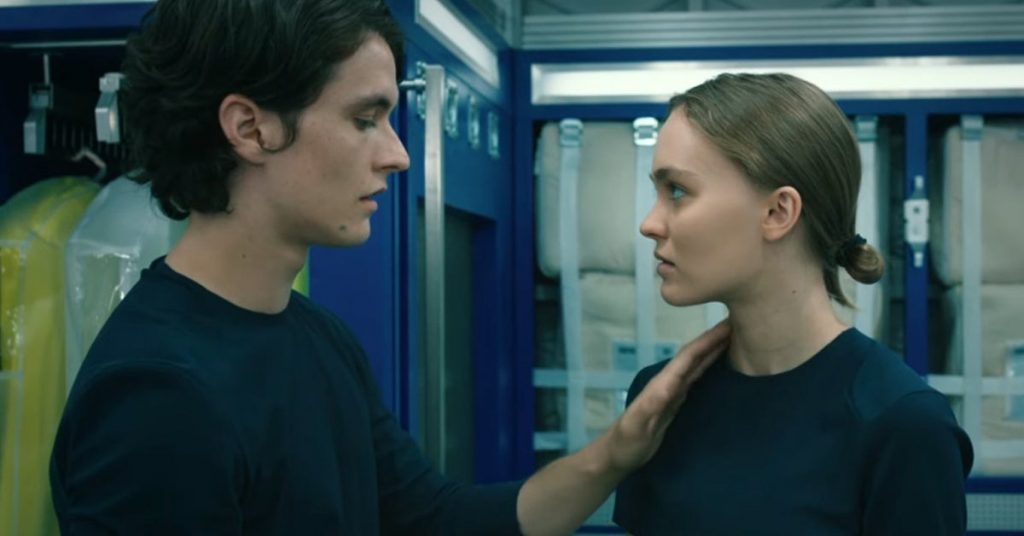 His decline from obedience to authoritarian scumbag leaves no room for moral ambiguity or intelligent discourse. Kubrick's 2001: A Space Odyssey (1968) was not built on strong human characters either. However, the potency of its deep themes and images is without peer. Burger's recycled thematic goals, lightly probing oppression and freewill, fail to compensate for the poorly drawn characters.
Voyagers is a confused exploration of the dangers of social conditioning. Once the teens stop taking the drink, their behaviour deteriorates into raucousness. The revelation suggests the blue potion is beneficial because it prevents them from becoming sex-crazed hooligans and bullies. Does Burger himself believe there are positive attributes to regulating young people's behaviour? The film tries amending its muddled ideology through flimsy dialogue suggesting Zac was bad all along.
Maybe he's born with it, you might say. Without a backstory the answer is trivial. The writing depreciates into clunky statements. One laughable moment is when a character asks whether the kids would like to live by rules or run wild. Similarly, when Sela and Christopher hide, the lights switch off and they yell, 'they're here!' The repression debate soon dissolves into generic chase scenes, including an underwhelming climax reminiscent of Alien (1979), and an impossibly wholesome epilogue.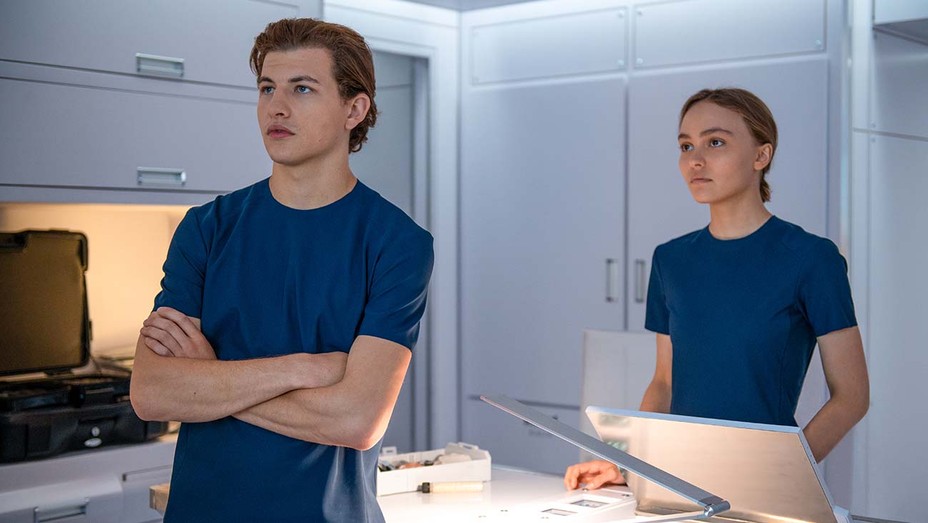 The technical elements make a solid first impression before crumbling. The early scenes are beautifully photographed, particularly the framing of several highly sterilised rooms. The deliberate colour palette foreshadows the type of social conditioning applied to the teens. Similarly, there is a reoccurring image of a narrow corridor, which reflects how the crew's actions are controlled.
The plot is contained almost exclusively to the ship save for one or two disappointing exterior scenes. The scale of the vessel is fine, especially when viewed on a huge screen, but the outdoor space scenes are overly dark and unimpressive. Few other images offer artistic resonance. Despite his attempts to create a brooding atmosphere, Burger struggles to heighten the pacing and tension.
Rather, the film's airlessness results from his stilted direction of the actors. His instructions to remain sullen and humourless prove fatal. There is a degree of seriousness about Tye Sheridan and Lily‑Rose Depp's work, but the material makes it impossible for them to enrich their characters.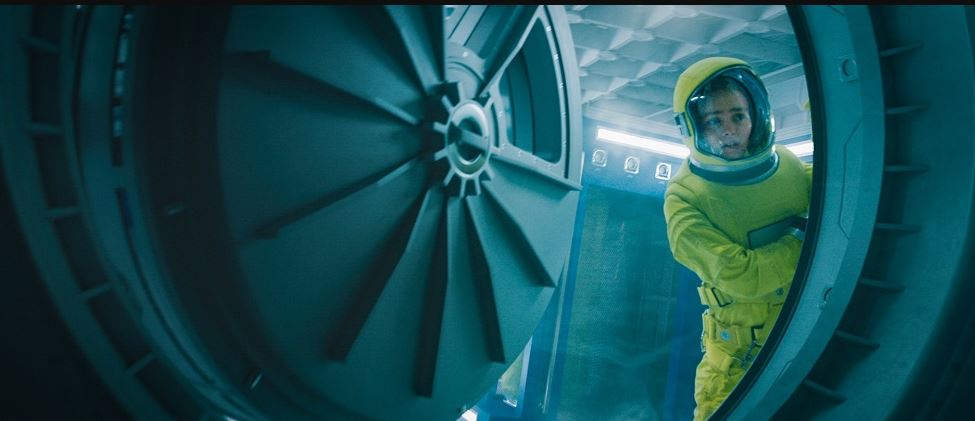 Fionn Whitehead was quietly impressive in Dunkirk, but his performance here is comically one‑dimensional. His transition to a junior megalomaniac, echoing man-child Donald Trump, is bereft of subtlety. Colin Farrell's minimal screen time limits Richard's traits besides his bland decency.
Voyagers is forgettable as both a fun YA entry and an intelligent sci-fi film. It fails to explore themes of freewill and social conditioning with originality. Meanwhile, its daft conclusion suggests the removal of one bad apple is a sustainable resolution for the next eighty years. Similar concepts have undoubtedly been dramatised in stronger films and books with greater finesse. Additionally, the underwritten characters reduce the film to a generic binary between good and evil with nothing else between its ears.
If he continues pursuing high‑concept filmmaking, Neil Burger would be well served developing stronger fundamentals. After COVID-19 ends, there will also be pressure to reinvigorate cinemas with ambitious mainstream entertainment. However, it will take more imagination than Voyagers to draw young viewers away from streaming services and reinvest them in mainstream cinema again.
Summary: Voyagers is a dull space drama built on large sci-fi themes over deep characters and suspense.