Comics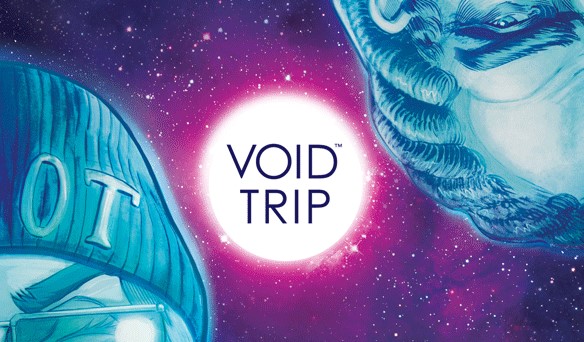 Published on May 29th, 2018 | by Dana Folkard
VOID TRIP TP REVIEW
Summary: Void Trip is a crazy ol' hippie space adventure with a compelling twist.
The Void Trip TP has arrived, collecting all five issues of this trippy miniseries in the one psychedelic volume. Penned by writer Ryan O'Sullivan with art by the talented Plaid Klaus, Void Trip tells the tale about the last two humans alive in the galaxy who embark on an epic road trip, where they encounter all manner of bumps in the road.
The story follows Gabe and Ana, two space-out hippies who are seeking out the promised hippie paradise: Euphoria! Along the way they encounter all sorts of trouble, however, with their dull wits combined and their ability to talk their way out of any prickly situation, they find themselves back on the road in no time. Adventure and shenanigans abound, as they constantly chomp down on mind-altering space froot, whilst waxing philosophical about life, freedom and the universe. Unbeknownst to them, they are being tracked by a mysterious figure, who will stop at nothing to squash their lively and adventurous spirits. The hunt is on, and they are the prey!
I really enjoyed reading the single issues of Void Trip when they were coming out, ever-curious to see how things would pan out for Ana and Gabe and whether they would finally achieve that sweet spot in life. For me, most of the appeal of this story came from the dynamic between Ana and Gabe, which often ended in many laugh-out-loud moments for me. Their banter was always entertaining, with many hilarious exchanges unfolding between the two. These two also contrasted nicely with one another, with Ana being the rambunctious and animated one of the two, often talking about her idealistic beliefs and how the cosmos should be. Gabe on the other hand balances out Ana's fiery nature, bringing a more mellow vibe to this duo. He's the aged hippie who very rarely lets anything ruffle his feathers. We all need someone like Gabe in our lives.
I also enjoyed how the story could quite easily jump from being a goofy space adventure, to being a dark and serious story. The figure that hunts them throughout the entire arc is an ominous reminder of this lurking dark side. I liked the sense of mystery that Ryan O'Sullivan fostered around this particular character, with only small snippets of details being revealed throughout each issue about this dangerous and shady individual.
Plaid Klaus' art is playful and vibrant, perfectly capturing the whimsical side of this story. One of the best things to see is Ana and Gabe experiencing a psychedelic trip as a result of consuming space froot. Their faces say it all, with a kind of goofy, blissed-out euphoria consuming them. I also loved the intense and creative hallucinations that we'd often see, which looked like a riot on the page. I also found that these intense scenes contrasted nicely to the bleaker landscapes that we would often see, bringing an interesting contrast to the visual narrative. The colouring also really brings this art alive, with its wonderfully vibrant colours and bubble-gum palette.
Void Trip TP is a crazy ol' hippie space adventure with an interesting and compelling twist. The writing is engaging and clever, and the art is vibrant and bubbly, coming together for form an enjoyable, highly entertaining and whacky read. Grab a copy, sit back and enjoy the trip!
I'm giving this TP 4.5 space froots out of 5!
---
COMIC DETAILS
CREATIVE TEAM: Ryan O'Sullivan and Plaid Klaus
PUBLISHER: Image Comics
GENRE: Science Fiction/Adventure
PUBLICATION DATE: May 30, 2018
REVIEWER: Dana Folkard