Events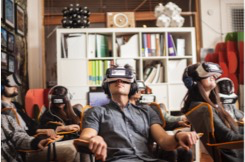 Published on May 9th, 2017 | by Admin
Virtual Reality Cinema – Free
The St Kilda Film Festival is proud to partner with the Virtual Reality (VR) Cinema – presenting Australia's new wave content creators.
The VR cinema is a unique viewing experience that will challenge your idea of film, theater and music videos.
With 12 audience members simultaneously immersed in the content, attendees will view four to five VR shorts uninterrupted, showcasing the creativity and passion of the burgeoning VR scene.
All you need to do is sit down comfortably in a spinning chair, put a light-weight gear VR headset and start your journey to Virtual reality.
The program consists of group virtual reality experience, VR Films & VR docos.
Find out more about the session and the full program here.
Date: Saturday 20 May – Wednesday 24 May
Time: Different Sessions
Location: St Kilda Town Hall
Cnr Carlisle Street and Brighton Road
Free!