Comics
Published on February 25th, 2017 | by Lyla Saudi
Violent Love #4 Comic Book Review
Summary: With Daisy and Rock on the brink of war with the La Juaria cartel, things are about to go from bad to worse.
With the 'La Juaria' cartel, the law, and an army of soldiers hunting them, our two star-crossed criminal lovers Rock Bradley and Daisy Jane are at long odds to survive. And that's if they can survive each other in Violent Love #4, a criminal romance inspired by true events, written by Frank J. Barbiere and with art by Victor Santos.
Ramon, leader of the La Juaria cartel, is dead. Although Daisy may have been responsible for his death, it was Rock who fired the shot that killed him, to save her. But as a romantic connection is starting to bloom between the future lovebirds, a jealousy chord is struck with Daisy's current boyfriend Charlie, who will stop at nothing to take Rock out of the picture. Meanwhile, Texas Marshal Lou is undercover, paying off informants to gather the missing bits of information needed to solve the case that was the bloodbath of a crime scene in the previous issue.
But they all will have to tread carefully as Daisy isn't the only female out for revenge over the death of a loved one. Ramon's mother's heart is broken as there is nothing worse than outliving your child. Replacing him as the new leader of the cartel, she is out for blood and wants to make the streets run red with it. The La Juaria cartel are going to war.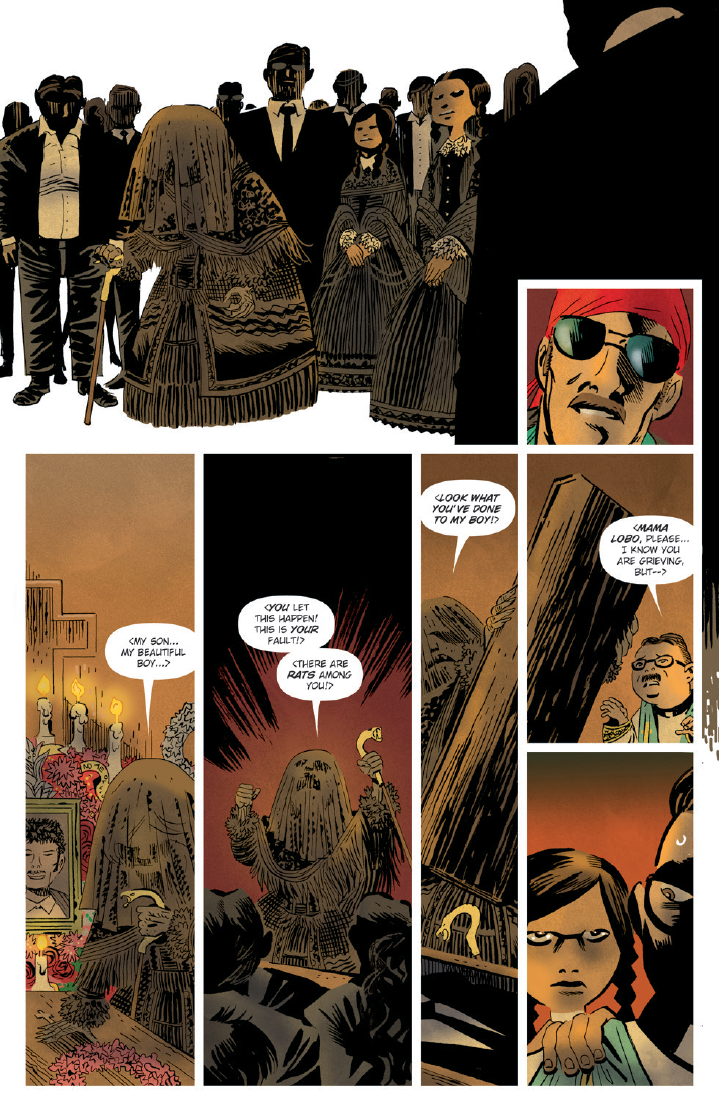 Writing
Frank J. Barbiere is producing a fantastic and exciting series which is definitely on my list of favourites. He expertly gives you glimpses into the developing relationship between Daisy and Rock, but doesn't rush into 'their' story, instead ensuring development of all the interesting characters involved. In this issue the story shifts from Daisy to focus more on Rock and his background. New characters are also introduced with their own agendas adding a whole new level of interesting elements and storylines that will eventually all interconnect with each other. I am also very keen to see what the grieving mother has in store for the two love birds. It is well paced and well written and compliments the artwork by Victor Santos. They make a good team.
Artwork
This issue seems to be more visual than text based with great effect. The characters may not be drawn realistically or consistently but I enjoy the art style that is a mixture of hard lines, frenzy and simplicity. There were a few panels that were initially hard to understand but the layout on each page flows well. The colours used are thematic to the 1970's and the blue used in the background of panels mirrors the blue of the cover art which is a nice touch.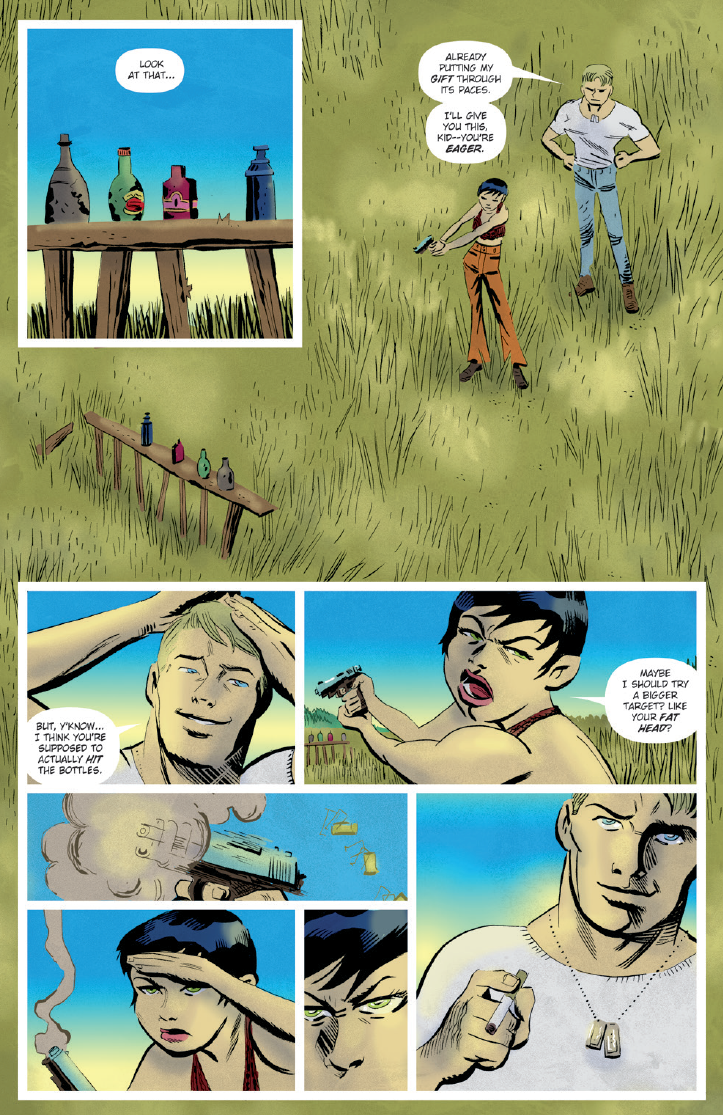 Final Thoughts?
I mentioned before that Violent Love is on my list of favourite comics, and this issue hasn't let me down. I am enjoying the injection of new characters and story development and can't wait to see where it will take us.
Comic Book Details
Title: Violent Love
Issue: "Fine Young Knives" #4
Publisher: Image Comics
Writer: Frank J. Barbiere
Artist: Victor Santos
Genre: Crime/Romance
Rated: R (Restricted)
Published: February 15th, 2017
Format: FC; 32 Pages – print and digital