Comics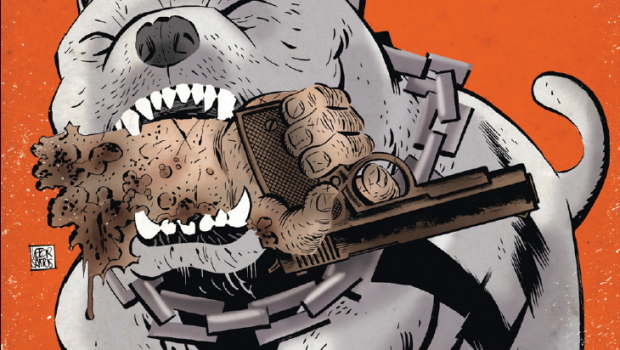 Published on January 22nd, 2017 | by Lyla Saudi
Violent Love #3 Comic Book Review
Summary: An extreme tale of love mixed in with a whole lot of revenge.
New Mexico, 1971. The local police are called to a crime scene that looks plucked straight out of a horror movie; displaced body parts, blood splattered walls, and hundreds of bullet casings cover the floor. Is this the work of Mexico's infamous drug cartel? A robbery gone wrong? A drug bust? No. None of the above. This all happened because of one person, Miss Daisy Jane. Image Comics presents Violent Love #3 "Volatile Molotov", a criminal romance inspired by true events, written by Frank J. Barbiere and illustrated by Victor Santos.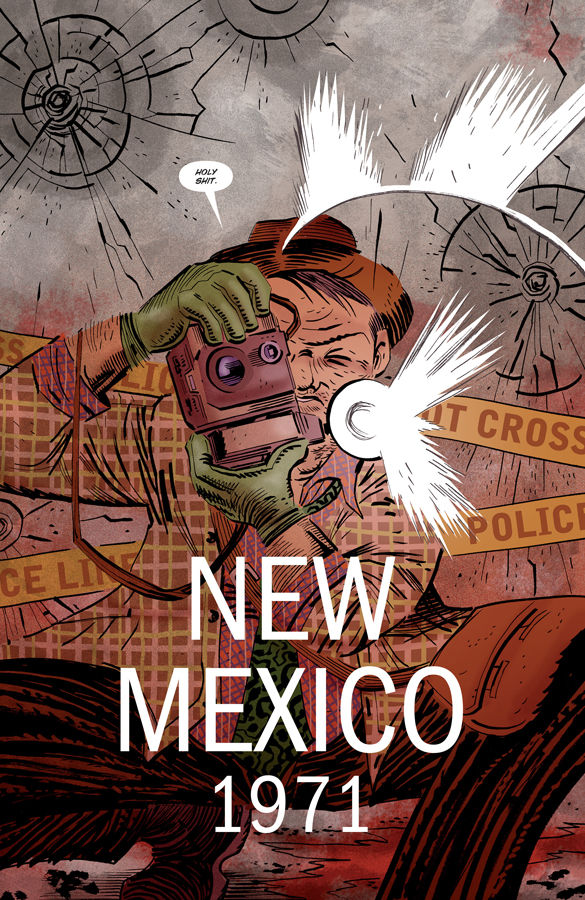 Becoming one of the most notorious criminals in the history of the American South West requires some… practice. Which isn't hard to come by when you walk into a lion's den full of hardened criminals with a gun in one hand and a fistful of questions about your murdered father in the other. And for the first time in Daisy's troubled life she finds clarity. She feels alive. She feels dangerous. And damn does she like the taste of it.
Writing
Frank J. Barbiere is definitely turning Daisy into a bad girl and I am liking it. We already knew she was turning into a bad ass, but now we see her true dark side emerge in her search for Johnny Nails, the man who killed her father. Apart from the ease at which she infiltrates the 'La Juaria' cartel to seek out one of their prisoners, the rest of the story has good pacing and is engaging throughout. And although the focus will always be about Daisy Jane, in this issue our attention is neatly shifted to the other players in the game, providing important context for the story. Here we get to know more about Daisy's future other half, Rock Bradley, who I am excited to see develop into her love interest. We also meet a younger Lou (the narrator of the story),  a fresh faced Texan Marshal as he initially stumbles into the La Juaria crime scene, providing a glimpse into how he became a part of the Jane/Bradley crime spree.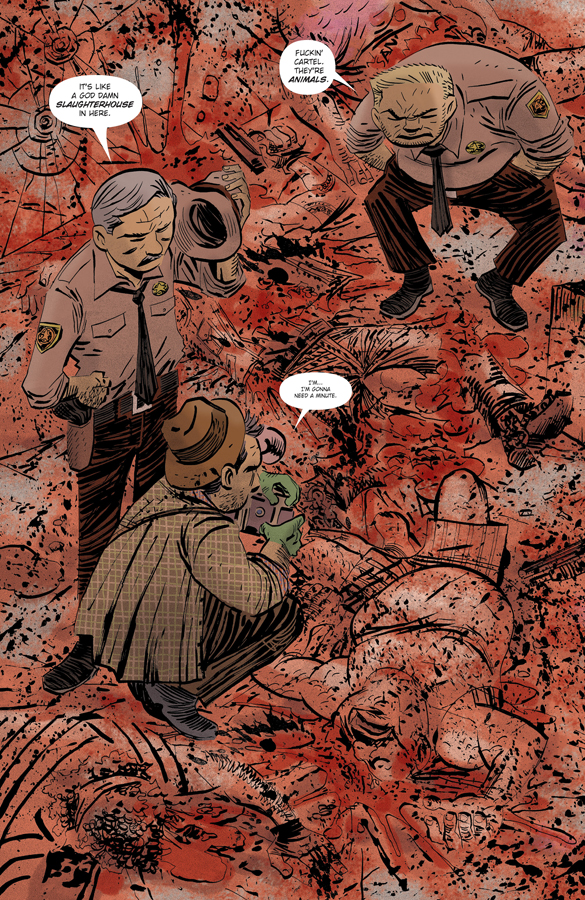 Artwork
I am loving the consistency with the cover art in this series. It is bold, impactful and even though this is the first issue where Daisy isn't featured on the front, it provides an insight as to what to expect inside. The page layouts and panels present a more frenzied and intense vibe (and plenty more action) than in the previous issues.  The colours (and style) keep true to the 1970's theme, and I like how the blood bath of a crime scene was a chaotic mess with shades of water colour reds and strong black outlines. It definitely makes you just want to stop and stare at the page for a few minutes to piece together what you are seeing. Victor Santos also illustrates a different side to Daisy that we haven't seen yet. The vulnerable side. Which has been executed skilfully through her facial expressions and body language, showing us her realisation of what she has done, what she is capable of, and who she is going to become.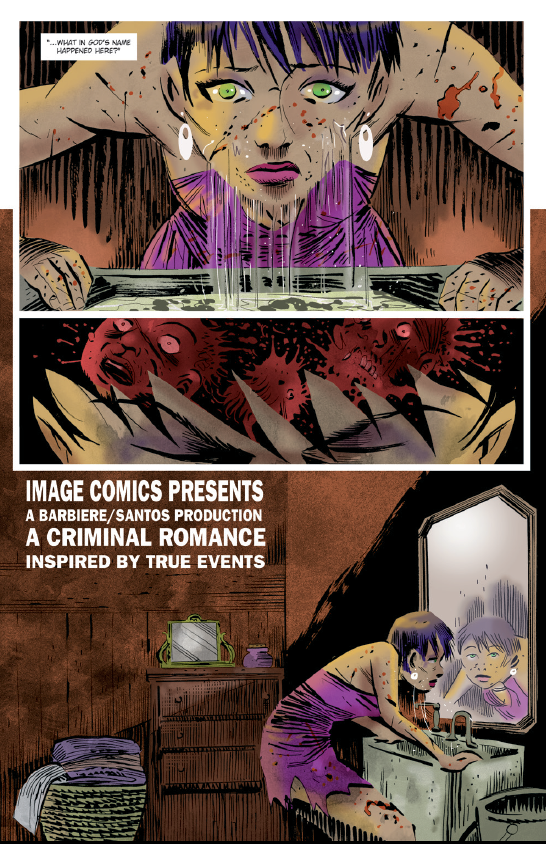 Final Thoughts?
This issue may have felt a bit rushed with the action and low on the story telling but Violent Love is a great series that will keep you wanting more. Because I know I do! Available in stores now, hurry and get yourself a copy because this story is about to reach a whole new level of crazy!
Comic Details
Publisher: IMAGE COMICS, INC
Title: Violent Love #3 (Chapter 3: "VOLATILE MOLOTOV")
Writer: Frank J. Barbiere
Art/Cover: Victor Santos
Rated: R (Restricted)
Genre: Crime/Romance
Published: January 11th, 2017
Format: FC; 32 Pages available in print and digital