Comics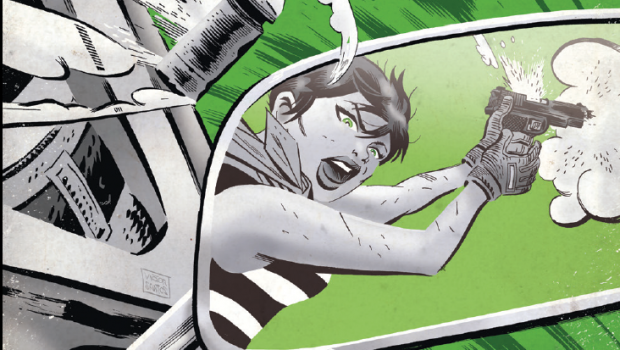 Published on December 20th, 2016 | by Lyla Saudi
Violent Love #2 Comic Book Review
Summary: Nothing or no one will get in the way between Daisy and her revenge even if they have to die for her to get it.
We will never know the whole story about Daisy Jane… but what we do know is that she was hurt, hurt real bad. It would take a year of recovery before she began to reappear, only then slowly making a name for herself in the notorious criminal underworld. Welcome to Violent Love #2, written by Frank Barbiere and illustrated by Victor Santos, where crime meets sex, money and pure revenge.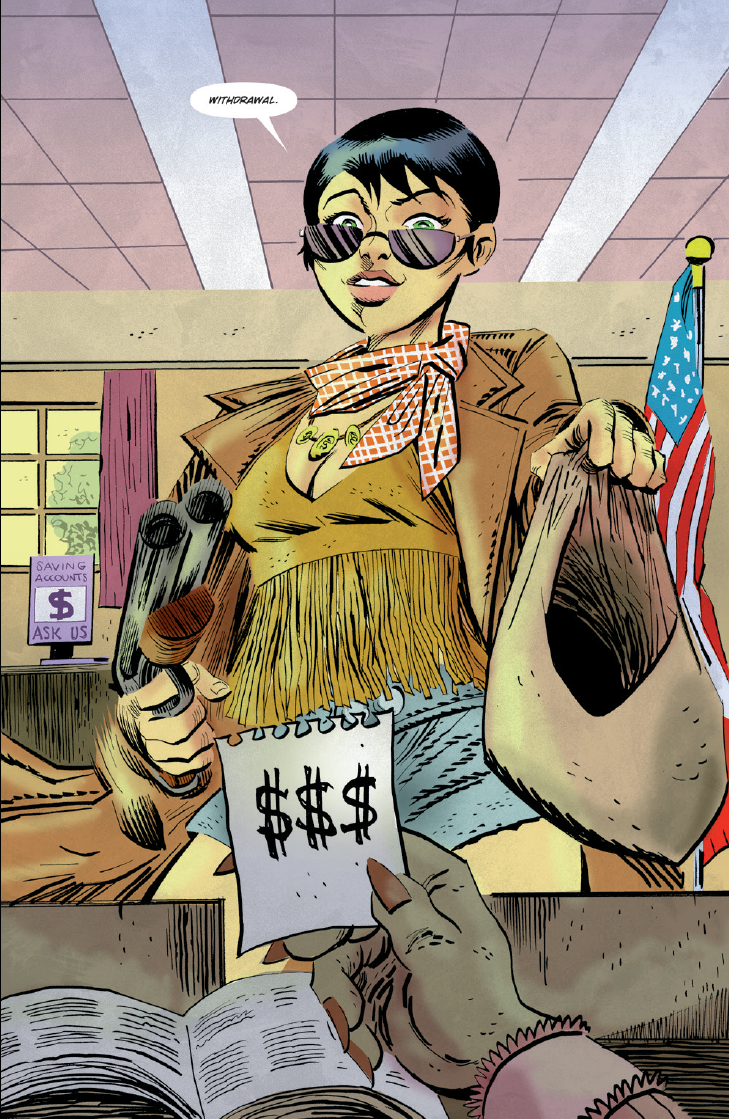 This is and will always be a story about Daisy Jane and her love (not true love that happens a bit later) for revenge. We are taken back to New Mexico – 1971 to the New Mexico Bank & Trust. A cashier calls next in line and looks up to find a pair of green eyes peeping over a pair of sunglasses, an empty bag in one hand and a double barrel shot gun in the other.
Dashing to the get-away car Daisy leaps into the passenger seat as her boyfriend Charlie speeds off to the nearest motel where they celebrate with a night of passionate sex. But even the thrill of what she has just done doesn't fill the empty hole in her heart. Nothing can. Not until she finds Johnny Nails to make him pay for murdering her father.
It is information she needs, and eventually she gets what she is after from a shady contact of Nails, and his right hand man – Rock Bradley – the man that will one day change Daisy's life forever by helping her love again, but neither of them know that yet. In fact love is the furthest thing from Daisy's mind. She is full of hate, and this hate is making her strong. Strong enough to use whoever she needs to get one step closer to Nails, even if it means killing someone innocent (well sort of innocent) to do it.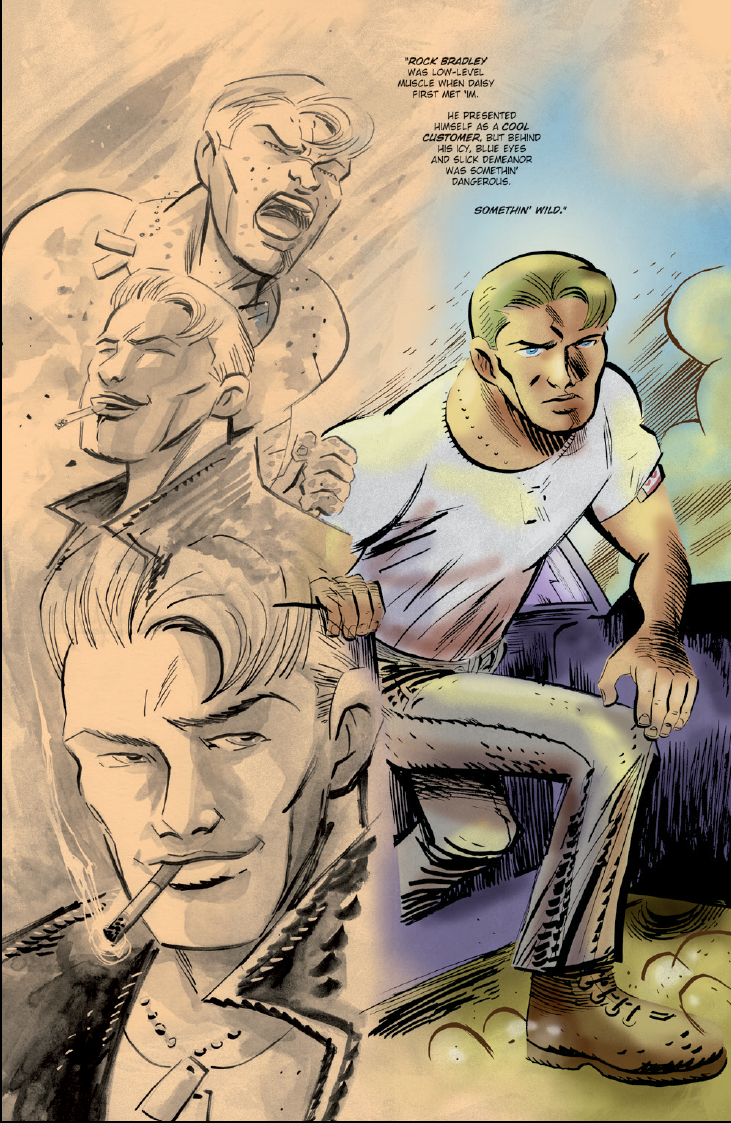 Writing
The story of Daisy Jane is narrated through the memories of a retired law enforcement officer as he rehashes the story to Penny, a neighbourhood kid he is babysitting. We learn more about Daisy as she starts to grow into the ruthless character she is known as. I appreciated how Frank Barbiere took the time to develop her character rather than rushing into the romance between her and her future partner in crime (and love), Rock. I have been questioning if the story is appropriate to be telling a kid (with so much sex and violence) but at this point in time I don't care too much about that because I am so caught up in the pulsing story that I just want to know more, especially how all the character's stories will eventually link together.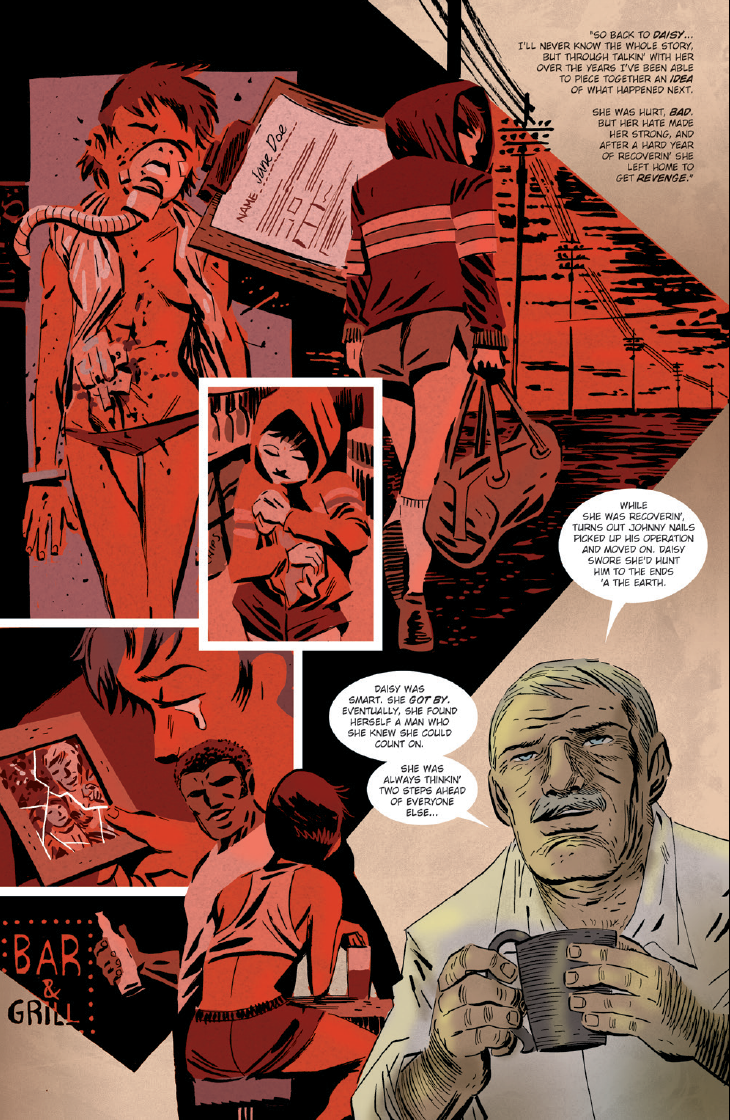 Art
Let's start with the cover art – it's great! Victor Santos encapsulates the theme and 70's vibe of the story so well that I couldn't wait to turn the page and get immersed into the heart of the story. The colours are vibrant and pop out of the different styled and laid out panels, adding an element of fast paced recklessness to the story. The palettes used to reflect the era and mood are perfect, from the red flash back of Johnny Nails brutality, to the noir scene as Daisy sneaks away unnoticed from the motel. Victor Santos has done a great job here.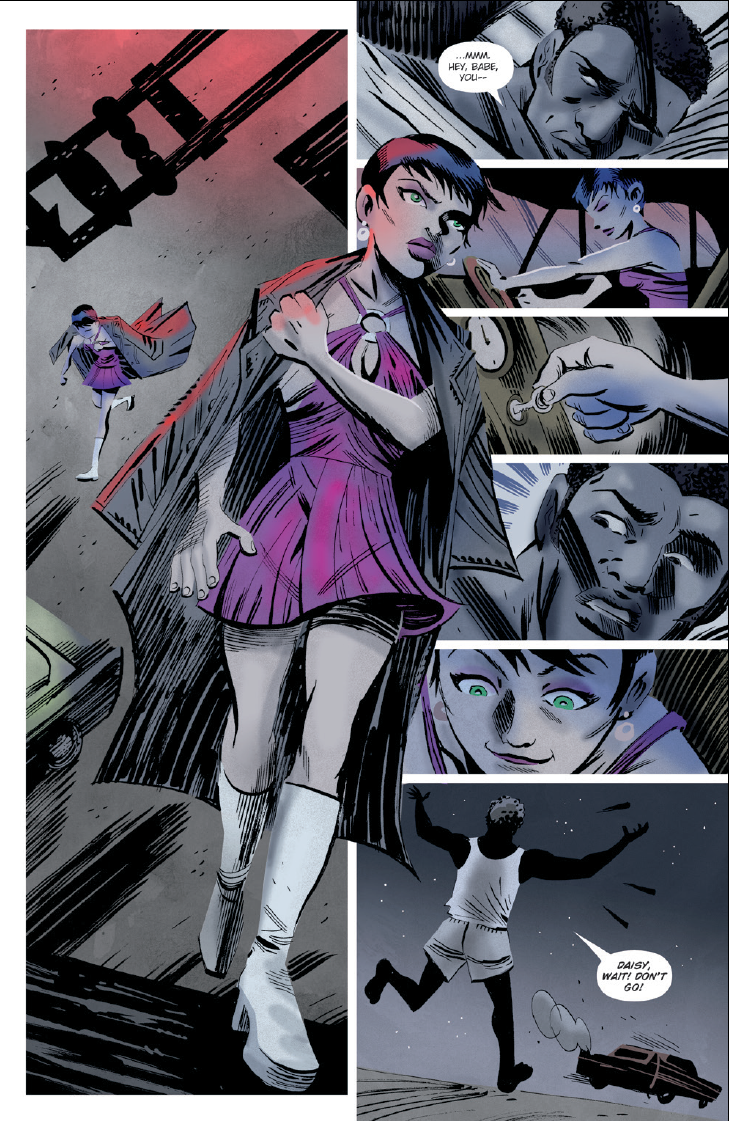 Final Thoughts?
Violent Love #2 is shaping up to be a fantastic comic book series and this is only the second issue! I can't wait to see how the story develops and neither should you. The engagement with the characters, dark story and need to know what will happen are enthralling. It is available now in both print and digital editions – so don't miss out on getting your copy today!
Comic Details
Publisher: Image Comics
Chapter 2: Sex & Money
Writer: Frank J. Barbiere
Artist: Victor Santos
Cover Artist: Victor Santos
Genre: Crime/Romance
Format: Digital and Print
Published: December 7th, 2016