Hardware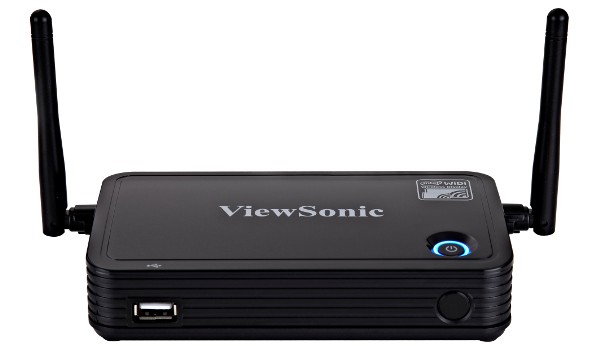 Published on February 10th, 2014 | by admin
ViewSonic releases palm-sized ViewSync WPG-370 for secure, wireless presentations
ViewSonic has launched a wireless presentation gateway that will allow presenters to stream slides and 1080p video from desktop and mobile devices to a larger screen wirelessly. The ViewSync WPG-370 supports Intel Wireless Display (WiDi) technology and is compatible with all iOS and Android devices including mobile phones and tablets.
The new ViewSync WPG-370, lightweight, palm-sized device, makes presentations in commercial, corporate and education environments simpler, faster and cleaner. It provides advanced universal wireless connectivity for any new or existing projectors, desktop monitors, large format displays, and televisions. Perfect for commercial environments, the ViewSync WPG-370 helps users to wirelessly and easily display videos and photos directly from smartphones or tablets.
Multiple connectivity options such as HDMI and optical audio make it simple to connect any PC to any display. PC-less media streaming is also possible using just a USB stick, so presenters can travel without additional technology. Multiple USB ports add increased flexibility, enabling presenters to switch between storage devices to access files on different USBs without requiring a laptop, PC or mobile device.
The ViewSync WPG-370 is also WiFi Miracast-ready, which enables streaming content from the screen of a personal device and mirroring that image onto the display.
With 802.11a/b/g/n and WPA2/WPA encryption, the ViewSync WPG-370 is designed to be secure in practically any environment.
The ViewSync WPG-370 offers a 2.4 and 5GHz dual-band wireless transmission so multimedia content loads without delay. Users can switch between frequencies manually for the best results depending on whether the system is being used for web browsing and presentations or high quality videos and gaming.