Events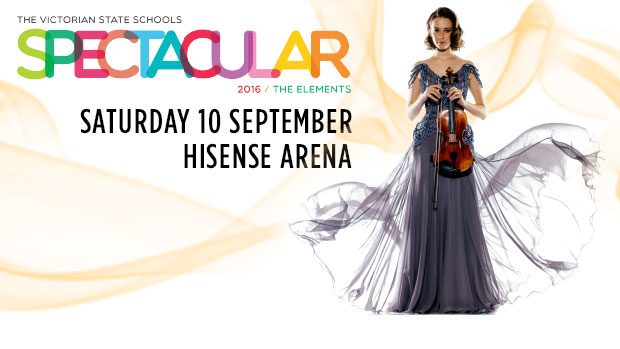 Published on September 3rd, 2018 | by Admin
VICTORIAN STATE SCHOOLS SPECTACULAR – ONLY 2 WEEKS AWAY
ONLY 2 WEEKS UNTIL THE
VICTORIAN STATE SCHOOLS SPECTACULAR
2018 PRODUCTION 'WITH THE BEAT' –
SATURDAY 15 SEPTEMBER, MELBOURNE ARENA
Students from across the State are making final rehearsal preparations ahead of the 2018 Victorian State Schools Spectacular (VSSS) performances on Saturday 15th September at Melbourne Arena (formerly known as Hisense Arena).
Students have been rehearsing since March and the excitement is building each day as they look forward to performing live on stage to over 10,000 people.
"Throughout the whole year everyone has been putting so much work into this show. Time has flown and now it's only a few weeks away and I'm beyond excited to see how everything comes together to really become a spectacular show!" 
Rasan Kapuge (Year 10, Melbourne High School) – Stage Manager
"Not everybody gets to wake up in the morning and think to themselves I'm going to be playing at Melbourne Arena in a couple weeks, so I'm super grateful and excited".
Aaron See (Year 10, Balwyn High School) – Musician
"After months of intensive rehearsals, I cannot believe that the show is so close! This is my ninth and final show and it's going to be such an amazing performance! The whole cast is super pumped to put on an incredible show and entertain you all on the 15th of September!"
Zoe Koulbanis (Year 12, Strathmore Secondary College) – Principal Vocalist
This year's production 'With the Beat' explores ideas of belonging and identity. The journey of exploration will see Melbourne Arena transformed into a mystical Venetian masquerade ball and a wondrous Steam Punk Fairground in a cornucopia of new and old mixed together. For the first time the VSSS Pasifika Choir will perform, taking inspiration from the movie Moana and will be sure to take the audience on a powerful journey. Taking inspiration from the Grimm's Brothers folk tale – The Goose Girl, a famous story of lost identity, will feature a puppet designed by Philip Millar of Creature Technology Company bringing another performing dimension to the stage. Adding that extra bit of 'magic' will be student Tim Mason, an international award-winning magician who will delight audiences of all ages with his masterful showmanship far beyond his years.
There is something for everyone's musical taste in this year's show.  Victoria's most outstanding young performers will take to the stage to perform songs from artists like Vance Joy, Macklemore, Sheppard, Tim Minchin, Beyonce, Rihanna to Little Mix, as well as Camila Cabello, Bruno Mars, John Legend, Elton John to Karl Jenkins and Hans Zimmer.  
The Spectacular features a cast of 3000 young performers from over 200 Victorian government schools. It takes dedication, commitment, stamina and humour to be a part of the Spectacular and the students have it in abundance.
75 -piece orchestra mentored by Musical Director Chong Lim AM and Associate Musical Director Nathan Scerri and have up to 40 songs to learn
31 Principal vocalists, 9 backing vocalists, Victorian State Schools Choir mentored by Music Associate –Voice:  Rob Latham will be involved in the 40 songs
16 principal dancers, 20 ensemble dancers mentored by Dance Director Deon Nuku and Associate Dance Director Yvette Lee, will be performing 17 routines
A mind-blowing magician and a incredible puppeteer
a 1300-voice choir have 17 songs to learn with choreography
1120 mass dancers have 14 routines to perfect
Behind the Scenes a team of Production Assistants across operations, stage management, hair and make-up and technical with Lighting, Audio and Vision will work tirelessly to ensure a flawless performance.
'With the Beat' is a creative vision of renowned industry professionals including Creative Director Neill Gladwin (Olympic and Paralympic Opening Ceremonies), Musical Director Chong Lim AM (John Farnham MD, Dancing With The Stars), Dance Director Deon Nuku, (Scooby Doo, Happy Feet, Moulin Rouge) and Associate Dance Director Yvette Lee, (Dancing with the Stars, X-Factor Australia, Australia's Got Talent and So You Think You Can Dance).
The Spectacular supports the Education State targets of more students reaching the highest level of achievement in the arts; ensuring kids are happy, healthy and resilient; and building pride in their schools. It also provides students an invaluable performing arts opportunity, encouraging development of their creative skills, discipline, perseverance and confidence over months of rehearsals. The environment is non-competitive allowing students to learn from each other as much as from the mentors.  Lifelong friendships are often made on this incredible journey.
Success and achievement in the arts is one of the key targets for the Education State, as Victorian students learn to think critically and find creative solutions.
Minister for Education James Merlino says
"The Victorian State Schools Spectacular celebrates the next generation of creative Victorians who might be at the threshold of their future careers on stage and behind the scenes."
"The Spectacular provides an engaging performing arts opportunity and industry training experience for our young people while showcasing the talent that exists in Victorian government schools."
Ticket prices to the event have not increased from last year making this an entertaining and affordable event for the entire family.
Presented by the State Government of Victoria, the 2018 Victorian State Schools Spectacular – With the Beat, is a not-to-be-missed event.