Events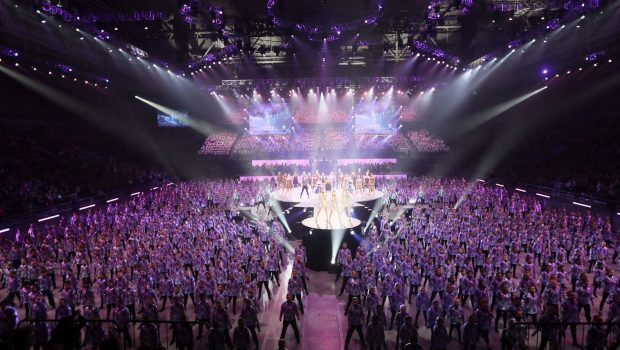 Published on September 11th, 2016 | by admin
Victorian State Schools Spectacular 2016 Review
The Victorian State Schools Spectacular is a truly epic production and boasts a cast of over 3000 students as they create this very diverse and entertaining performance that includes elements such as choir, dance, circus arts, orchestra, magic and even a giant robot cat controlled by ten puppeteers. The goal of the Victorian State Schools Spectacular is to give students a chance to experience and collaborate in performing arts and to promote student engagement with educational outcomes, including important life-skills such as self-esteem, leadership and creating a sense of belonging. After watching this 2.5 hour show, I must admit that they have succeeded!
Held at Hisense Arena, the Victorian State Schools Spectacular is truly a 'spectacular' and has this real rock star and also Cirque du Soleil atmosphere to it thanks to the high production values. To support this show, it is joined by musical director Chong Lim (Sydney Olympics), creative director Neil Gladwin (Los Trios Ringbarkus), puppet master Felipe Reynolds (King Kong the Musical) and choreographers Yvette Lee, Troy Phillips and Deon Nuku. At times, you could be forgiven in thinking that you are watching professional artists perform because of how flawlessly they were on stage. Furthermore the music in the show ranged from classical music such as Siegfried's Funeral/Twilight of the Gods to an amazing rendition of Radio Head's Creep to three of the students singing a great choreographed routine of an Eminem classic. Add in 16 ensemble dancers, 30 lead vocalists to 22 roller skaters and the Victorian State Schools Spectacular really impresses.
To complement the performance was the 64-piece orchestra and powerful 1300+ choir that when linked with the dancing and other choreographed numbers, the students, organisers and all those involved should be commended on such an outstanding performance. From lighting, special effects and great utilisation of giant video screens, these aspects worked hand in hand with the show. One scene in particular had hundreds of students on stage performing this impressive choreographed routine of the elements which included earth, air, water and fire as they told the approaching story of this otherworldly giant alien robot cat. This was almost like a Cirque du Soleil moment in itself, especially with the costumes. Needless to say, I'm sure all the parents and students involved in the 2016 Victorian State Schools Spectacular would be proud of their two performances yesterday to a packed Hisense Arena.
Final Thoughts?
The Victorian State Schools Spectacular 2016 successfully ticked all the right boxes for a 'spectacular' show which featured solo performances, smaller group numbers to massive choreographed routines as 200 State Schools from around Victoria were on par with some of the international acts who have visited Melbourne in the past.
Spectacular!