Events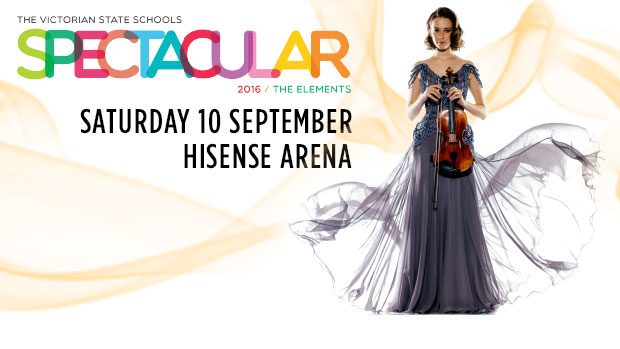 Published on August 29th, 2016 | by admin
Victorian State Schools Spectacular – only 12 days to go!
Students from more than 200 Government Schools are in their final preparations for the 2016 Victorian State Schools Spectacular show 'The Elements' at Hisense Arena on Saturday 10th September.
Students are travelling from all around the State to be a part of this Spectacular event, from Elwood to Swan Hill, from Woodford to Berwick and everywhere in between.
As a student to be involved in one of Australia's largest theatrical productions takes commitment, determination, patience and many months and hours of rehearsals; rehearsing at school, rehearsing at home, rehearsing at the State School Spec headquarters, wardrobe fittings, learning to work together as a group, weekend commitment, week night commitments plus the opportunity to meet lots of new people, make new friends, learn from their mentors who are the best in their field. It's one of the most rewarding and biggest opportunities a student interested in Performance and the Arts can be involved in while at school.
The wardrobe department are putting together the final touches to 9000 outfits for the 64 piece orchestra, 23 principal vocalists, 7 ensemble vocalists, 8 backing vocalists,1 beat boxers, 2 rappers, 14 principal dancers, 17 ensemble dancers, 22 roller skaters, ten puppeteers, 2 circus artistes, 1 magician, 40 Victorian State Schools Choir students, 1300 voice choir (from 66 schools), 1200 mass dancers (from 74 schools).
The Spectacular provides a hands-on training experience for students who want to work behind the scenes in areas like stage management, audio, lighting, photography, makeup, costume and graphic design. This year the 5 Audio assistants, 7 Lighting Assistants, 5 Vision Assistants and 5 Stage Manager assistants have completed their final workshops with their teams at Norwest Productions, Production Resource Group and CVP and are counting the days until bump in so they can get to work and put into practise what they have learnt over the last few months.
The 2016 Victorian State Schools Spectacular will be a concoction of the ancient 'elements' of Earth, Air, Fire, Water, combined with the Periodic Table of Elements – all served with a dash of pop music and stage magic.
Support the stars of tomorrow, today.  Presented by the State Government of Victoria, the 2016 Victorian State Schools Spectacular – The Elements, is a not-to-be-missed event.
TICKETS NOW ON SALE FROM TICKETEK
Venue:                                 Hisense Arena
Date:                                     Saturday 10th September
Time:                                    1pm & 6:30pm
Prices:                                  Adult: $40.78 / Concession: $30.58   / Junior (3-14): $20.39
Buy 10 tickets and get one adult ticket free (for group bookings please call 1300 364 001)
Bookings:                             Ticketek  www.ticketek.com.au 132 849