Films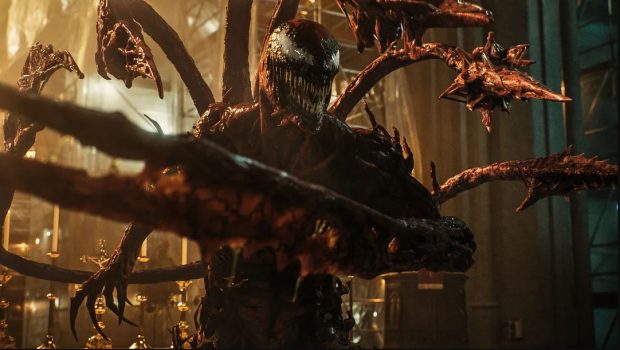 Published on November 27th, 2021 | by Harris Dang
Venom: Let There Be Carnage – Film Review
Reviewed by Harris Dang on the 25th of November 2021
Sony Pictures presents a film by Andy Serkis
Produced by Avi Arad, Matt Tolmach, Amy Pascal, Kelly Marcel, Tom Hardy, and Hutch Parker
Starring Tom Hardy, Michelle Williams, Naomie Harris, Reid Scott, Stephen Graham, Woody Harrelson, Peggy Lu, Sian Webber, and Reece Shearsmith
Music by Marco Beltrami
Running Time: 97 minutes
Editing by Maryann Brandon and Stan Salfas
Rating: M
Release Date: the 25th of November 2021
Venom: Let There Be Carnage is the sequel to the 2018 film Venom, a comic-book adaptation blockbuster that was not strongly received by critics and audiences. From its generic storytelling, wild tone shifts, lack of fidelity to the source material, and disparate acting, it was a film most would want to forget.
Yet there was a slimy silver lining behind it all, something many did not expect would appeal to audiences. The hook was the oddly endearing relationship between the titular creature and its lead character, Eddie Brock.
Many attributed its success to the sheer commitment of its lead actor, Tom Hardy. He played both roles with such bizarre bravado that audiences and even critics wanted more. Now we have the sequel. From the trailers and director Andy Serkis at the helm (replacing Ruben Fleischer), it seems the filmmakers learned from their mistakes with the original film. Does Venom: Let There Be Carnage deliver the goods?
The film commences with an eerie prologue detailing the backstory of character Cletus Kasady (Woody Harrelson, having the time of his life riffing on his work in Natural Born Killers, 1994). It reveals his life in an orphanage and his burgeoning love for his fellow housemate/mutant Francis Barrison (a wily Naomie Harris) until it reaches the present day where Cletus is in prison for multiple murder charges.
Eddie Brock (Hardy) remains in a stand-still in his life. His career is in trouble and he hears his ex-girlfriend Anne Weiying (an amusing Michelle Williams, who unfortunately has less to do here) is set to marry her fiancée, Dan (Reid Scott). The real problem is his tumultuous living situation with his new roommate, Venom (voiced by Hardy). Their relationship is on the rocks due to their irreconcilable differences.
However, Brock finds himself an opportunity to land on top. He is invited for an exclusive interview with Kasady who will detail everything about his life if he sends a message via a newspaper headline. However, an altercation occurs between the two after Kasady comes into the presence of a symbiote that turns into the creature known as Carnage. Will Brock and Venom set aside their petty squabbles and fight Kasady before he wreaks carnage all over the city?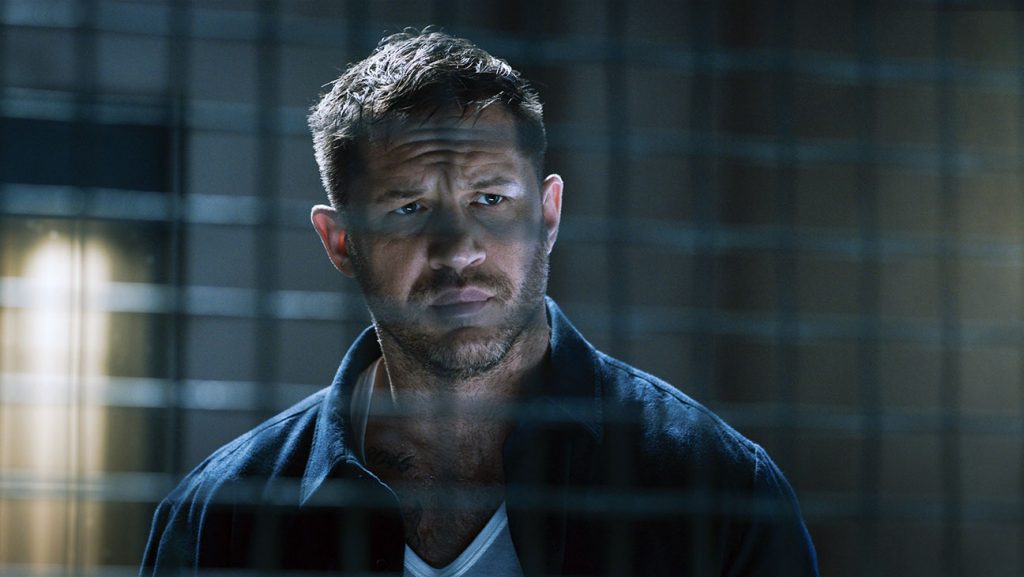 Did anyone ever imagine Venom would be part of an 'Odd Couple' situation in a gamut of superhero blockbusters? It is quite strange seeing a famous character like Venom, best known as a formidable villain to Spider-Man, written as a better half to Brock like a romantic comedy. Yet that makes Carnage a refreshing change compared to the current superhero films.
The characterisations in the script by Hardy and acclaimed screenwriter/long-time collaborator Kelly Marcel are simple (Brock is narcissistic, self-centred, and lacking in self-esteem while Venom is needy, impulsive and in need of personal liberation). However, through its inspired premise and Hardy's commitment, the relationship works wonders in instilling a lot of humour and some heart.
The heart comes from Hardy and Marcel's efforts to make Venom's predicaments felt, particularly in a scene where Venom declares his freedom and liberation that is a sly provocation about coming out of the closet. The allegory of friendship and self-acceptance is told in its own goofy way and the filmmakers are proud of it, which makes Carnage surprisingly good-natured.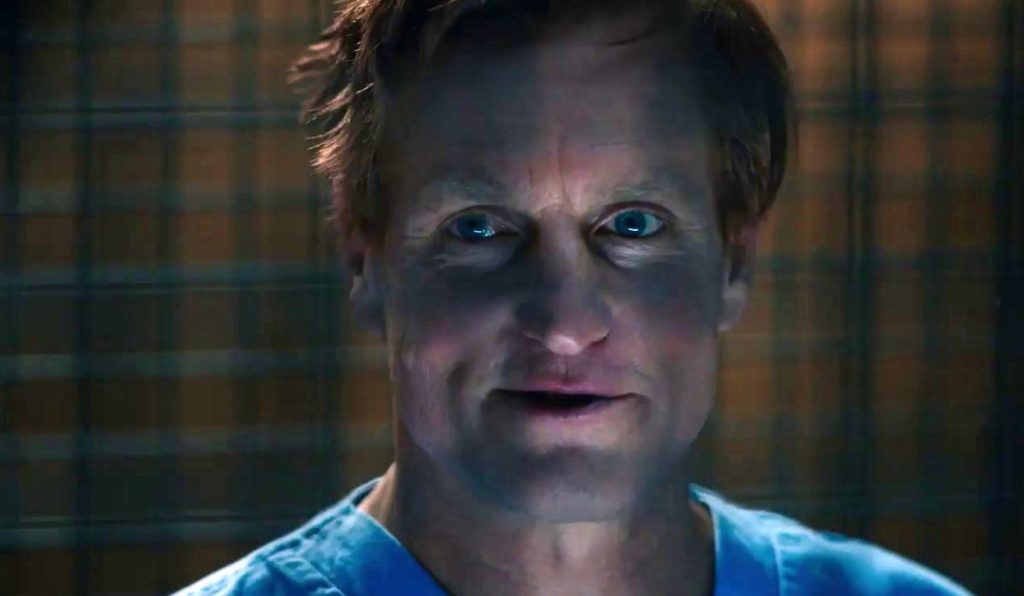 Director Andy Serkis is best known for his motion-capture work in front of and behind the camera. His expertise in handling the action and the presentation of the relationship via special effects and motion capture is more convincing this time around. The effects do not look blurry and the interactions between characters never look misplaced, which keeps with the film's tone.
The editing by Maryann Brandon and Stan Salfas pares the story down to its bare essentials. The shorter run-time makes the pacing frenetic and the score by Marco Beltrami is bombastic. Both elements lend the film a rollercoaster feel that makes the tonal shifts more palatable and endearing. The cinematography by Robert Richardson honours the original black tar look by Matthew Libatique but under Serkis' direction, the colours in contrast stand out. The formal choices provide Carnage a vividly Gothic look and the movement achieves more clarity in its action scenes.
Much like the relationship itself, Carnage is still quite messy. The villains are given the short shrift in terms of character as their motivations are razor-thin (particularly in the case of Barrison). The plot contrivances are through the roof as characters suddenly know where other people live, and the end-credit sequence leaves the film on a sour note, making its small singular nature feel like a cheat.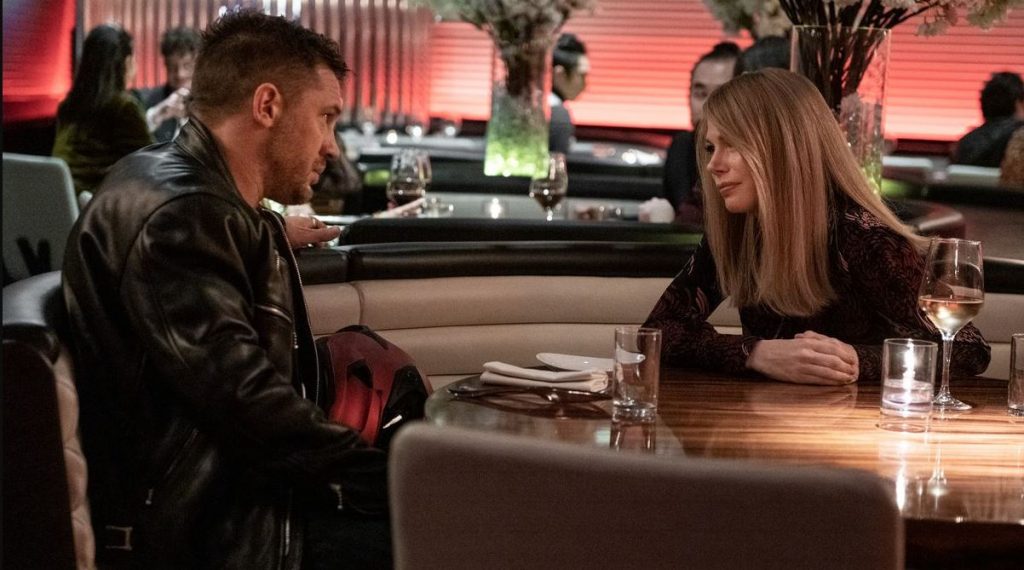 Nonetheless, Venom: Let There Be Carnage manages to do what many sequels fail to achieve: it improves on the original. While that may sound like a low bar to jump over, the film manages to entertain, thrill and even surprise on its own symbiote feet by taking what was beneficial about the prequel and bringing it into the spotlight, the coupling of Brock and Venom.
Summary: Venom: Let There Be Carnage improves on the original. It manages to entertain, thrill, and even surprise on its own symbiote feet.