Comics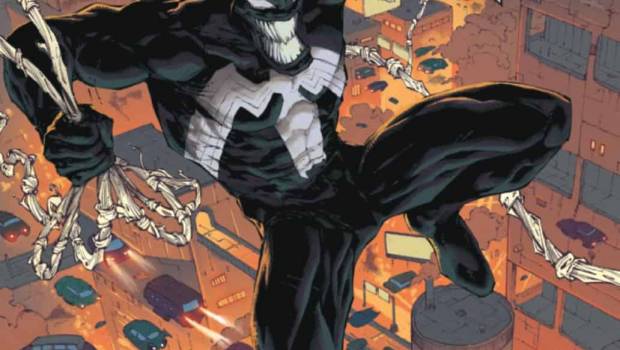 Published on August 12th, 2020 | by Chrys Terlizzi
Venom #27 Review
Summary: Venom #27 is a topsy-turvy, wildly fun ride.
Venom #27 is a topsy-turvy, wildly fun ride.
*SPOILER WARNING*
Review:
Donny Cates continues his excellent Venom run with part 2 of "Venom Beyond" which sees Eddie and his son Dylan wake up in an alternate cyberpunk-ian world that appears to revolve entirely around symbiotes. The through-line of the story is Marvel newcomer Virus and his relentless pursuit of Eddie for some yet to be explored reason. I'd be remiss to mention Virus and not remark on how cool the design for his costume is. The yellow paint on the scrapped-together black War Machine-esque armor just pops and allows the artists to do so many visually awesome things with the contrast. Also, I'm a big fan of the running gag that no one knows who this character is, or why he wants revenge on Eddie, but everyone still seems to be very dismissive of him and his over-the-top threats. It's played for laughs to great effect when he is dramatically unmasked and met with a confused "I have no idea who this man is." It's top-notch subtle setup and punchline from Cates.
Overall, there's one word that comes to mind while reviewing this issue: dynamic. Through a seamless combination of the writing and art, this issue is non-stop. The first two pages start slow, like a roller-coaster grinding its way to its apex, as Eddie and Dylan foggily try to figure out where or when they are. It seems like we're going to get a story where the two of them explore the new world they've found themselves in, but it then swerves and suddenly gets punched up to eleven when Virus bursts back into the panel. From there, it's full-go until the end. Venom and Virus tumble off of the top of an impossibly tall building, fighting through the air and crashing through flying cars all the way down in a really fun and tense sequence. The loose art, flashy colors, and the distinct, bombastic sound effects really liven up this battle. On top of the dynamic art, Donny Cates layers in two separate conversations as they careen down to the ground: Eddie and Venom bicker with each other internally while Eddie simultaneously banters with Virus. This has to be a deliberate writing choice, as it speeds the reader up and adds to the already tense nature of the scene. When the two finally crash to the ground, it almost comes as a relief for the reader, allowing you to breathe for a moment. This scene is a great example of what's possible with the comic book medium – the entire creative team: Cates, Gedeon, Aburtov, and Cowles work in unison to convey the tension expertly.
Much in the same way as that one scene, the rest of the book is also paced fantastically. Gedeon uses his panel layouts to really control the pace of the story. The wild twists and turns are all built up to perfectly. For example, the page-turn reveal of the Venomized Avengers (A-venom-gers, maybe?) is played like it's the final page of the issue and I was pleasantly surprised to find that I was only halfway through. 
Final Thoughts: 
Cates, Gedeon, and co. craft a wonderfully fun and fast-paced issue. Gedeon's dynamic artwork and Cates' snappy dialogue keep this issue moving at a constant clip. I'm very intrigued to find out what else they have in store for the rest of "Venom Beyond."
Gallery
Credits: 
Writer: Donny Cates
Artist: Juan Gedeon
Color Artist: Jesus Aburtov
Letterer: Clayton Cowles