Comics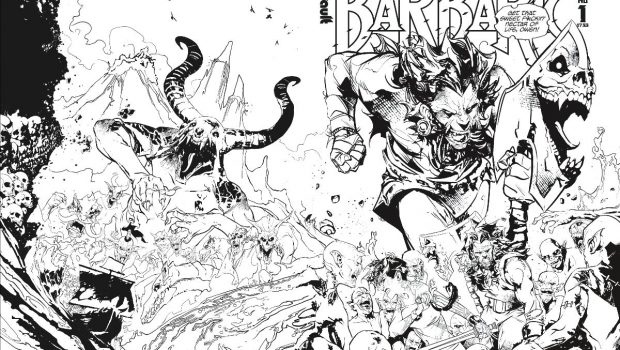 Published on June 28th, 2021 | by Andrew Bistak
Vault Announces Deluxe Barbaric Black & White Edition
Vault Comics is thrilled to announce that, after record-breaking demand, every issue of the BARBARIC series will receive special, deluxe, black & white editions. Printed on deluxe heavyweight paper, BARBARIC Black & White Deluxe Editions are designed to spotlight the incredible line art of series artist and co-creator, Nathan Gooden.
BARBARIC #1 Black & White Deluxe Edition will come with two new covers. A regular edition with new cover art by Gooden, and a special NSFW black bag variant, also by Gooden. The regular cover can be ordered at comic shops everywhere using Diamond Order Code APR219823. The Black Bag Variant can be ordered using Diamond Order Code APR219824. Both covers will hit store shelves on July, 28th, 2021.
"BARBARIC is very special to me because it helped me get through the hardest year of my life, 2020," said artist and co-creator Nathan Gooden. "When Mike Moreci and I started the collaboration, I was in a very dark place, so I expressed the idea of this just being FUN. Not to say, we didn't take the process seriously, but why not just make a book for fun? From character designs to the world build, I just kept pushing to make it more interesting for the audience. Owen has cool hair, why not double the length? Soren has awesome tattoos, why not make them come to life? Axe can talk, why not?
"Aside from the fun, I want this book to be very clean and easy to read," continued Gooden. "I want to create big bold characters and settings that won't get lost when set against each other. Really controlling the negative spaces and line weight helps me give this a three dimensional look."
"The most notable artists in the history of the industry have either come to the medium with a pure and seemingly fully-formed style–their mark, instant and indelible," added Tim Daniel, Vault's Vice President of Branding & Design. "Others work tirelessly, panel-after-panel, page-after-page to continuously evolve and refine their voice until their greatness quite literally bursts open before our eyes, forcing us to take a moment's pause and to reassess our assumptions of their place in the industry. Often, almost without fail, when looking back over that artist's bibliography, we see the greatness was there all along."
"With multiple series (Powerless, Vampire: The Masquerade, Barbaric, and more to be announced), original graphic novels (Brandon Sanderson's Dark One Trilogy), and countless covers over the last four years (the fan-favorite Vault Vintage variant series), the time has come to take a moment's pause and reassess Nathan Gooden's achievements. The Barbaric Black & White Deluxe Edition series is that very opportunity and I'm extremely confident you'll see what we've seen all-along: Gooden's Greatness!"
BARBARIC is written and co-created by Michael Moreci, drawn and co-created by Nathan Gooden, colored by Addison Duke, lettered by Jim Campbell, and designed by Tim Daniel. The full synopsis can be read below:
"TAKE IN THE BRUTAL INKS OF YOUR NEW FAVORITE COMIC, NOW AVAILABLE IN A DELUXE BLACK AND WHITE EDITION ON PREMIUM PAPER.
Owen the Barbarian has been cursed to do good with what remains of his life. His bloodthirsty weapon, Axe, has become his moral compass with a drinking problem. Together they wander the realm, foredoomed to help any who seek assistance. But there is one thing Owen hates more than a life with rules: Witches.
Welcome to the skull-cracking, blood-splattering, mayhem-loving comic brave enough to ask: How can a man sworn to do good do so much violence? Hah! F***ing with you. It's just…BARBARIC."