Comics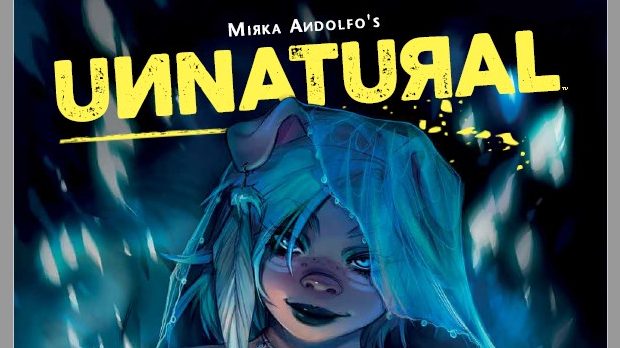 Published on December 6th, 2018 | by Chris O'Connor
Unnatural Vol 1: Awakening TP Comic Review
Summary: In a world of anthropomorphic creatures... the real animal is the government.
Unnatural is a title that is likely to catch your attention when you see the cover… it's bright and provocative and raises questions (not least of all may well be "does that woman have an animal ear?"). But much like the cover, the comic itself is far more than just what appears on the surface. Leslie J. Blair is a pig girl (which answers the ear question), she's just like any other anthropomorphic person in her world, she has her favourite food, she hates her job… and thanks to her totalitarian government, she's about to go on a sanctioned date that sets off a chain of events that will change her life forever.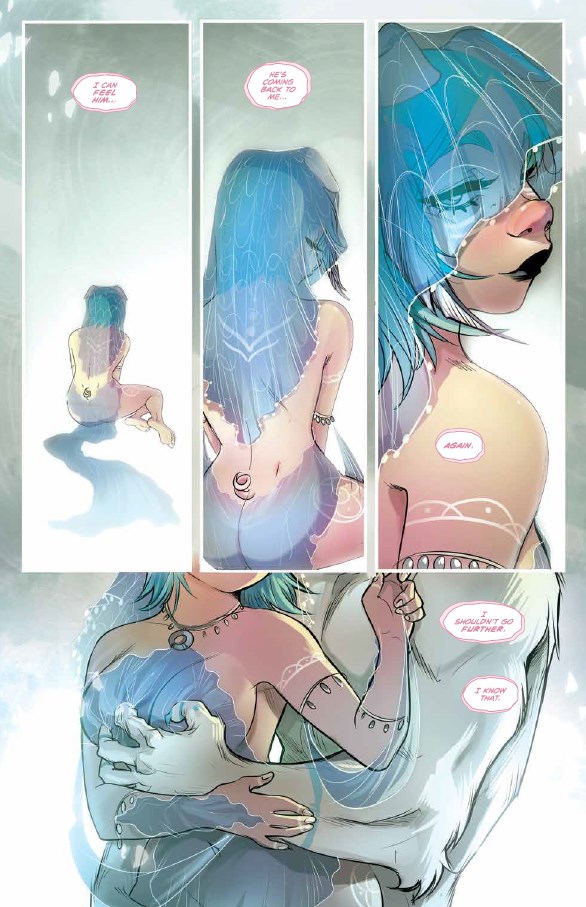 Writing
I didn't really know what to expect when jumping in to Unnatural but I was pleasantly surprised to find that it is as much a political thriller as it is an erotic fantasy. In the great Orwellian tradition, Unnatural creates a world in which humans are substituted for animals (albeit very human like animals) and the government is perhaps a bit more extreme than in our world (perhaps being a relative term and dependent no doubt on where you live). By using this fantasy setting real world issues can be brought up with sufficient distance to make them easier to take in without feeling too threatened… but the ideas will still sit in the back of your mind for consideration.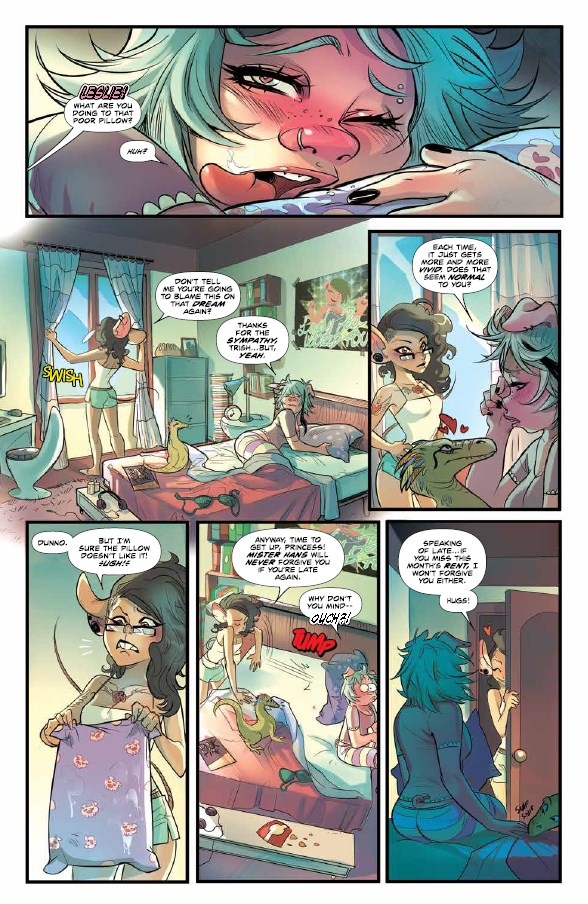 Artwork
As mentioned earlier, the art is very bright, there's almost a luminous quality to it that just makes it pop off the page. Mirka Andolfo brings all the characters wonderfully to life in panels that will have you sighing in familiarity with the struggles of day to day life and then gasping at the dangers Leslie finds herself facing simply for being "different". As much as the characters are anthropomorphic animals, through brilliant depictions of facial expressions and general body language, Mirka manages to make all the characters very "human".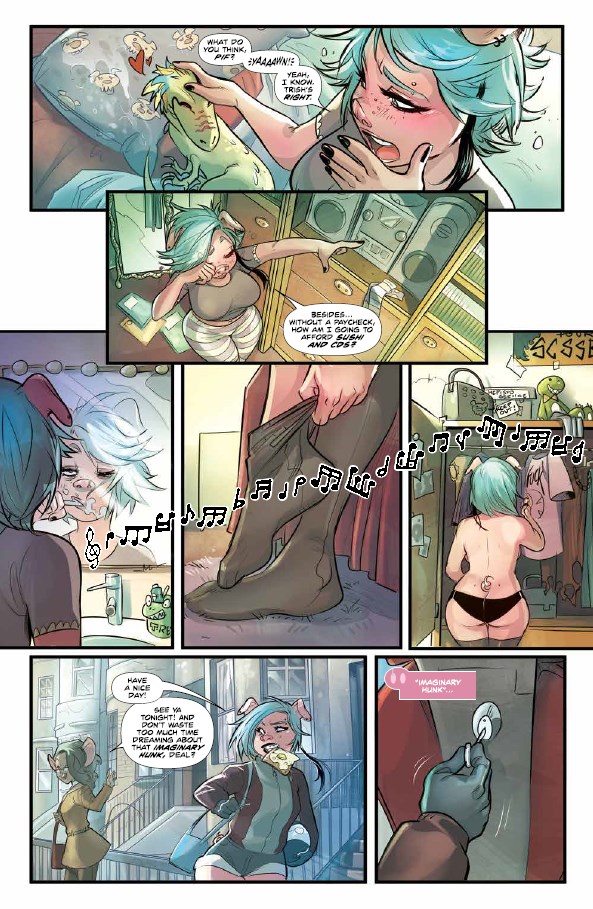 Final Thoughts
Unnatural works on a number of levels but will no doubt appeal the most in the fact that you can substitute whatever your "unnatural"ness is. If you're queer, politically opposed to your current government, if you are single and have no interest in finding a partner and doing the whole "marriage thing"… whatever it is that you feel makes you different from the crowd… you can substitute that for the issues in Unnatural and in doing so feel a connection that may well make the overall comic a much stronger personal experience for you. There are times when viewing injustices in the world can be a bit overpowering and emotionally draining, Unnatural gives us a chance to tackle some of those issues in an alternate setting… with just enough separation from reality to make it feel less personally impactful… yet still familiar enough for us to consider the issues seriously.
Wonderfully illustrated and compassionately written, Unnatural is a title that can be many things to many different people. Grab a copy and find out what it means to you.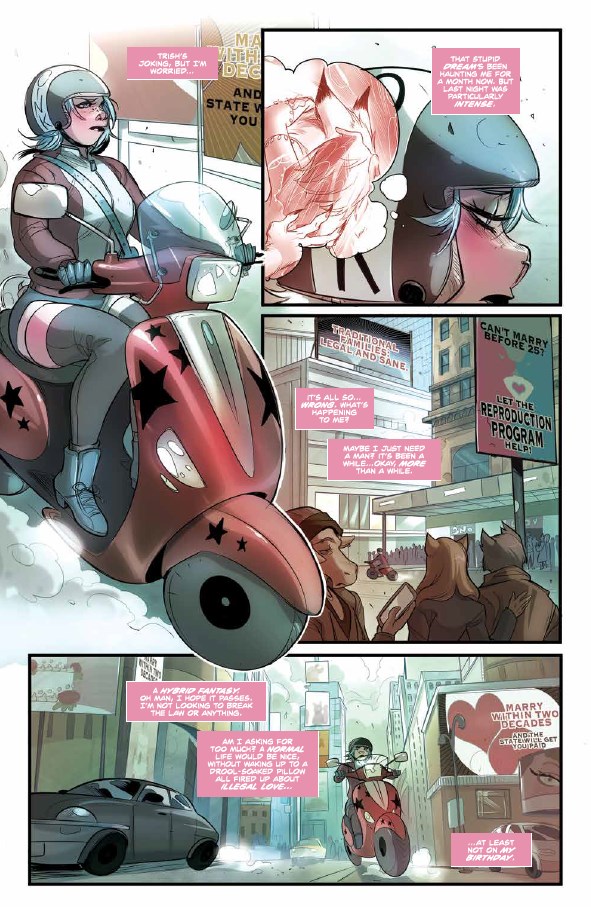 Publisher: Image Comics
Writer: Mirka Andolfo
Artist: Mirka Andolfo
Colourist: Mirka Andolfo
Cover Artist: Mirka Andolfo
Genre: Fantasy, Thriller
Format: 114pgs FC, TPB
Release Date: 21st November, 2018