Events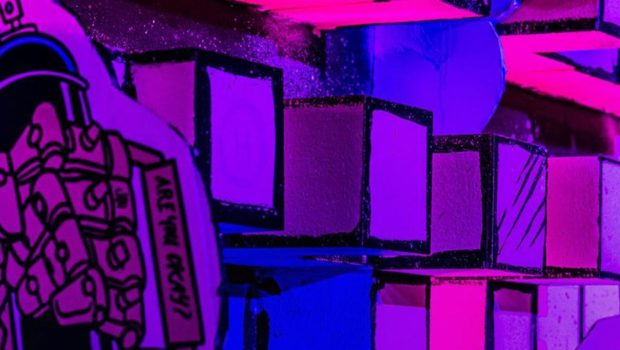 Published on May 25th, 2022 | by Alex Novus
Unlock Your YOUniverse with Dell XPS at Vivid Sydney
With Vivid Sydney set to delight crowds after sundown from Friday, 27 May to Saturday, 18 June, creatives and tech enthusiasts will have the opportunity to unlock their YOUniverses at the Dell XPS activation in Circular Quay. Guests will experience a personalised journey that will spark and inspire their creative genius.
The Dell XPS YOUniverse, one of over 200 events and activations at the 12th annual Vivid Sydney, will support the festival objective of showcasing the diversity, beauty, resilience and First Nations culture, through this creative community.
In the first step of the tailored experience, guests approach the Dell XPS laptops and unlock their unique YOUniverse by completing a simple image-based test. The XPS laptop will analyse the answers and direct guests to one of two YOUniverse entrances — Manga or Digital Fashion.
Behind each entrance is a guided, augmented reality gallery tour with scannable works of art. The tour is designed to introduce guests to the Dell creator behind the YOUniverse they are about to step into and showcase their creative journey. Once guests enter their YOUniverse, they'll be immersed in the creator's inspiration and vision, giving them the opportunity to experience the bright, bold and tangible world each creator has curated.
JESWRI, a full-time mural and canvas painter who owns and operates the art gallery Honey Bones Gallery in Brunswick, is the creator behind the Manga YOUniverse. Andrew Archer, an illustrator and art director based in Melbourne, is the creator behind the Digital Fashion YOUniverse.
Dell Technologies will also be running a competition at the activation, with the chance of winning a Dell XPS 13 each week during Vivid Sydney or the grand prize of a Dell XPS 15. Guests will be asked to showcase their own artistry by taking their most creative photo or video of the Dell Youniverse exhibition at Vivid Sydney and sharing on their Instagram stories. By tagging @dellanz in their creations they could be selected as one of the four winners, chosen based on who is the most creative. So, guests should let their imaginations run riot.
The latest XPS range, including the XPS 13 Plus powered by Intel® Evo™ and the Creator Editions of Dell XPS 15 and XPS 17 laptops are built with creative tools that speed high-resolution video editing and graphic design processes while maintaining a lightweight, portable design: giving people the flexibility to enjoy a high performance laptop for work or play.
Unlock your YOUniverse: Dell XPS Activation at Vivid Sydney. Entry is free and designed to be a shareable experience, with TikTok integration throughout to give everyone the chance to step into the XPS YOUniverses. Guests can sign up to MyVivid to keep track of the Dell XPS activation YOUniverse event.
What: Unlock your YOUniverse: Dell XPS Activation at Vivid Sydney
Where: Vivid Sydney, Circular Quay
When: Friday, 27 May – Saturday, 18 June, 2022