Comics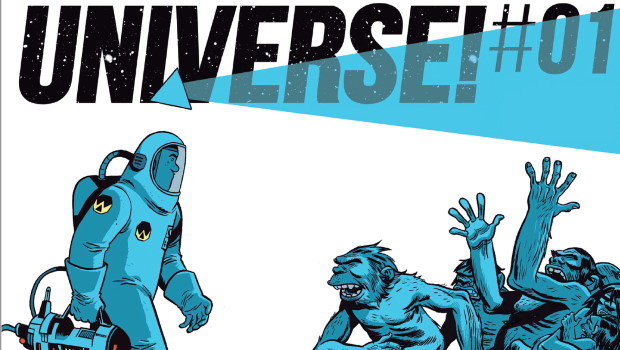 Published on October 16th, 2020 | by Chris O'Connor
Universe! Vol. 1 HC Review
Summary: Science Fiction with a bit of fun, various tales with different takes on what could be.
My early days of reading comics wasn't what you would call mainstream… well some was, Garfield and The Phantom, but many of the comics I read were the sort of "weird tales" and "Space and what's in store" type things… not quite the pulp stories, but certainly more the 80's early 90's era kind of science fiction/twilight zone in a comic stuff. Universe! Vol. 1 kind of feels like a modern version of that but with a bit more humour than those old ones had. This collection contains a number of short stories all with a similar theme of alien life, robots, love and space/time.
Writing
As mentioned above, the writing melds science fiction with humour but that's not to say that the stories are all light and fluffy, far from it. There are some really deep emotional moments in some of the stories… really, really heart wrenching (when you read the one I'm mostly referring to here, you will know it!). It opens with a bit of humour that on some level most of us can probably relate to… essentially a worker being given a task but only finding out once they start doing it that there are catches they weren't fully informed about (or at least they didn't pay attention at the briefings to learn about the challenges). All of the stories are quite engaging and it's interesting to ride the emotions they provide when you do go from something that's quite full of humour to something that really just throws a harsh concept your way and leaves you shocked by the turn of events.
Artwork
I really enjoyed the fact that all the artwork was nice and clear, the line work is solid and combined with the vibrant colour palette it's easy to make out each element of each image (I have a real issue with comics that are so full of action that panels end up just a cacophony of visual noise). The style is somewhat playful, there's no attempt at ultra realism, characters have a roundish, soft touch to them that works quite well for the content and probably helps soften the blow of some of the more "visceral" stories.
Final Thoughts?
I really enjoyed this collection. Some great stories, some interesting concepts about time travel and how that could impact the first people to try and travel through time (intentionally or not). There are quite a few laughs but there are also moments of true sorrow. I highly recommend this comic for lovers of science fiction with a touch of humour.
Comic Details
Publisher: Image Comics
Writer:Albert Monteys
Artist: Albert Monteys
Colourist: Albert Monteys
Cover Artist: Albert Monteys
Genre: Science Fiction
Format: 216pgs, FC, HC
Release Date: 20th January 2021